Fables and Fairy Tales. 0009: Anon., Blue Beard
| | |
| --- | --- |
| Author: | Perrault, Charles (abridged from) |
| Title: | Blue Beard |
| Cat. Number: | 0009 |
| Date: | No date but 1835-1857 |
| 1st Edition: | A more substantial version of the text first appeared as part of Charles Perrault's Histoires, ou countes du temps passé, avec des Moralitez in 1697. This was first translated into English by Robert Samber as Histories, or tales of past times in 1729 |
| Pub. Place: | London |
| Publisher: | J. L. Marks |
| Price: | Unknown |
| Pages: | 1 vol., 8pp. |
| Size: | 10.5 x 6.5 cm |
| Illustrations: | Five hand-coloured wood-cuts plus ornately decorated front cover |
| Note: | Back cover bears an advertisement for J. L. Mark's children's books |
Images of all pages of this book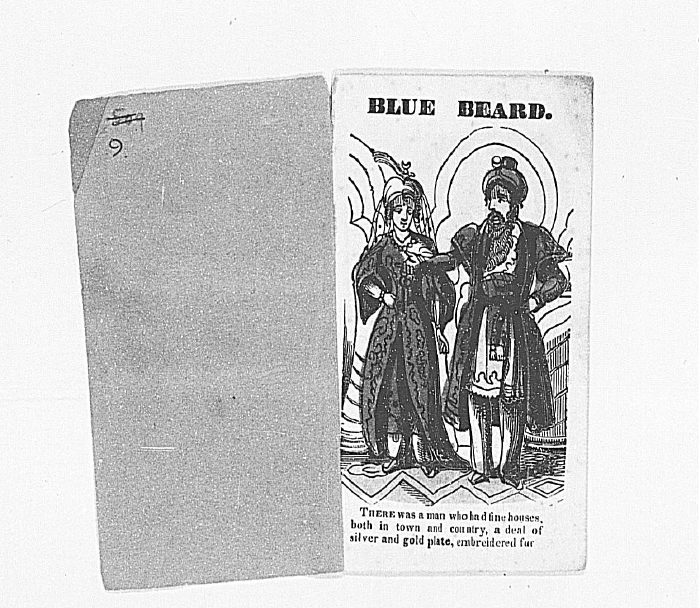 Introductory essay
The origins of the Blue Beard narrative are obscure. Elements of the tale have been detected in a variety of medieval and renaissance historical and literary sources, not to mention its evident Biblical overtones. In any case it seems certain that Blue Beard was part of an oral tradition in both France and Britain well before it was first published in its modern form in 1697. This first publication was as part of the Histoires, ou contes du temps passé, avec des Moralitez by Charles Perrault (or possibly his son, Pierre Perault Darmancour). It soon became better known as Contes de ma Mre l'Oye. In 1729, along with the other Perrault tales, Blue Beard made its first appearance in English, translated by Robert Samber as Histories, or tales of past times, or 'Mother Goose's Tales' as it soon became known. These tales continued to be published as a children's book throughout the eighteenth century, sometimes with the French alongside the English as an educational tool, and, from the 1760s or 1770s in an edition by John Newbery's successors which seems to have been more particularly aimed at entertaining children. In the late eighteenth and early nineteenth centuries, the tales began to appear individually as chapbooks or inexpensive children's books. The versions of Blue Beard in the Hockliffe Collection (0009, 0010 and 0031) provide good examples of this sort of text.
J. L. Marks, the London publisher of this version of Blue Beard (0009), was operating at 91, Long Lane in Smithfield according to the advertisement on its back cover. William B. Todd's A Dictionary of Printers locates Marks at this address from 1836 to 1857. Any more precise publication date than this must be speculative, but the appearance of the text and illustrations perhaps suggest a date nearer the beginning than the end of this range.
A comparison of this text of Blue Beard with that published at around the same time by Philip Rose and Son of Bristol (0010) provides an insight into methods of abridgement. Both Marks and Rose took the original Perrault-Samber edition as their basic text, and shortened it to fit into 8 and 16 pages respectively. Rose's text repeats almost wholesale the original text, omitting only the morals which Perrault had appended. Marks's edition is more cursory, having to cram everything into so small a compass. Generally, details not particularly material to the narrative are entirely omitted from his text. Thus, for instance, the 'fairy' nature of the key that cannot be cleaned (the only supernatural element of the tale as it was written by Perrault) is not mentioned (c.f. 0009, p.6 and 0010, p.10). Here and there a paragraph might be summarised by a single short sentence. Occassionally this results in mistakes in continuity, such as that Marks's edition does not inform the reader that as soon as Blue Beard had left his castle, his wife's friends and relatives lost no time in coming to visit, though it is later assumed that the reader must know this (c.f. 0009 p.4, and 0010 pp.7-8). In Marks's shorter version of the tale the length of time that Blue Beard grants to his wife to say her prayers is appropriately half what he grants her in Perrault-Samber's and Rose's edition (0009, p.7; 0010, p.11). Marks's version rushes to its close - no sooner have Blue Beard's brothers-in-law been spotted by her sister than they have killed him. Not only do Perrault and Rose allow a more leisurely denouement, but they assure the reader that all the characters save Blue Beard live happily ever after. In Marks's version readers have to assume this if they wish for a happy ending. What is left in, of course, is what was regarded as important. The narrative remains intact, as do the illustrations, which take up between a third and a half of the available room in the Marks edition. To remove the wood-cuts would have been to create more room for the text, but they were clearly thought too important in attracting a potential readership to be excised. (Indeed, though the text is similar in the editions by Perrault-Samber, Rose and Marks, the illustrations are different in each.) Likewise, much space could have been saved by omitting the long passage in which Blue Beard's wife, supposedly preparing herself through prayer for her imminent murder, asks her sister Anne over and over again whether their brothers are approaching. Yet the ritualised, repeated reply - that Anne can see nothing save the sun, which 'makes a dust' and the grass, 'which looks green' - creates a suspense that was clearly regarded as absolutely essential to the tale. This editorial decision removes any doubt as to what it was that readers saw in tales such as these. They read them to be entertained by a suspenseful narrative, not for the moral - the dangers of curiosity - which Perrault had dutifully appended to his text, but which is scarcely even alluded to in these abridgements.
The Hockliffe Collection also contains a French edition of Perrault's tales, Contes des Fées (Paris, no date - see 0034) and a collection of Mother Goose's Tales, which includes 'Blue Beard', published between 1808 and 1825 by T. Sabine and Son in London (0031). Although the texts remain consistent, the illustrations vary substantially. A verse edition of Blue Beard or Fatal Curiosity. A Tale of the Olden Time intended for the amusement of all good children (London, no date) is also in the collection (0734).
For analysis of the Blue Beard tale see Warner 1995, 241-97, Opie 1980, 133-141, and Zipes 1983 or 1994.
Todd, William B., A Directory of Printers and others in Allied Trades, London and vicinity, 1800-1840, London: Historical Society printing, 1972
Warner, Marina, From the Beast to the Blonde. On Fairy Tales and their Tellers, 1994, rpt. London: Vintage, 1995
Opie, Peter and Iona, The Classic Fairy Tales, Oxford: Oxford University Press, 1974, rpt. London, 1980
Zipes, Jack, Fairy Tales and the Art of Subversion: The Classical Genre for Children and the Process of Civilization, New York, 1983
Zipes, Jack, Fairy Tale as Myth, Myth as Fairy Tale, Lexington, Ky., 1994