Fables and Fairy Tales. 0016: Anon., The Fairy Grove or the Little Black Dog
| | |
| --- | --- |
| Author: | Anon. |
| Title: | The Fairy Grove or the Little Black Dog |
| Cat. Number: | 0016 |
| Date: | No date but c.1840? |
| 1st Edition: | |
| Pub. Place: | London |
| Publisher: | J. L. Marks, 91, Long Lane, Smithfield |
| Price: | Unknown |
| Pages: | 1 vol., 8pp. |
| Size: | 10.5 x 6.5 cm |
| Illustrations: | Frontispiece plus 5 wood-cuts |
| Note: | Uncut |
Images of all pages of this book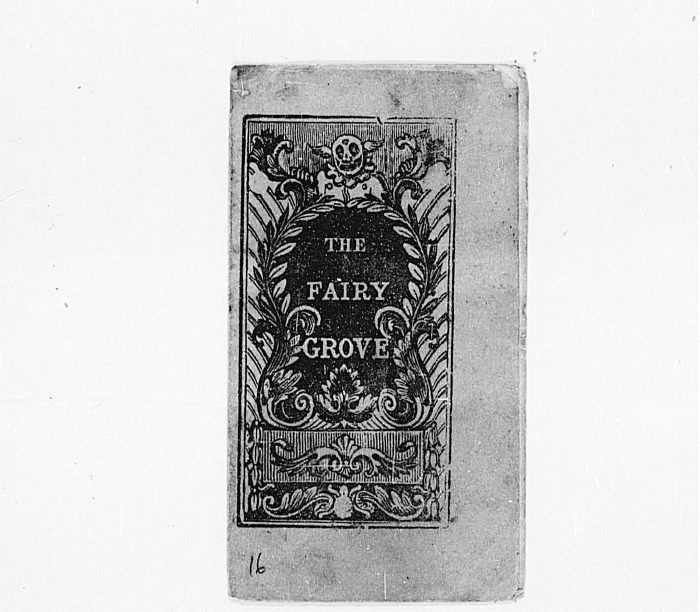 Introductory essay
The Fairy Grove tells a curious story, very rapid in its development and abrupt in its ending. It is not wholly dissimilar in tone to Christina Rossetti's 'Goblin Market' of 1862.
Led there by a mysterious black dog, Mary, the tale's heroine, wanders into a fairy grove one day and meets its inhabitants. She is happy there and meets a number of elves, one of whom, Gossamer, befriends her. After a time Mary realises she must leave. Gossamer presents her with a ring, but tells her that she can never return since the queen of the fairies will soon be returning. When Mary returns to her family she finds that seven years have passed, although she has not been aware of so much time passing. Her parents have aged, though, and her playmate Martin has grown up. She marries him.
Mary and Martin have a daughter whom they call call Elfie. Mary finds that Elfie, once become a young girl, has a golden thread around her neck which she recognises as coming from the Elves. Indeed, Elfie is very elf-like. She appears to be, in some mysterious way, the product of Mary's dalliance in the land of the elves, and is called the 'fairy child' by all who know her. One day, Mary follows Elfie and finds that she frequently meets Gossamer. Mary watches Elfie and Gossamer play together, but, suddenly fearing that Gossamer is about to drop Elfie, Mary screams. Gossamer discovers her, but the final sundering between Mary and the elves comes only when Mary tells her husband about the elves. When Martin is brought to watch Gossamer and Elfie together, the elf turns into a raven and vanishes. The tale ends abruptly with both parents bewailing their folly, 'for they saw that their kind neighbours to whom they owed all their luck, were gone for ever.' (p.8)
The text is accompanied by four attractive wood-cuts. They depict the fairies as svelt, full-size human women, warning rather revealing dresses, but with small, decorated wings sprouting from their backs: see p.4 for instance.
William B. Todd's A Directory of Printers and others in Allied Trades lists J. L. Marks as printing under this imprint from 1836-57 (p.126).
Todd, William B., A Directory of Printers and others in Allied Trades, London and vicinity, 1800-1840, London: Historical Society printing, 1972