Fables and Fairy Tales. 0038A: George Cruikshank, Puss in Boots
| | |
| --- | --- |
| Author: | Cruikshank, George |
| Title: | Puss in Boots |
| Cat. Number: | 0038a |
| Date: | No date but c.1865 |
| 1st Edition: | 1864 |
| Pub. Place: | London |
| Publisher: | Unknown |
| Price: | Unknown |
| Pages: | 1 vol., 30pp. |
| Size: | 18.5 x 12 cm |
| Illustrations: | Three etchings by George Cruikshank |
| Note: | Covers and title-page missing. An 'Address to Little Boys and Girls' appears on pp.28-30 |
Images of all pages of this book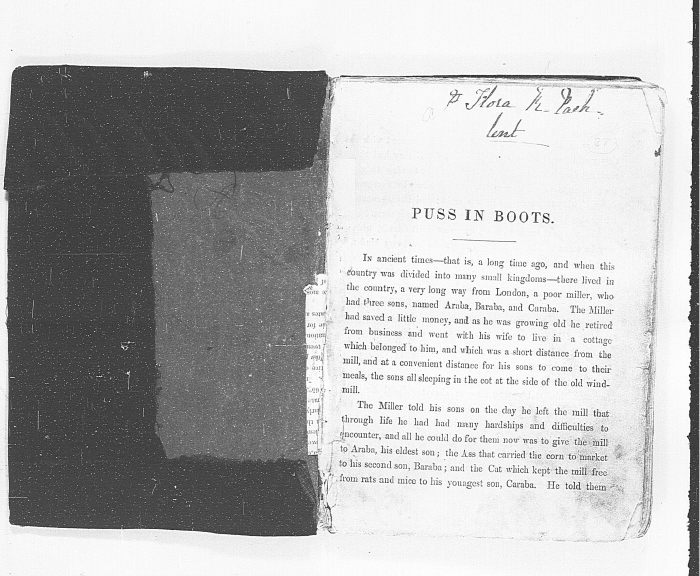 Introductory essay
Puss in Boots was first published in Charles Perrault's 1697 Histoires, ou contes du temps passé as 'Le Maistre Chat, ou le chat botté'. It first appeared in English in Robert Samber's 1729 translation, Histories of Past Times. The edition that appears here, though it has lost its title-page, is identifiable as that which was re-written and illustrated by George Cruikshank (1792-1878) in 1864 (the date borne by the first etching, opposite p.14). A decade earlier Cruikshank had revised three other fairy tales - Hop O' My Thumb (1853), Cinderella (1854) and Jack and the Bean Stalk (1854) - and an edition of the latter is in the Hockliffe Collection: 0021. The four tales were published in one volume in 1870 as George Cruikshank's Fairy Library.
Cruikshank's fairy tales are principally famous for two things: their illustrations and for Cruikshank's tendency to append a sometimes rather spurious temperance moral. Cruikshank was widely regarded as the foremost illustrator of books of his day - which can be judged by the three etchings that survive in this volume: opposite pp.14, 16 and 22. His willingness to insert anti-alcohol lessons into the fairy stories was far more contentious. Hop O' My Thumb's father loses his fortune through drink; the giant in Jack and the Bean Stalk owes his (quite literal) downfall to drink (0021: p.31); and the Fairy Godmother insists that Cinderella's wedding is celebrated by the destruction of all the intoxicating liquor in the kingdom. All this led to harsh words from Charles Dickens. In 1853, in his magazine Household Words, Dickens attacked his former collaborator for tampering with the fairy tales and forcing them into tawdry service as propaganda for a worldly cause, whatever it may have been. 'In an utilitarian age, of all other times,' Dickens wrote, 'it is a matter of grave importance that fairy tales should be respected', for 'a nation without fancy, without some romance, never did, never can, never will, hold a great place under the sun' (Dickens 1853). Cruikshank responded in the form of a litter signed 'Hop o' my Thumb' which appeared in his own work, George Cruikshank's Magazine in February 1854 (he was also responding Dickens' 'Whole Hogs', an earlier article in Household Words (3 (1851), 505-7), which had attacked all fanaticism, whether for temperance, vegetarianism or any other cause). And Cruikshank was still perhaps nursing a grievance when he appended a short essay on fairy tales to his Puss in Boots: pp.28-30. Here, invoking his own childhood and that of William Shakespeare, he sets out his credentials as a lover of fairy tales and of fantasy, which answers some of Dickens' charges, and assures his readers that fairies, giants and ogres do not exist in real life. In insisting on this, he can be seen as answering the charge laid by John Locke as long ago as 1693 in Some Thoughts Concerning Education. '[B]e sure to preserve his tender mind from all impressions and notions of sprites and goblins, or any fearful apprehensions in the dark', wrote Locke, for otherwise 'are stamped upon their minds ideas that follow them with terror and affrightment' (138). However, that Cruikshank had been chastened by his run-in with Dickens is perhaps evident in the lack of anti-alcohol polemic anywhere in Puss in Boots. (For more on the Dickens-Cruikshank controversy, see Stone 1973-74 and Kotzin 1972).
However, even if Cruikshank did not transform Puss into a ardent advocate for temperance, he did substantially alter Perrault's tale. He found Perrault's tale, as it stood, immoral. It was 'a succession of successful falsehoods', he wrote in The Fairy Library (1870), 'a clever lesson in lying! - a system of imposture rewarded by the greatest worldly advantages!' (quoted in Carpenter and Prichard 1984: 433). His criticisms were fair. In Perrault's original, Puss wins for the poor miller's son a title, a castle and the hand in marriage of the Princess simply by tricking both the Ogre and the King. The only moral Perrault himself had been able to draw celebrated savoir faire over inherited status and wealth. Cruikshank rectified this. Sound advice on how to live a Godly life is forthcoming as early as the second page (p.4. And Cruikshank smoothly overcomes Puss's lies to the peasantry, whom the cat orders to pretend that the land they are working belongs to the Marquis of Carabas. They were the slaves of the Ogre, the real owner of the land, Cruikshank explains, and, thinking that the talking cat was an agent of their master, they were obliged to comply with his requests (p.14). Cruikshank's most far-reaching change, though, was to reveal at the end of the tale that the miller was really the Marquis of Carabas anyway, usurped by the Ogre. For his son to regain the title, by whatever means, was only the reimposition of the natural order, and any political impropriety in the story of a miller becoming a marquis was done away with (p.24). The central moral - that one should be content with one's station in life (unless, apparently, one is a usurped marquis) - is rammed home by the revelation that Puss himself was formerly a man, transformed into a cat because of his dissatisfaction with his former life (pp.23-24). In his apology for the status quo, Cruikshank even comes to the defence of the court of Chancery (p.24n.). Could this have been a covert attack on Dickens' condemnation of the court in Bleak House which was published during the midst of their controversy in 1852-53?
For other versions of Puss in Boots in the Hockliffe Collection see 0018, 0035, and 0038B.
Dickens, Charles, 'Frauds on Fairies', Household Words, 8 (1 October 1853), 97-100
Stone, Harry, 'Dickens, Cruickshank and Fairy Tales', Princeton University Library Chronicle, 35 (1973-4), 212-47
Kotzin, Michael, Dickens and the Fairy Tale, Bowling Green: Bowling Green University Popular Press, 1972
Carpenter, Humphrey & Pritchard, Mari, The Oxford Companion to Children's Literature, Oxford: OUP, 1984