Fables and Fairy Tales. 0048: Anon., Whittington and his Cat
| | |
| --- | --- |
| Author: | Anon. |
| Title: | Whittington and his cat |
| Cat. Number: | 0048 |
| Date: | No date but c.1820 |
| 1st Edition: | |
| Pub. Place: | London: Kennington |
| Publisher: | R. Miller, 37, Harleyford Place, Kennington |
| Price: | Unknown |
| Pages: | 1 vol., 34pp. plus two pages of advertisements |
| Size: | 15.5 x 8.5 cm |
| Illustrations: | None |
| Note: | Title-page missing. Bibliographic information above inferred from book-list at end of volume |
Images of all pages of this book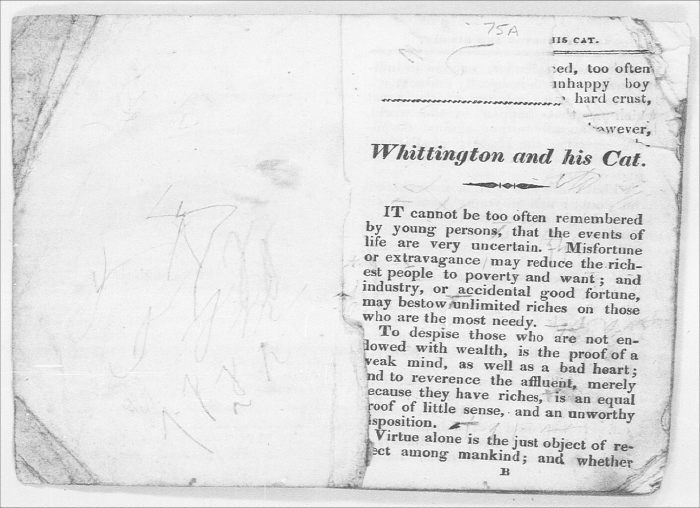 Introductory essay
The story of Whittington and his Cat was based on the life of Sir Richard Whittington (d.1423), a real historical figure, but by the seventeenth century the story had become more akin to a fairy tale. The tale has several elements in common with a number of European and Persian stories (notably the cat - see The Oxford Companion to Children's Literature, p.148). It was in print as a ballad and a play by 1605, but had probably existed as a piece of popular literature well before that. The 1605 ballad was possibly by Richard Johnson (?1573-?1659), author of numerous pieces of popular literature including The Seven Champions of Christendom and (probably) a prose version of The History of Tom Thumbe ... by R.J., in print by 1621.
Although the Hockliffe copy of this book lacks its title-page, it can be presumed from the advertisement at the end of the volume that R. Miller of Kennington was the publisher. Since the British Library catalogue shows R. Miller to have published several chapbooks and pamphlets, often celebrating royal occasions, in the years between 1817 and 1824, it seems most likely that Whittington and his Cat appeared sometime around 1820.
For other versions of the Whittington story in the Hockliffe Collection, see 0036, 0047 (in French), 0043 and 0122.
Carpenter, Humphrey & Pritchard, Mari, The Oxford Companion to Children's Literature, Oxford: OUP, 1984