Stories Before 1850. 0051: Anon., Agnes, the Little Girl who Promised Every Thing and Performed Nothing
| | |
| --- | --- |
| Author: | Anon. |
| Title: | Agnes, the little girl who promised every thing and performed nothing |
| Cat. Number: | 0051 |
| Date: | No date but c.1813 |
| 1st Edition: | 1808? |
| Pub. Place: | London |
| Publisher: | J. Harris |
| Price: | 4s (see Moon 1987: 106, no.745A) |
| Pages: | 1 vol., 56pp. |
| Size: | 16.5 x 10 cm |
| Illustrations: | |
| Note: | A play |
Images of all pages of this book Note: these have NOT been verified or catalogued. Use with care.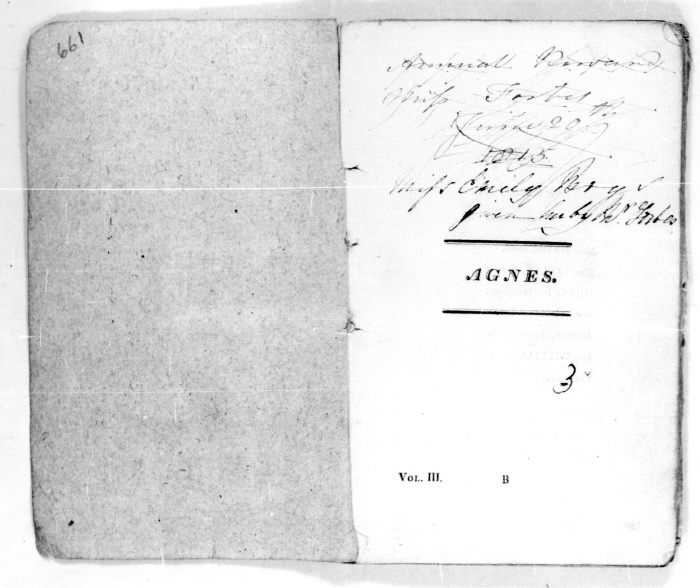 Agnes is a short play. According to Marjorie Moon, Harris's bibliographer, it first appeared as one of the Juvenile Dramas published in 1808 by Longman, Hurst, Rees and Orme. The titles were apparently then taken over by John Harris, who published them separately. He advertised them for sale in his Christmas list of 1814 Moon 1987: 104).
By cross-referencing title-pages and advertisements, Moon has been able to suggest that someone calling themselves 'E.S.' was the author of Agnes, as well as about thirty other chidren's books. Moon also presents evidence suggesting that 'E.S.' might have been a 'Mrs. Fordyce' or perhaps Elizabeth Isabella Spence. As yet, however, there is no conclusive evidence (Moon 1987: 48-49).
Moon, Marjorie, John Harris's books for youth, 1801-1843, revised edition, Winchester, 1987
Moon, Marjorie, John Harris's books for youth, 1801-1843, revised edition, Winchester, 1987
Moon, Marjorie, John Harris's books for youth, 1801-1843, revised edition, Winchester, 1987