Stories Before 1850. 0059: Anon., The Bad Boy Reformed by Kindness
| | |
| --- | --- |
| Author: | Anon. |
| Title: | The bad boy reformed by kindness; to which is added, The little miser. Embellished with 14 fine engravings on wood |
| Cat. Number: | 0059 |
| Date: | No date but c.1815 |
| 1st Edition: | |
| Pub. Place: | London |
| Publisher: | Whitrow and Co. Jewry-street, Aldgate |
| Price: | 3d |
| Pages: | 1 vol., 31pp. |
| Size: | 12 x 7.5 cm |
| Illustrations: | Decorated front cover, frontispiece and 9 further wood engravings |
| Note: | |
Images of all pages of this book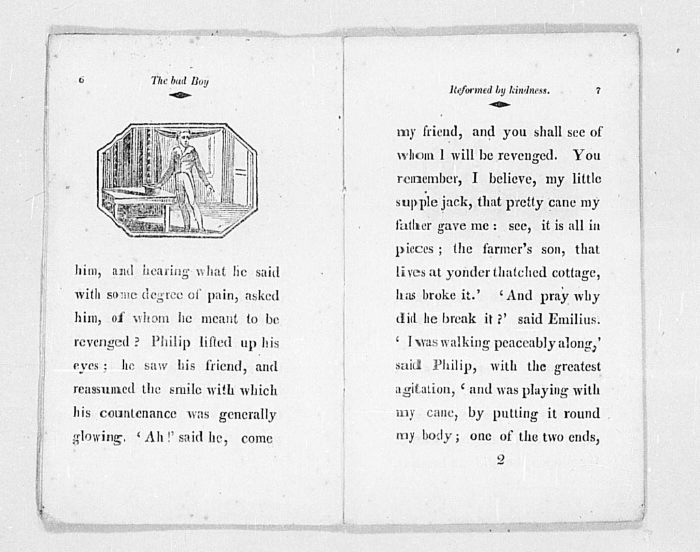 Introductory essay
Ian Maxted's The London Book Trades 1775-1800 lists Benjamin Whitrow as a 'wholesale stationer' in Jewry Street, Aldgate from 1790-1792 and in the Livery Ironmongers' Co. by 1792. Whitrow joined with William Champante, a wax chandler, in c.1785 and they worked together in a variety of trades until 1816 (Maxted 1977, pp.42 and 245). Philip Brown's London Publishers and Printers records that 'Whitrow & Co.' - the imprint which appears on this book - had become the successor to Champante and Whitrow at 2 Jewry Street in 1815 or 1816. Their imprint was subsequently replaced by another, 'Nowill and Burch', from 1816 to 1819 (Brown 1982, p.222). All this suggests that The Bad Boy Reformed by Kindness might have been published in 1815 or 1816, a date not inconsistent with the style of the book. For a other similar books in the Hockliffe Collection published by Whitrow & Co., see The Three Cakes (0236), The Fortunate Man (0112) and Little Matilda and her Fine Clothes (0164).
The book contains two moral tales crammed into the format of a chapbook. At the start of the first narrative, Philip is swearing to have vengeance on a peasant boy who has broken his new cane. Philip had only just received the cane, but he had been playing with it and it had accidentally upset the bucket of water being carried by the boy. The boy's reaction, despite Philip's apologies and pleas, is to break the cane. Philip's friend, Emilius - who shows no sign, apart from the name, of the influence of Rousseau - counsels Philip not to seek vengeance. He says that the boy is quite capable of drawing punishment upon himself. Indeed, no one likes him because he is so ill-natured. Reluctantly Philip agrees, and even helps the boy when some logs fall on him. The boy is ashamed and is reformed by Philip's kindness, or so the title suggests, for the narrative itself is not explicit. For his part, Philip is pleased with himself, demonstrating that forgiveness bestows happiness on he who forgives as well as he who is forgiven.
The second tale, 'The Little Miser', is similarly straightforward. A boy is good at heart but very selfish. He cannot bear to share his possessions - namely sweets and apples - with others. This leads to him being bullied at school. After an episode in which the boy who had rescued him from a mob rejects his paltry gift of a quarter of an apple, our hero sets to thinking. He reforms of his own accord, realising that it is better to share because one has more joy in the act of sharing than in the act of private consumption. Together, then, these two tales explain the happiness to be found in overcoming the selfishness of greed and the desire for vengeance.
Maxted, Ian, The London Book Trades 1775-1800. A Preliminary Checklist of Members, Old Woking, Surrey, 1977
Brown, Philip A. H., London Publishers and Printers, c.1800-1870, London: British Library, 1982