Stories Before 1850. 0073: J. Bishop, Pleasing Tales for Little Folks
| | |
| --- | --- |
| Author: | Bishop, J. |
| Title: | Pleasing tales for little folks. By J. Bishop. Embellished with eight coloured engravings |
| Cat. Number: | 0073 |
| Date: | No date but c.1820-1830 |
| 1st Edition: | |
| Pub. Place: | London |
| Publisher: | Dean and Munday, Threadneedle-Street; and A. K. Newman and Co., Leadenhall-Street |
| Price: | 6d |
| Pages: | 1 vol., 31pp. |
| Size: | 13 x 10.5 cm |
| Illustrations: | Illustrated front cover, frontispiece, and 8 further wood coloured engravings |
| Note: | |
Images of all pages of this book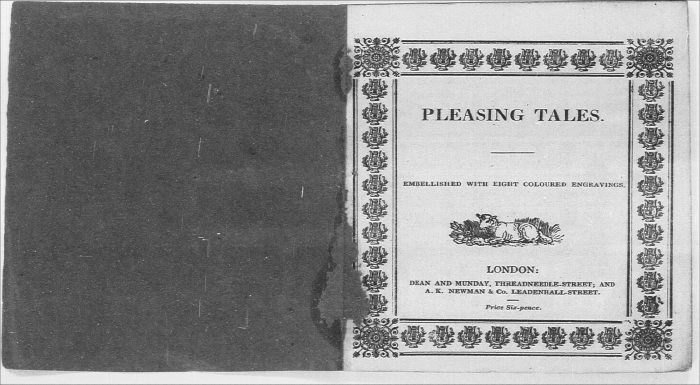 Introductory essay
These short tales, each with a coloured wood-engraving and a short verse, appear to have been designed for very young children. This makes the author's willingness to deal with rural poverty somewhat surprising. The tales are gently moral, but their winning simplicity is not compromised by any sustained didacticism.
The significance of the large toad or frog in the frontispiece is not explained. Dean and Munday and A. K. Newman, co-publishers or Pleasing Tales, had achieved a success with their edition of A Gaping, Wide-Mouthed, Waddling Frog, an eighteenth-century acculative rhyme which they re-published in 1822. Perhaps, after this, they adopted the frog as a company motif. Certainly a date of c.1825 seems not unlikely for Pleasing Tales.
Not reproduced here, but forming the outside back cover of the copy in the Hockliffe Collection, is an advertisement for 'Toy Books', presumably much like this one. All cost 6d. and all have eight engravings. They include such titles as Baby Tales, Tales of Childhood, Visit to the Farm, Little Emily, and so on.