Stories Before 1850. 0097: Eliza Heyrick (Coltman), Plain Tales; or, the Advantages of Industry, Part 2
| | |
| --- | --- |
| Author: | Heyrick, Eliza (née Coltman) |
| Title: | Plain Tales; or, the Advantages of Industry. Adorned with Copperplates. By E--- C---. Author of 'Instructive Hints,' etc. In Two Parts. Part II |
| Cat. Number: | 0097 |
| Date: | No date |
| 1st Edition: | 1804 |
| Pub. Place: | London |
| Publisher: | Darton, Harvey, and Darton, 55, Gracechurch-street; and sold by T. Combe, and I. Cockshaw, Leicester |
| Price: | 4d |
| Pages: | 1 vol., 24pp. |
| Size: | 9.5 x 7.5 cm |
| Illustrations: | Frontispiece plus five further copperplate engravings |
| Note: | Hockliffe Collection has only volume 2 (of 2) |
Images of all pages of this book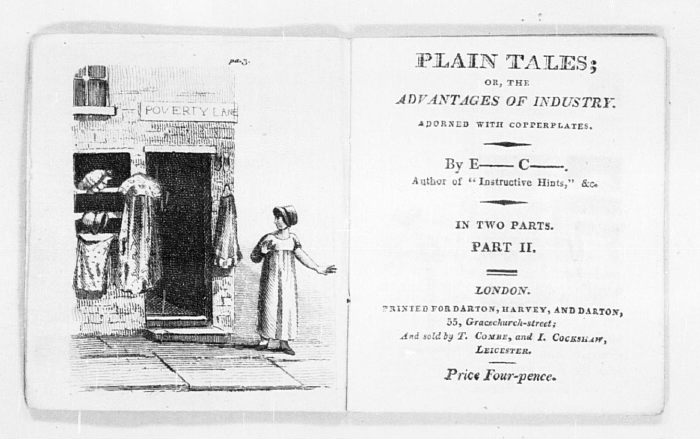 Introductory essay
'E--- C---' was Elizabeth Coltman, later Elizabeth Heyrick (1769-1831). She was principally famous as a campaigner against slavery and cruelty to animals, but in several other respects Heyrick seems to have been a female embodiment of Thomas Day's Harry Sandford or any other protagonist of a that kind of Rousseau-inspired children's book. Heyrick came from a dissenting background (her father had been taught at Warrington Academy by John Aikin the elder, father of John Aikin the younger and Anna Laetitia Barbauld, the celebrated writers for children), and she later became a Quaker. She was described as being 'singular in her childhood', and several anecdotes 'depict her giving scarce pennies to a beggar and rescuing a kitten' In later life she is said to have stopped a bull-baiting session by purchasing the bull and to have liberated numerous poachers from prison by paying their 'gaol fees' herself (Nicholls 1993: 308). Whether this represents a romanticised view of her life or not, Heyrick certainly published extensively on a variety of issues including slavery, war, prisons, corporal and capital punishment, the plight of the industrial poor, vagrancy legislation, cruelty to animals and elections. Her most successful work was Immediate, not Gradual Abolition; or, an Inquiry into the shortest, safest, and most effectual means of getting rid of West Indian slavery (1824), which is said to have sold hundreds of thousands of copies in Britain and America. Its arguments against a gradual approach to the abolition of slavery were directed as much against the leading figures of the abolitionist campaign as against those who wished to maintain the legality of slavery. Likewise, her Appeal to the hearts and consciences of British Women (1828), an appeal for a boycott of slave-produced sugar, was directed not at the legislators but at those who could through their own direct action force change. Other works included Bull-Baiting: a Village Dialogue between John Brown and John Simms (1809), a pamphlet in the style of Hannah More's Village Politics or some of her Cheap Repository Tracts, and Cursory Remarks on the Evil Tendency of unrestrained Cruelty, particularly on that practised in Smithfield Market (1823).
The Dictionary of National Biography, Missing Persons volume, states that Heyrick's first work was The Warning. Recommended to the serious attention of all Christians, and lovers of their country, a pamphlet arguing against war, published in 1805. In fact, Plain Tales, in its first edition, was published the previous year by John Harris under the title Plain Tales of [sic] the Advantages of Industry over Idleness. It appeared anonymously, in just one volume of 58 pages, a little smaller than the Hockliffe edition, and could boast just one illustration, the wood engraving frontispiece. When Darton, Harvey & Darton came to republish the book, they split the work into two volumes and added six rather fine copperplate engravings. They also printed the author's initials, 'E--- C---' (using Heyrick's maiden name), and the words 'By the Author of "Instructive Hints"', on the title-page. Instructive Hints, in Easy Lessons for Children. By E**** C****** was published by Darton, Harvey and Darton in 1816. Since the imprint 'Darton, Harvey & Darton' at 55 Gracechurch-street, which appears on Plain Tales, was in use only from 1810-1819 (Brown 1982: 53), a date of sometime between 1816 and 1819 seems most likely for this re-edition of Heyrick's Plain Tales. Heyrick published at least one work for children besides Plain Tales, Familiar Letters addressed to Children and Young Persons of the Middle Ranks (printed for the author, 1811).
The text of the first, Harris edition of Plain Tales is identical to that of the later, Darton version, but the Hockliffe Collection possesses only the second volume. This includes only tales 5, 6 and 7 (as they are designated in the 1804 edition), viz. 'Mary Atkins', 'Polly Brown' and 'Phebe Talkative'. All the seven tales are short, and designed for girls. The tales try to teach good housekeeping skills, and the importance of honesty. The protagonists are always admitting that they are very poor and saying how difficult it is to cope. The answer is to cut out extravagances, to save, but not to hoard.
A summary of all seven tales in the 1804 edition is given below, using the numeration used there.
'Tale 1' (Not in Hockliffe edition)
Sukey Dawkins and Polly Wood are good girls. They attend the charity school, help their mothers (the families would be in the poor house were it not for Sukey), and sometimes take a walk in the woods. There they find a wood-cutter. They ask if they can have the 'chips', that is to say the off-cuts of the wood. He bids them ask the owner Mr. Ownoak, which they do. Ownoak gives his permission, and the girls carry them home to light fires. Polly's apron breaks on account of her not having mended it, but Sukey helps her take the chips home. 'Sukey was much more satisfied with herself that evening, than if she had been romping with the girls in the street, and went to be thankful that she had been useful.' (p.11)
'Tale 2' (Not in Hockliffe edition)
Nancy Bennett asks why she cannot have tea every morning like all the other families. Her mother explains that it is so expensive, that it does not nourish, that it needs expensive cream and sugar, and that it is not healthy: 'Your father finds himself more able to work after bread and cheese and a pint of beer, than he would after tea.' (p.14) It was not drunk by their ancestors, Nancy learns, and with the money saved they can buy good warm clothes. That settles the question, and Nancy gives up her desire for tea.
'Tale 3' (Not in Hockliffe edition)
Jenny Bunney sometimes runs errands, for which she is sometimes paid a ha'penny. She usually spends this on gingerbread, but she decides she would like to buy something more lasting. She saves her money until she has 10d. Then she buys material to make her mother two caps, for the mother is always spending all her money on clothes and food for her children. At last the caps are made, and in a quite affecting scene she hands them over.
When gingerbread and apples lure,
I'll think on Jenny Bunney:
Rememb'ring pleasures that endure,
Are better worth my money. (p.24)
'Tale 4' (Not in Hockliffe edition)
Nancy Thoughtless wastes her halfpennies on gingerbread and nuts. She might, had she saved up 6d., have bought some wine to cheer her very ill father. She repents her rashness.
Tale 5 (p.3)
Mary Atkins thinks she wants to spend her savings in the second hand shop in Poverty Lane - a rag shop as her mother calls it. And indeed her mother advises her not to go, calling rag shops the ruin of many a poor person. The clothes that are bought there soon fall apart, and the poor should in any case buy plain, durable clothes.
Tale 6 (p.9)
Polly Brown is supposed to take some broth to her grandmother but she is tempted to run off with her friends. The jug gets knocked down, but worse, Polly lies to her mother about having taken the broth. Her lie is found out and she is very sorry.
Tale 7 (p.21)
Phebe Talkative spends so much time talking that she is not a fast sewer like Nancy Diligent.
Nicholls, C. S. (ed.), The Dictionary of National Biography. Missing Persons, Oxford: Oxford University Press, 1993
Brown, Philip A. H., London Publishers and Printers, c.1800-1870, London: British Library, 1982