Stories Before 1850. 0107: Eleanor Fenn, Fables in Monosyllables
| | |
| --- | --- |
| Author: | Fenn, Lady Eleanor (née Frere) |
| Title: | Fables in Monosyllables by Mrs. Teachwell. To which are added Morals in Dialogues between a Mother and Children |
| Cat. Number: | 0107 |
| Date: | No date (but 1783?) |
| 1st Edition: | 1783 |
| Pub. Place: | London |
| Publisher: | John Marshall, No.4 Aldermary Church-Yard, Bow-Lane, Cheapside |
| Price: | 1d |
| Pages: | 2 vols. in 1, 66 and 41pp. |
| Size: | 15 x 9.5 cm |
| Illustrations: | Two frontispieces and 34 woodcuts |
| Note: | |
Images of all pages of this book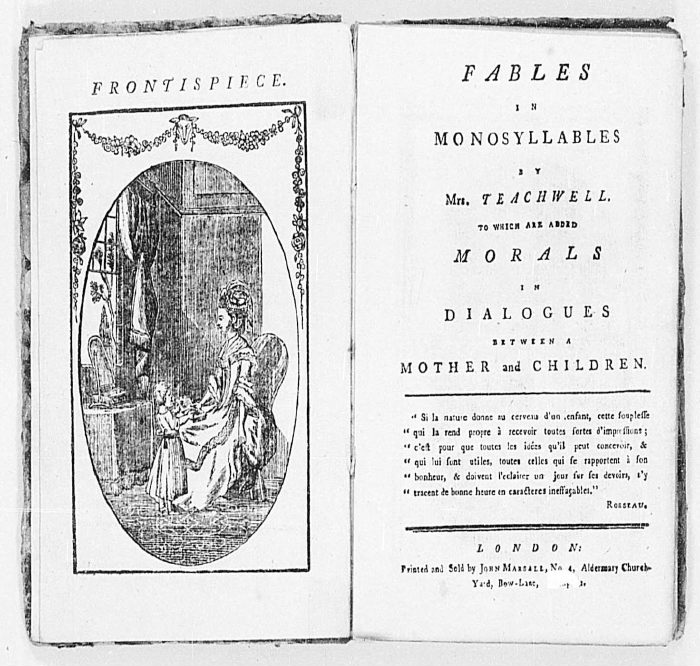 Introductory essay
Lady Eleanor Fenn (1743-1813) wrote numerous short books for children in the 1780s. As well as the pseudonym used here - 'Mrs. Teachwell' - she wrote under the names 'Mrs. Lovechild' and 'Solomon Lovechild'. Her work proved popular, and her books did much to establish John Marshall as the predominant publisher of children's books of the '80s and '90s. Her most famous work was Cobwebs to Catch Flies (probably 1783 - see 0545, 0546, 0547 and 0548). The dedication to the earliest known edition of Cobwebs to Catch Flies is dated 1783 and it has generally been assumed that this was the date of publication too. Most of Fenn's other works, including Fables in Monosyllables, probably date from around 1783 too. Certainly, Fables in Monosyllables was produced after 1779, for Fenn notes in her 'Advertisement' to volume two that this was when she first wrote the fables down for the use of her own family. The edition in the Hockliffe Collection might date from any time between then and 1799, when its inscription is dated. However, John Marshall opened premises at 17 Queen Street, Cheapside in London in 1787 (Maxted, London Book Trades, p.148), and since this address does not appear on his imprint, which uses only his principal address at 4, Aldermary Church Yard, the Hockliffe edition probably dates from the mid-'80s.
Fables in Monosyllables is divided into two unequal volumes. The first gives the fables themselves, each one accompanied by a print, and the second volume, titled Morals in Dialogues between a Mother and Children, explains them. Some of the fables are familiar, with some coming from Aesop, while others are new. They are designed partly to help children to learn to read. Long words are broken up into syllables, and the print is large (Fenn's 'Preface', for example, which is designed for adults to read, is in a much smaller typeface). They also teach simple lessons - the importance of humility, the necessity of contentment with one's lot, and, above all, the pragmatic and moral benefits of obedience.
Indeed, Fenn's definition of the fable is unequivocal:
Fa-bles are sto-ries writ-ten to teach chil-dren what they should do by shew-ing them what may hap-pen to them if they do not act as they ought to do. (Vol.2, p.10)
The animal protagonists of Fenn's fables learn their lesson by going hungry, or losing something they value, or, in a surprising number of cases, they pay for their disobedience with their lives. But it was not because the fables contained so many scenes of death and mutilation that Fenn worried about their suitability for children. Rather, at the outset of her book she firmly announced her hostility to fables because, like all metaphor and allegory, they are essentially untrue (vol.1, pp.vii-viii). Foxes and frogs, fawns and flies, do not talk, which is why Fenn devotes so much of her book to explaining, and apologising for, the pretence she is employing (e.g. vol.1, pp.15-16). Her only defences are that the use of fables will encourage children, who love such tales, to attend to the lessons, and that it is better they read good fables than bad, which they will inevitably come across at school, if not before (vol.1, p.vii).
Maxted, Ian, The London Book Trades 1775-1800. A Preliminary Checklist of Members, Old Woking, Surrey, 1977