Stories Before 1850. 0112: Anon., The Fortunate Man
| | |
| --- | --- |
| Author: | Anon. |
| Title: | The Fortunate Man; or, Poverty and Riches. To which is added, The History of the Peevish Child. Embellished with 15 Fine Engravings on Wood |
| Cat. Number: | 0112 |
| Date: | No date |
| 1st Edition: | |
| Pub. Place: | London |
| Publisher: | Whitrow & Co. Jewry-street, Aldgate; and sold by all Booksellers, etc. in Town and Country |
| Price: | 3d |
| Pages: | 1 vol., 31pp. |
| Size: | 12 x 7.5 cm |
| Illustrations: | Cover illustration and frontispiece plus 13 further wood engravings |
| Note: | |
Images of all pages of this book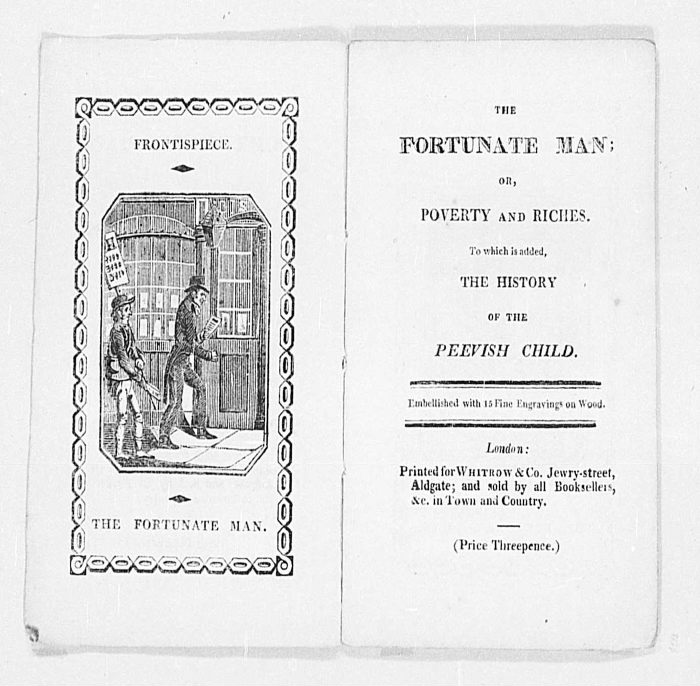 Introductory essay
The Fortunate Man warns against the dangers of becoming rich, and especially of the perils of winning the lottery. Mr. Russel and his son, Eugene, walk out to the environs of the city (and London can be seen, stretched out behind them in the wood engraving on p.6). Eugene, enjoying great happiness in the fine weather, thanks Heaven for his blessings. He wishes he were a king, so that he might do all he could to make others feel as joyful as himself. But would his attitudes change if he were elevated in rank, his father asks? Would it not be better to stay 'in the middling condition to which heaven has appointed you?' (p.9). And Mr. Russel tells the story of an acquaintance of his - Mr. Lowe, formerly a London linen draper. Lowe was a charitable man, and it was because of his wish to be more charitable than he could then afford that he planned to get richer. He invested all he could afford in a lottery ticket - and won £5000. This sum was soon doubled by commercial enterprises, and Mr. Lowe retired to a large estate. His new establishment undermined his fortune, though, and too vain to retrench, Lowe continued to live beyond his income. His charity dried up, and he even refused to provide shelter for his dying mother. At last he too was reduced to beggary, and now lives only by the charity of others, including Mr. Russel who gives alms, but gives reluctantly. Mr. Russel draws the moral - one should not wish to raise oneself to a higher station, and that happiness comes from feeling for the misfortunes of others (pp.26-27).
This is a curious parable. Whilst the recommendation of contentment with one's station was a recurrent theme of eighteenth and early nineteenth century moral tales, this version is particularly harsh in its condemnation of Lowe's wish to get rich so that he can distribute more charity. It was unusual to criticise characters for being fortunate, as Mr. Lowe is in his lottery win (so often, a convenient means of enriching a protagonist at the end of a novel). But his lottery win aside, it was even more unusual to criticise characters for becoming rich through honest commercial activities, which Mr. Lowe does (and as had Dick Whittington, say).
The very short tale which follows - The Peevish Child (pp.30-31) - fills just three sentences. In the first, we hear of a peevish, spoiled girl who cried every day for something she could not have. In the second, she visits her aunt, who offers her kindly admonitions and does not pay attention to her tears. In the third, we discover that, as a result of her aunt's good sense, the child grew up to be noted from her mildness of temper. Many a much longer moral tale said no more than here is covered in just these three short paragraphs. The tale is essentially a lecture read to parents. Do not spoil your children, it says. Why a child might have welcomed such a lesson is unclear.
Ian Maxted's The London Book Trades 1775-1800 lists Benjamin Whitrow as a 'wholesale stationer' in Jewry Street, Aldgate from 1790-1792 and in the Livery Ironmongers' Co. by 1792. Whitrow joined with William Champante, a wax chandler, in c.1785 and they worked together in a variety of trades until 1816 (Maxted 1977, pp.42 and 245). Philip Brown's London Publishers and Printers records that 'Whitrow & Co.' - the imprint which appears on this book - had become the successor to Champante and Whitrow at 2 Jewry Street in 1815 or 1816. Their imprint was subsequently replaced by another, 'Nowill and Burch', from 1816 to 1819 (Brown 1982, p.222). All this suggests that The Bad Boy Reformed by Kindness might have been published in 1815 or 1816, a date not inconsistent with the style of the book. However, the British Library possesses another edition of The Fortunate Man which uses many of the same engravings and has the type set out identically, but which has some slight alteration to the covers and bears the imprint 'Printed for T. Hughes, Bookseller, Ludgate-hill'. A Thomas Hughes is known to have operated at 3 Broadway, Ludgate Hill, from 1829-33, although he may also have worked either before or after these dates at the same address (Brown 1982, p.95).
For a other similar books in the Hockliffe Collection published by Whitrow & Co., see The Three Cakes (0236) and The Bad Boy Reformed by Kindness (0059).
Maxted, Ian, The London Book Trades 1775-1800. A Preliminary Checklist of Members, Old Woking, Surrey, 1977
Brown, Philip A. H., London Publishers and Printers, c.1800-1870, London: British Library, 1982
Brown, Philip A. H., London Publishers and Printers, c.1800-1870, London: British Library, 1982