Stories Before 1850. 0122: Anon., The History of Dick Whittington, Lord Mayor of London
| | |
| --- | --- |
| Author: | Anon. |
| Title: | The History of Dick Whittington, Lord Mayor of London; With the Adventures of his Cat |
| Cat. Number: | 0122 |
| Date: | No date |
| 1st Edition: | Unknown |
| Pub. Place: | Banbury |
| Publisher: | J. G. Rusher |
| Price: | Unknown |
| Pages: | 1 vol., 16pp. (including covers) |
| Size: | 19 x 6 cm |
| Illustrations: | Frontispiece, endpiece and eight further wood-cuts |
| Note: | |
Images of all pages of this book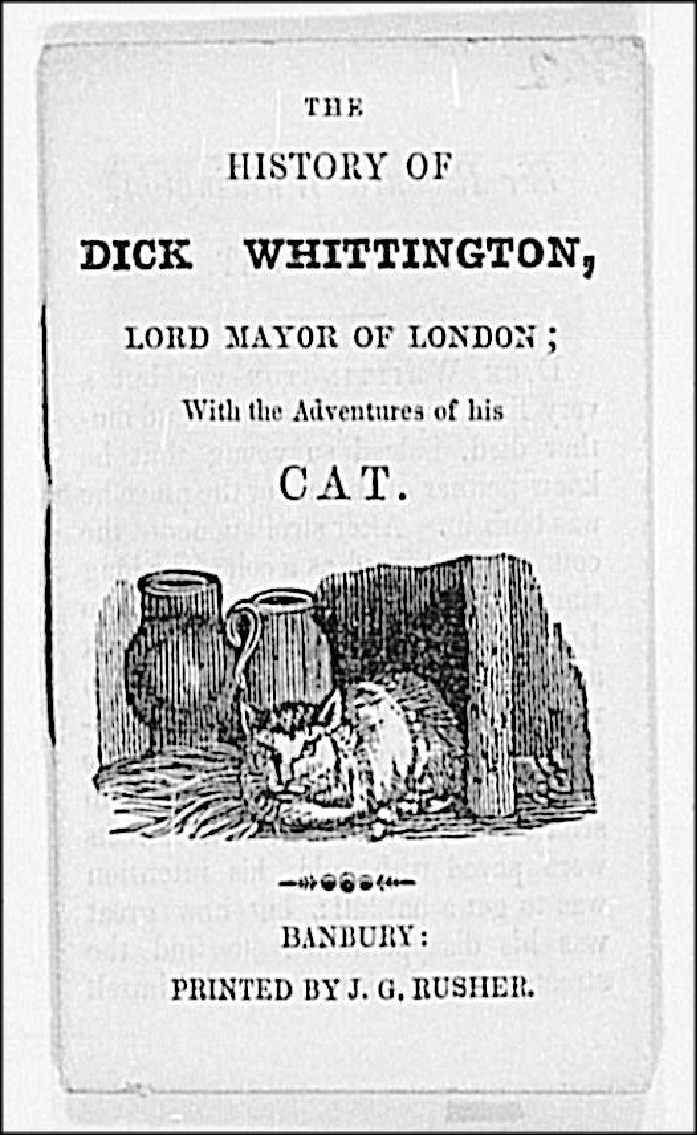 Introductory essay
The story of Whittington and his Cat was based on the life of Sir Richard Whittington (d.1423), a real historical figure, but by the seventeenth century the story had become more akin to a fairy tale. The tale has several elements in common with a number of European and Persian stories (notably the cat - see The Oxford Companion to Children's Literature, p.148). It was in print as a ballad and a play by 1605, but had probably existed as a piece of popular literature well before that. The 1605 ballad was possibly by Richard Johnson (?1573-?1659), author of numerous pieces of popular literature including The Seven Champions of Christendom and (probably) a prose version of The History of Tom Thumbe ... by R.J., in print by 1621.
Rusher's of Banbury was a leading producer of chapbooks, but one about whom little is known. John Golby Rusher (1784-1877) succeeded his father William (1759-1849) in his printing business, and established Banbury as an important publishing centre. Beyond this meagre data, we have only Rusher's own description of his enterprise to go on. His Galloping Guide to the ABC contains this verse:
At RUSHER'S fam'd Warehouse,
Books, Pictures and Toys,
Are selling to please all
The good Girls and Boys:
For youth of all ages
There's plenty in store,
Amusement, instruction,
For rich and for poor. (Stockham 1980, 29)
Because J. G. Rusher published for so long (the British Library has a collection of 'Banbury Lists' - annual directories of local information - the first of which is dated 1812 and the last 1874) - it is difficult to establish the publication dates of his productions. As an estimate of the date of this edition of The History of Dick Whittington, based purely on their appearance, 1820-1830 does not seem wholly improbable. For other texts in the Hockliffe Collection published by Rusher see 0012, 0022, 0083, 0084, 0093, 0112, 0474, 0475, 0476, 0679, 0682 and 0689.
For other versions of the Whittington story in the Hockliffe Collection, see 0036, 0047, 0048 and 0043.
Carpenter, Humphrey & Pritchard, Mari, The Oxford Companion to Children's Literature, Oxford: OUP, 1984
Stockham, Peter, 'On Selling Children's Books', The Private Library, 3rd ser., 3, i (Spring 1980), 21-36