Stories Before 1850. 0128: Anon., The History of Little Louisa
| | |
| --- | --- |
| Author: | Anon. |
| Title: | The history of little Louisa. By a Lady |
| Cat. Number: | 0128 |
| Date: | 1829 |
| 1st Edition: | |
| Pub. Place: | London |
| Publisher: | N. Hailes, 168, Piccadilly, opposite Bond Street |
| Price: | Unknown |
| Pages: | 1 vol., 151pp. |
| Size: | 14 x 8 cm |
| Illustrations: | Engraved frontispiece |
| Note: | Inscription on fly-leaf: 'Miss Louisa Mashiter / Priests / the gift of her Sister / Maria / January 14th 1835' |
Images of all pages of this book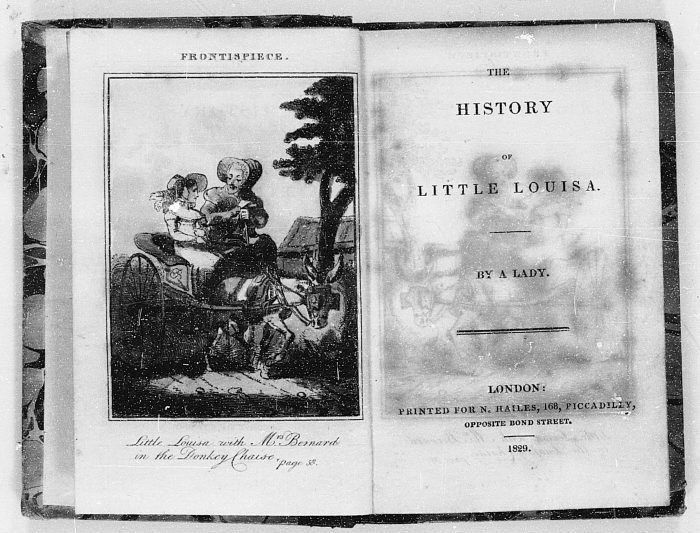 Introductory essay
The History of Little Louisa, or 'Rich and Poor', as the story is titled on p.1, is actually a story within a story. Before it starts, we are introduced to Georgey, the daughter of an affluent family, about eight years old. It is to her that the history of Louisa is told, over a series of evenings, by a member of her family. Throughout, the narrator occasionally breaks in to ask Georgey a question, or to point out how Louisa's story is relevant to her's (and, by extension, to the reader of the book too). The narrator prefaces the narrative, for instance, with a truly shocking description of the lives of two poor children who live near Georgey. Despite the extreme cold, which made Georgey shiver even inside her fur pelisse and muff, these poor children were clothed only in rags. Their rudimentary bed and pitiful diet are also in stark contrast with the comfort of Georgey's life. All this seems designed to make Georgey feel guilty about her affluence, but it also provides the context for the story of Louisa which is to come.
Louisa Lambert is the only daughter of a very rich family living in Portman Square, London. Her father is a merchant, a profession usefully defined for Georgey and the reader on p.7ff. She is rather spoiled too, owning 'six dolls, all beautifully dressed' and 'every amusing and instructive book written for children was to be found in her library' (p.6). Her mother is in rather delicate health, and so does not discipline Louisa quite as much as she should. Louisa has a pleasant natural temper and is very clever, but is given to rudeness and querulousness, largely because she has never been checked. During the story told on the first evening, for instance, Georgey is told how Louisa cast aspersions on a poor, disabled woman whom her mother was entertaining. Only afterwards was Louisa humbled to discover that this was her great-aunt, Mrs. Bernard, who had been crippled protecting Louisa's mother from a maddened bull let loose in the streets of London.
Louisa's mother invites a girl of Louisa's age, Fanny Melvin, to come to live with the family. She is mild, considerate and always content, unlike Louisa, but the two girls get on well. When the household is to visit the theatre, Louisa, despite having a fever, demands to go too, for she cannot bear not to witness Fanny's admiration of London society. The outing makes Louisa's condition much worse. Although she eventually recovers, her mother's health deteriorates because of the strain. She soon after dies, and at almost the same time, the business of Mr. Lambert crashes. He determines that the only means to recover his fortune is to set out for India. Fanny returns to her family in the country, and Louisa is sent to live with her aunt near Tunbridge Wells.
During her two-year stay with Mrs. Bernard, Louisa becomes much more considerate and industrious, and much less selfish. She comes to respect and love her aunt, but this felicity is interrupted by her aunt's death. Louisa has not heard from her father since he left for India, and she is now without a friend in the world. She is taken in, rather reluctantly, by a distant cousin of Mrs. Bernard, Mr. Dawson, who lives in London with his wife and daughter. They are poor themselves, but even more mean-spirited, and Mrs. Dawson scorns Louisa's 'book-learning' and her refined behaviour. Louisa is soon sent out as an apprentice to Mrs. Smart, a straw bonnet maker in Holborn. She is mistreated there and loses her health. Wandering around on the night of the Golden Jubilee of George III - for this is 1809 - Louisa happens upon a faithful servant of Mrs. Bernard, Martha, now reduced to great poverty. Despite her own wretchedness, Louisa helps Martha, but it is her kindness to one of her fellow-apprentices, Mary Collins, which ultimately reaps its reward. Mary's mother, Mrs. Collins, recognises Louisa's talents and her declining health, and offers to take her in as a sort of assistant-cum-clerk in her dress-making business in Hampstead.
Once Mrs. Collins has learned Louisa's history, she decides that Louisa needs to live in a position where she might hear news of her father. She arranges for Louisa to become companion to a wealthy girl of similar age, Clementina Onslow. By coincidence, the Onslow family now lives in the very same house in Portman Square in which Louisa grew up. Moreover, Clementina is every bit as petulant and selfish as Louisa was when she lived there, and Louisa (who now calls herself 'Lucy') plays the role of monitor to Clementina which Fanny once played for her. Clementina has been educated - badly - a boarding school, and then by an indolent aunt, for her parents have been in India. When they return, Louisa longs to ask after her father, but she never gets the chance.
Mrs. Onslow has brought back with her a precious box of perfumes, given to her husband by a nabob. Though forbidden to touch it, Clementina longs to play with the box, and one day she finds the cabinet which contain it open, and she removes the box. The cabinet shuts of its own accord, and to avoid detection by her mother, Clementina prevails on Louisa to hide the box in her pocket, promising to confess her fault later on. Soon, Mrs. Onslow discovers that her box is missing, and she interrogates all the servants. Louisa's guilt is quickly apparent, but she refuses to implicate Clementina who, though she witnesses the scene, does not confess. Louisa is dismissed in shame, and worse, just as she is being ordered out of the house, Fanny Melvin, now a fine lady, is announced. Louisa is utterly ashamed, but Fanny recognition of her former friend causes Mrs. Onslow to stay her judgment and to enquire more minutely into the circumstances of the purloined box. Clementina now confesses her guilt, clearing Louisa who is now greeted warmly by Mrs. Onslow. Louisa learns that her father is currently in London, desperately seeking her. They are reunited, and he reveals that he is now once more affluent, having been helped by General Onslow to build a new fortune in India. The varying, but deserved, fates of all the story's characters are detailed on the final pages (pp.150-51).
The History of Little Louisa has much in common with contemporary popular novels for adults, and might not inaccurately be likened to the work of Dickens. The overall shape of the narrative - from riches to rags and back again, with many moral and behavioural lessons learned on the way - is very familiar, but is admirably handled here. The final denouement, in Mrs. Onslow's home, is tense and even rather affecting (starts p.138ff). Further, the description of London poverty seems rather Dickensian. The description of poverty in the opening pages is much starker than is usual in children's literature, as is the treatment of Louisa's misery as apprentice to the cruel Mrs. Smart (p.83ff). Mrs. Dawson, a grasping and uncharitable inhabitant of the City who sees Louisa as a threat to the status of her own daughter, is reminiscent of Mrs. John Dashwood in Austen's Sense and Sensibility.
Overall, The History of Little Louisa has an Evangelical tendency, but this is seldom allowed to dominate the narrative. There is some interesting hostility children's books, including some sharp criticism of fairy tales (p.17), and the Bible is recommended as the only truly useful work (pp.46-47, though Eighteen Maxims of Mrs. Theresa Tidy is also recommended, p.124). Perhaps the most appealing feature was the frame narrative. A more rudimentary form of this structure was a familiar feature of children's literature. John Aikin and Anna Laetitia Barbauld's Evenings at Home (0052-0054), for example, had ostensibly been composed of stories told to children by their parents, and had included some discussion of the tales by the authors and audience. In The History of Little Louisa, though, each evening's chapter of the narrative is closed by a brief conversation between Georgey and the story-teller, and the telling of the tale is occasionally punctuated by further interpolated remarks.