Stories Before 1850. 0132: Anon., The History of Tommy Titmouse
| | |
| --- | --- |
| Author: | Anon. |
| Title: | The history of Tommy Titmouse, a little boy, who became a great man by minding his learning, doing as he was bid, and being good-natured and obliging to every body. Together with the adventures of the Old Man of the Woods, and other stories equally pleasing and instructive. Embellished with cuts |
| Cat. Number: | 0132 |
| Date: | 1815 |
| 1st Edition: | 1786? |
| Pub. Place: | London |
| Publisher: | J. Harris, at the Corner of St. Paul's |
| Price: | 3d |
| Pages: | 1 vol., 63pp. |
| Size: | 9.5 x 6.5 cm |
| Illustrations: | Frontispiece plus 15 further wood-cuts |
| Note: | |
Images of all pages of this book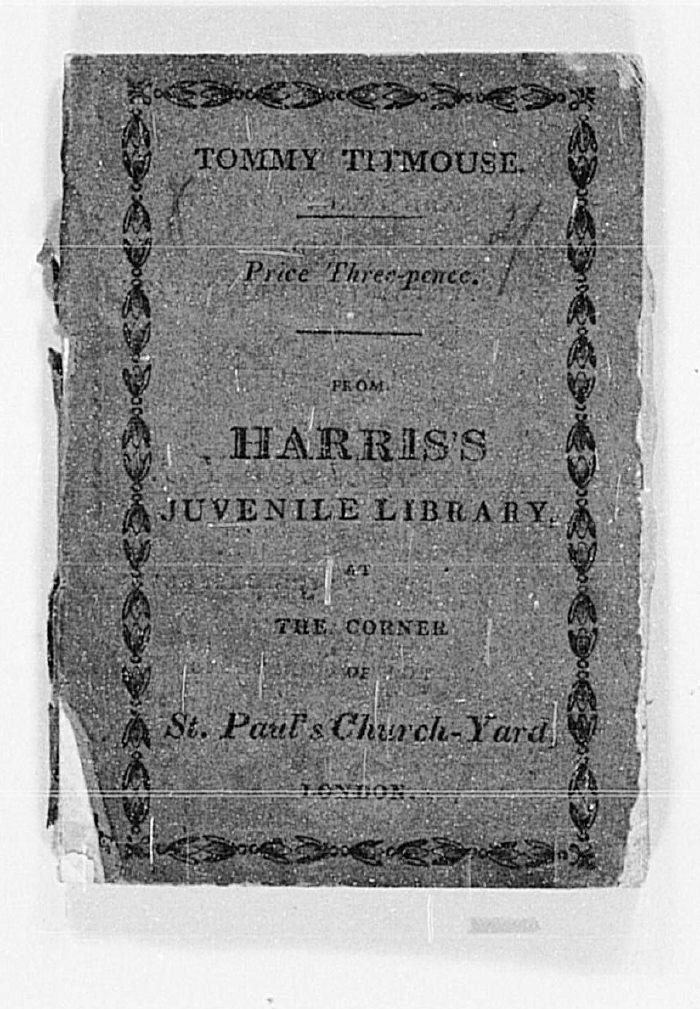 Introductory essay
The closing conceit of The History of Tommy Titmouse is that its hero, Tommy, once he has become a successful businessman, has ordered 'this book to be published' for the 'amusement and instruction' or all good children (p.52). In reality, its first publisher was Elizabeth Newbery, successor to Francis and John Newbery, who probably published the work in 1786. Certainly, the work was advertised in the London Chronicle in December of that year. Elizabeth Newbery had produced two further editions before 1809, when John Harris, her successor, issued his own. (Roscoe 1973: 142-43 and Moon 1987: 58) The edition in the Hockliffe Collection, was also published by Harris, in 1815, although it is Elizabeth Newbery's firm which receives an endorsement within the book: p.8). By 1815, the book's style and content were rather out of date.
Tommy Titmouse has all the hallmarks of a children's book in the tradition of John Newbery. It focuses on one boy, Tommy, who is small in stature but wishes to make himself a success in the world, a 'great man' as he terms it. He is, on other words, another Giles Gingerbread or Goody Two-Shoes. And the text is remarkably candid about the way to achieve success. As the Old Man of the Woods puts it concisely, 'I must tell you that the first step to being great is to be good, and to mind your learning' (p.18). Indeed, the reader is even vouchsafed what must surely have been the author's rationale for writing such a book (given through the mouthpiece of the Old Man of the Woods, who also writes for children): 'I hope they have a good effect on those whom they are intended to serve,' he says, speaking of his books, 'by making them obedient to their parents and friends, and attentive to their books and good counsel' (p.21). Tommy eventually does become a 'great man' with, inevitably, his own carriage, the key signifier of social status in so many of Newbery's books. The last few pages of the book detail how this was actually accomplished - he was sent as an apprentice to a London trader, and soon took over the business from his master - but we are never allowed to lose sight of the central message, that it is diligent learning and good behaviour which has underlain his success.
Up until the fulfilment of his ambitions, the book has simply recounted one or two isolated episodes in Tommy's life, all of which demonstrate his virtues. Tommy lives with his uncle, Mr. Worthy, and at his house Tommy proves his honesty, never telling a lie, even to cover up some small transgression (such as knocking down some china from a shelf). His behaviour is commended by Mr. Worthy and by Tommy's nurse, Mrs. Trueby, and Tommy soon becomes famous as the 'best boy in the parish'. His character soon comes to the attention of all the local worthies, and they invite Tommy to their houses so that he will provide an example to their own children. The Old Man of the Woods is just one of the adults who comes to admire Tommy's virtue. Tommy comes to meet him only because his school-friends, who like Tommy, but tease him for his size, tie him to the back of a butcher's dog. The dog gallops off out of town, and eventually brings Tommy to the Old man of the Woods who has lived as a hermit since his wife died and his son went missing. The reader's expectation must be that Tommy is this missing son, but in fact, the Old Man of the Woods' son eventually returns. He had been stolen by gypsies, but has since made good for himself as a merchant in London.
Roscoe, Sydney, John Newbery and his Successors, 1740-1814: A Bibliography, Wormsley, Herts., 1973
Moon, Marjorie, John Harris's books for youth, 1801-1843, revised edition, Winchester, 1987