Stories Before 1850. 0141: Mary Hughes, Aunt Mary's Tales: for the entertainment and improvement of little girls
| | |
| --- | --- |
| Author: | Hughes, Mary (Robson) |
| Title: | Aunt Mary's tales, for the entertainment and improvement of little girls. Addressed to her nieces |
| Cat. Number: | 0141 |
| Date: | No date |
| 1st Edition: | |
| Pub. Place: | London |
| Publisher: | Harvey and Darton |
| Price: | 2s |
| Pages: | 1 vol., vi + 168pp. |
| Size: | 14.5 x 9.5 cm |
| Illustrations: | None (frontispiece missing) |
| Note: | Inscription on inside front cover: 'Amy Stileman / from Aunt Susie'. Pages i-iv and 161-64 missing. |
Images of all pages of this book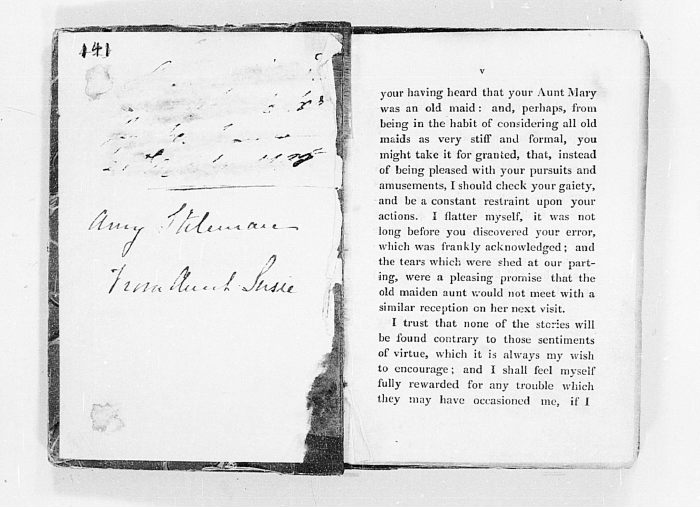 Introductory essay
Mary Hughes, née Robson, wrote a great many works for children in the 1810s, '20s and '30s. Amongst the earliest was Aunt Mary's Tales, actually two separate works, published separately, one being for boys and the other for girls. The Hockliffe Collection contains only the latter. The premise for the stories, as spelled out in the preface 'To my nieces' (partly missing from the Hockliffe copy), is a familiar one. The narrator had been visiting her nieces for a time, but has now returned to her own home. In committing these stories to paper, she is simply fulfilling the request of her hosts that she provide them with copies of the tales which had so thoroughly entertained them during her visit.
The first six stories in the volume - 'The expected governess', 'The butterfly', 'The scarlet fever', 'The lily', 'Hands were made to be used' and 'The morning present' - together form one narrative: the story of Emily and her new governess, Mrs. Wilson. Emily, whose mother has died, starts the tale an affectionate but spoiled child, and is reluctant to accept the discipline insisted upon by Mrs. Wilson. Slowly learns to accept the truth of Mrs. Wilson's counsel. Amongst other things, she learns not to torment animals and how to exert herself in order to be able to be charitable to those less fortunate than herself. And she learns to conform herself to her governess's opinions in all matters. Although she was enjoying reading her father's copy of 'the Arabian Nights' Entertainments', for example, she renounces it when she finds that Mrs. Wilson does not approve. 'I used to think that you refused me things only to tease and vex me;' Emily says, 'but I am not so silly now, and am glad to have an opportunity of showing you that I have resolution to withstand temptation.' (p.63) Instead, Emily is given a copy of 'Martin's Translation of Rousseau's Botany', and she becomes engrossed in her study of natural history.
The second set of chapters tell the story of Ellen and Cecilia Summers, twins, who at the death of their father move with their mother to the countryside. At first they are disappointed with their lives there, preferring the attractions of Manchester, their former home. Soon, however, they learn to appreciate natural history, partly through study and partly through their lives in the country. Remarkably, the volume ends on a sour note. Cecilia cheats in a contest with her sister, and, as a consequence, Ellen moves to Wales with the kindly Mrs. Greenhill. Cecilia is wretched without her sister, and deeply repents her indiscretion.
Mary Robson was born in Newcastle-upon-Tyne, and married Thomas Hughes of Dundee in 1817. The following year they emigrated to the United States, settling in Philadelphia where they established a school for young women. Mrs. Robson had started writing for children before her marriage, and Aunt Mary's Tales, as well as several other titles, dates from this period. These works had been published in the United States and their fame assured the success of her school. After running the school for twenty-one years Thomas and Mary Hughes turned to farming in Doylestown, Buck County, in 1839. Hughes continued to write while in America, producing, amongst much else, a Life of William Penn in 1822 and The Rebellious Schoolgirl in 1821, 0142 in the Hockliffe Collection. (Hale 1857 and Boase 1892-1921: 1:1575).
Hale, Sarah Josepha Buell, A Cyclopaedia of Female Biography, ed. H. G. Adams, London: Goombridge and Sons, 1857
Boase, F., Modern English Biography..., Truro: Netherton and Worth, 1892-1921