Stories Before 1850. 0155: Mrs. Kentish, The Two Friends; or, The Dying Fawn
| | |
| --- | --- |
| Author: | Kentish, Mrs. |
| Title: | The two friends; or, the dying fawn; a tale, exemplifying the disastrous consequences which invariably result from thoughtlessness and versatility. By Mrs. Kentish, author of Conversations between Henrietta and her Mamma, etc. etc. |
| Cat. Number: | 0155 |
| Date: | No date |
| 1st Edition: | |
| Pub. Place: | London |
| Publisher: | Dean and Munday |
| Price: | 1s |
| Pages: | 1 vol., 30pp. |
| Size: | 16.5 x 9.5 cm |
| Illustrations: | Frontispiece plus four other full-page engravings, and a decorated outside front cover |
| Note: | A different edition from 0156 |
Images of all pages of this book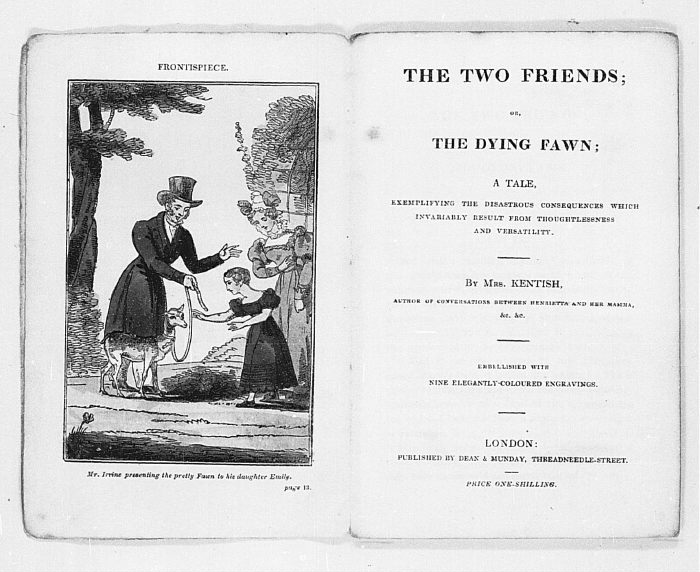 Introductory essay
The subtitle of The two friends promises to expose 'the disastrous consequences which invariably result from thoughtlessness and versatility.' Here, versatility means a lack of commitment to a single project. It was a failing that Emily, our heroine, exhibited only too frequently in her youth. She was given a myrtle plant for a present, but soon it withered and died due to her neglect. She had, after all, been presented with a new doll, which engrossed all her attention. The doll, in its turn, was forgotten and then accidentally smashed when Emily became fixated by a grotto of shells she was building, and this was put aside when her father gave her a tame deer. It is with Emily's abandonment of this fawn, that the first part of the book closes. Her friend Rosa has come to stay, and the two friends are having such an enjoyable time together that Emily completely forgets the fawn. It has been locked in an outhouse, unfed and unwatered, for several days when Emily remembers it. But it is too late. Emily arrives just in time to witness its death.
The second part of the text, which begins abruptly on p.17, leaps forward many years. Emily is now grown up and married to a rich husband, but she has not remedied the faults of her youth. When she gets word that a friend from her youth is ill and desires to see her, she hurries to her bedside with all the zeal of her youth. The invalid turns out to be Rosa, now living in dire poverty. But, once more, Emily is unable to remain committed to her plans to help Rosa. Her trivial social engagements crowd in upon her attention, and she forgets her friend. Finally, she receives news that Rosa is dying. This time, unlike with the fawn, Emily is too late even to witness the death of her former favourite, for Rosa has died before Emily's arrival. The shock sends Emily mad. Ever after she can only repeat the words which Rosa had written shortly before her death: 'Emily, do you remember the Fawn?' (p.30, and Rosa's death-bed pictured opposite p.27.)
The Hockliffe Collection contains two editions of The Two Friends, 0155 and 0156. The text and engravings are the same, but are set out slightly differently. Both editions are undated and there are few, if any, other clues to which version was the earlier.