Stories Before 1850. 0173: Eliza Fenwick, The Story of Little Mary and her Cat
| | |
| --- | --- |
| Author: | Fenwick, Eliza |
| Title: | The story of little Mary and her cat. In words not exceeding two syllables |
| Cat. Number: | 0173 |
| Date: | No date but c.1830 |
| 1st Edition: | 1804 |
| Pub. Place: | London |
| Publisher: | William Darton and Son, Holborn Hill |
| Price: | 6d |
| Pages: | 1 vol., 35pp. plus one page booklist |
| Size: | 14 x 8 cm |
| Illustrations: | Frontispiece plus five further full-page engravings |
| Note: | Inscription on flyleaf: 'Ann Fanny Arnold Feb.ry 2nd 1838'. A list of children's books by Mary (Belson) Elliott is at the back of the book. |
Images of all pages of this book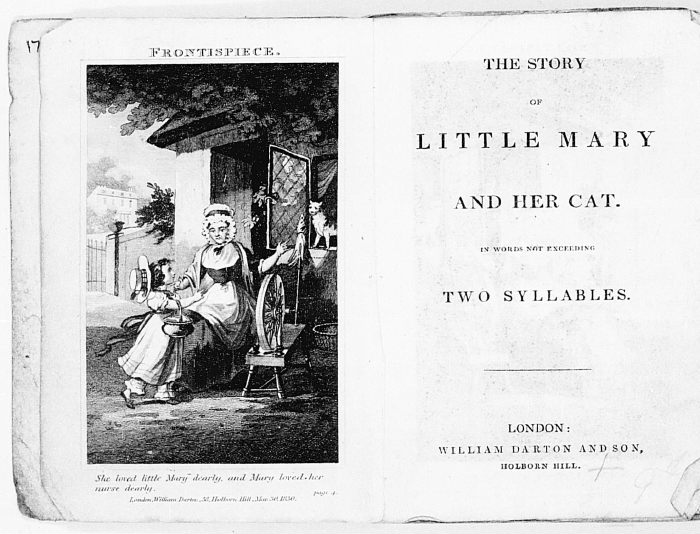 Introductory essay
That Eliza Fenwick was the author of Mary and her Cat is evident from the title-text of Infantine Stories ... By E. Fenwick, author of the Life of Carlo; Mary and her Cat, Presents for good Boys and Girls, etc., which was published in 1810, also by Benjamin Tabart. Fenwick moved in radical circles in 1790s London, and was a friend and colleague of William Godwin, Mary Wollstonecraft, Mary Hays, Elizabeth Inchbald and others. Her husband, John Fenwick, wrote several radical pamphlets and edited the radical newspaper Albion. Eliza Fenwick herself wrote the novel Secresy [sic] in 1795 which took children's education as its central theme and subjected Rousseau's ideas to close scrutiny. She announced her separation from her husband in 1800 and was forced to find employment. She kept a school, worked as a governess, coloured prints, translated, and wrote numerous books for Tabart, such as The Life of the Famous Dog Carlo (0162 in the Hockliffe Collection). Fenwick later became manager of the Godwins' juvenile library, but she emigrated to the West Indies soon after, following her daughter who had found work as an actor there, and ended her days in America. (Tomalin 1977: vii-xi, and Moon 1990: 34-41)
Fenwick's Visits to a Juvenile Library, an extended puff for Tabart's publishing and book-selling business, though cast in the form of a narrative, was presumably simply another attempt to keep the wolf from the door written during Fenwick's employment by Tabart. It featured Mary and her Cat amongst the books which the children of the Clifford family purchase. Because of a faulty education, Caroline Clifford, for whom the book is bought, is almost illiterate. 'When she had spelt a word,' we are told, 'she knew not how to divide the syllables, and put them together, so that she made utter nonsense of every line.' (Fenwick 1977: 43-44) This is why Mary and her Cat is just the thing to help her education. Not only did it contain only words which did not exceed two syllables, as the title-page proudly proclaims, but these two-syllable words are broken up with hyphens. In all its various editions, the book also contains a substantial number of illustrations, which Caroline Clifford points out, are what draws a child to a book, and instills in her the desire to read it.
The title-page of Tabart's first edition of Mary and her Cat is dated 1804, but the cover actually bears the date 1805. It is probable that the book was issued towards the end of 1804, and that the 1805 date was printed to make the book seem new for a few months longer. Even by the 1808 edition in the Hockliffe Collection (0172), the 1804 date remains on the title-page. This was the second edition, and two more were to follow before 1814, when the firm of William Darton took over the title. Thereafter, Darton frequently repeated the work, and the Hockliffe Collection contains two further undated editions - 0173 and 0174 - both probably published after 1830 (from when the frontispiece to 0173 is dated).
The long-standing appeal of Mary and her Cat is probably attributable to its clever fusion of an engaging animal narrative (attractive to children) and a consistent didacticism (attractive to parents and teachers). Mary, the daughter of an affluent family, is bequeathed the cat, Muff, from her old nurse, who dies with nothing else to give her. If Mary should do wrong, her nurse tells her, when she looks at Muff she will think of her former Nurse, and be sorry for her fault. The games Mary and Muff play are described in a light-hearted way, but the cat is indeed a spur to Mary's conscience. His good-nature as well as the association with Nurse Brown, persuade Mary to take her foul-tasting medicine as her mother recommends, and to take in and care for an abandoned kitten.
However, the climax of the narrative comes when Mary receives a valuable locket from an uncle. Unwilling to wear it herself, for it bounces in her face when she skips, Mary ties the locket around Muff's neck. This is so amusing that even after Mary's mother has forbidden such cruelty to the cat, Mary continues with the 'game'. Only when Muff is stolen that night, because of the golden locket around its neck, does Mary learn her lesson. Fortuitously, a young boy finds Muff just as it is about to expire, and the cat is returned. Mary's mother rewards the boy by sending him to school, and Mary shares her books with him and his poor family.
Fenwick, Eliza, Visits to the Juvenile Library, with a 'Preface' by Claire Tomalin, New York and London: Garland Publishing Inc., 1977
Moon, Marjorie, Benjamin Tabart's Juvenile Library. A Bibliography of books for children published, written, edited and sold by Mr. Tabart, 1801-1820, Winchester, Hants. and Detroit, 1990
Fenwick, Eliza, Visits to the Juvenile Library, with a 'Preface' by Claire Tomalin, New York and London: Garland Publishing Inc., 1977