Stories Before 1850. 0194: Anon., The History of an Old Woman
| | |
| --- | --- |
| Author: | Anon. |
| Title: | The History of an Old Woman; who had Three Sons Jerry, James and John, together with An Account of What Became of Her Property, and last of all Herself. Illustrated with Sixteen Beautiful Engravings |
| Cat. Number: | 0194 |
| Date: | 1815 |
| 1st Edition: | 1815 |
| Pub. Place: | London |
| Publisher: | J. Harris, Corner of St. Paul's |
| Price: | Unknown |
| Pages: | 1 vol., 16pp. |
| Size: | 13 x 10 cm |
| Illustrations: | Decorated front cover plus fourteen engravings |
| Note: | Pages 1-2 missing? |
Images of all pages of this book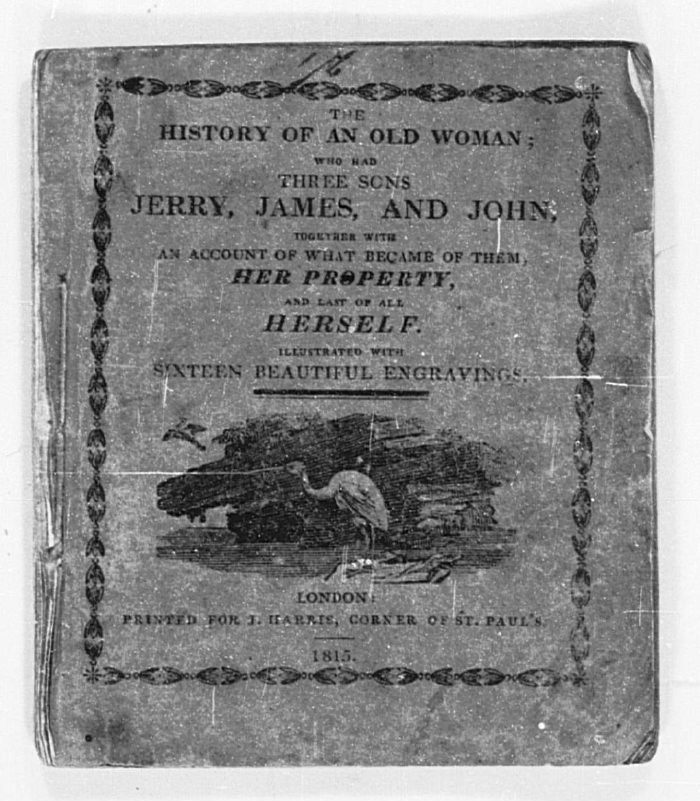 Introductory essay
Doreen Boggis attributes The History of an Old Woman to the poet, novelist and critic Thomas Love Peacock (Boggis 1969: 19). Although it is possible that Peacock wrote this neat and amusing poem, there is no obvious evidence to support the claim. None of Peacock's recent biographers mention the work. Yet Peacock certainly was working as a poet in 1815, and would become celebrated for his witty and light-hearted writing. In any case, The History of an Old Woman is as much a picture book as a book of verse. Its coloured engravings dominate the book, making it extremely attractive, and each stanza of verse functions largely as a caption to the picture. This was the case with many of the works published by John Harris in the decade or so after the appearance of the very successful Butterfly's Ball in 1806 (0835-0836). As Marjorie Moon puts it in her bibliography of John Harris's Books for Youth 1801-1843, 'pretty little square books ... poured out helter-skelter from the presses to supply the demand for a new kind of nursery book - funny, imaginative and altogether different from the pious moralisings that up till now, with a few honourable exceptions, were the literature of childhood' (Moon 1987: 153). Most of these books formed part of Harris's Cabinet of Amusement and Instruction (see 0196 or 0175 for other Harris's Cabinet books). Moon lists The History of an Old Woman as forming part of this loose series, but the Hockliffe copy shows no sign of this (Moon 1987: 57).
Since the digitisation of this book contains only fourteen, rather than the sixteen engravings promised in the title, it seems likely that pages 1-2 are missing. This is supported by the fact that the Old Woman's children, mentioned in the title as it appears on the front cover, are not referred to in the main body of the text.
A date of publication appears at the foot of page 9. This may read 1813, rather than 1815, providing a possible date of first publication. Moon lists only this 1815 edition (Moon 1987: 57).
Boggis, Dorren H., Catalogue of the Hockliffle Collection of Early Children's Books, Bedford: Bedford College of Education, 1969
Moon, Marjorie, John Harris's books for youth, 1801-1843, revised edition, Winchester, 1987
Moon, Marjorie, John Harris's books for youth, 1801-1843, revised edition, Winchester, 1987
Moon, Marjorie, John Harris's books for youth, 1801-1843, revised edition, Winchester, 1987