Stories Before 1850. 0254: C. W., Mr Punch's New Drama
| | |
| --- | --- |
| Author: | W., C. |
| Title: | Mr Punch's new drama, as it is performed in the City of London. By C.W. |
| Cat. Number: | 0254 |
| Date: | 1830 |
| 1st Edition: | |
| Pub. Place: | London |
| Publisher: | C. Woolnoth, 2, Linden Grove |
| Price: | 1s |
| Pages: | 1 vol., 16pp. |
| Size: | 13.5 x 10 cm |
| Illustrations: | Frontispiece plus seven further full-page prints |
| Note: | Inscription by 'S. C. George' on outside front cover, dated 1850? |
Images of all pages of this book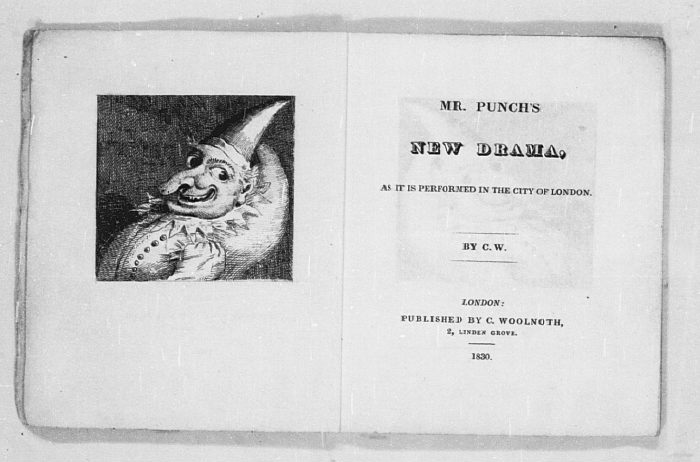 Introductory essay
The first recorded Punch and Judy performances in England date from the late seventeenth and early eighteenth centuries. Deriving from the Italian Commedia dell'arte which used human actors in masks, Punch and Judy shows used glove puppets. They were frequent features at fair-grounds throughout the eighteenth and into the nineteenth centuries. How seriously we ought to take the assertions in this book of 1830 that Punch had lost much of his popularity (see pages 3-5) is open to question.
The main features of the Punch and Judy show had become fairly standardised during the eighteenth century, and, according to the prefacing remarks given here, rather hackneyed and consequently unpopular. Mr Punch's new drama describes in robust and direct prose a new Punch and Judy show. The traditional 'text' had been divided into several standard episodes. After introducing himself, Punch was attacked by his dog Toby and they contested possession of some sausages. Then Judy gave their baby to Punch to nurse, but he throws the baby out into the audience and murders Judy with his stick. Punch is arrested by the beadle and given over to Jack Ketch, the hangman, for execution. But just as he is about to be hanged, Punch tricks the executioner into hanging himself. As he gloats in triumph the Devil appears, or sometimes a crocodile, and they fight. The Devil is beaten, and the show ends.
Mr Punch's new drama discards this pattern, though it contains many similar episodes. It was in some senses a sequel, being set, as the preface notes, not in Punch's youth, as the standard 'text' had been, but in his maturity. The action is, if anything, more violent that the original. It begins with Punch selling his three sons to a chimney sweep. Then he plots to poison all the local dogs, but is foiled when even the dogs do not dare go near him to eat the poisoned meat which he has put down for them. Next Punch hears a town cryer announcing a public execution, but when he attends he finds that it is his three sons who are to be hanged for theft. Punch exhibits no sadness at this but proceeds to beat several men who accost him, including a man to whom he owes money and a company of actors. Finally the Devil appears, and after soliciting a lighted candle from the audience, he sets Punch on fire. An afterpiece describes Punch rising after he has been burned to death to entertain the audience with various tricks. The book closes with a verse referencing Tweedle-dum and Tweedle-Dee, and a pointed note that the moral has been omitted. To draw one after this sort of free, carnivalesque work would have been impossible (p.16).
A book describing a Punch and Judy show had been written by John Payne Collier and illustrated by George Cruikshank two years before the appearance of Mr Punch's new drama (London: S. Prowett, 1828). This was a fairly serious work, an attempt to preserve for posterity a form of traditional street theatre. It had been prefaced by essays dealing with the 'Origin of Punch in Italy', the 'Origin and progress of puppet-plays in England', and so on. Mr Punch's new drama was presumably also a description of a real show, for it is written as a report on something seen and the illustrations appear to depict real scenes from the show. Most of the cuts are signed 'C.W.', to whom the book is also attributed on its cover. Who 'C.W.' was remains a mystery.
Punch and Judy became a fairly frequently subject for children's books. In 1854, for instance, appeared A Wonderful Drama of Punch and Judy by Papernose Woodensconce which set out the traditional story in verse and as a script which budding puppeteers could use to entertain their families. By the 1860s or '70s, a large picture book with movable parts was telling a much scaled-down story. The Hockliffe's Mr Punch's new drama is apparently the only such work to provide a wholly different narrative using the same foundations.