Stories Before 1850. 0259: Anon., Youthful sports; or, the pleasures of a country fair
| | |
| --- | --- |
| Author: | Anon. |
| Title: | Youthful sports; or, the pleasures of a country fair. For good boys and girls. With beautiful engravings on wood |
| Cat. Number: | 0259 |
| Date: | No date but c.1820? |
| 1st Edition: | |
| Pub. Place: | Otley |
| Publisher: | W. Walker, at the Wharfdale Stanhope Press |
| Price: | 1d |
| Pages: | 1 vol., 16pp. |
| Size: | 10 x 6 cm |
| Illustrations: | Frontispiece plus seven further wood engravings including one on outside back cover |
| Note: | |
Images of all pages of this book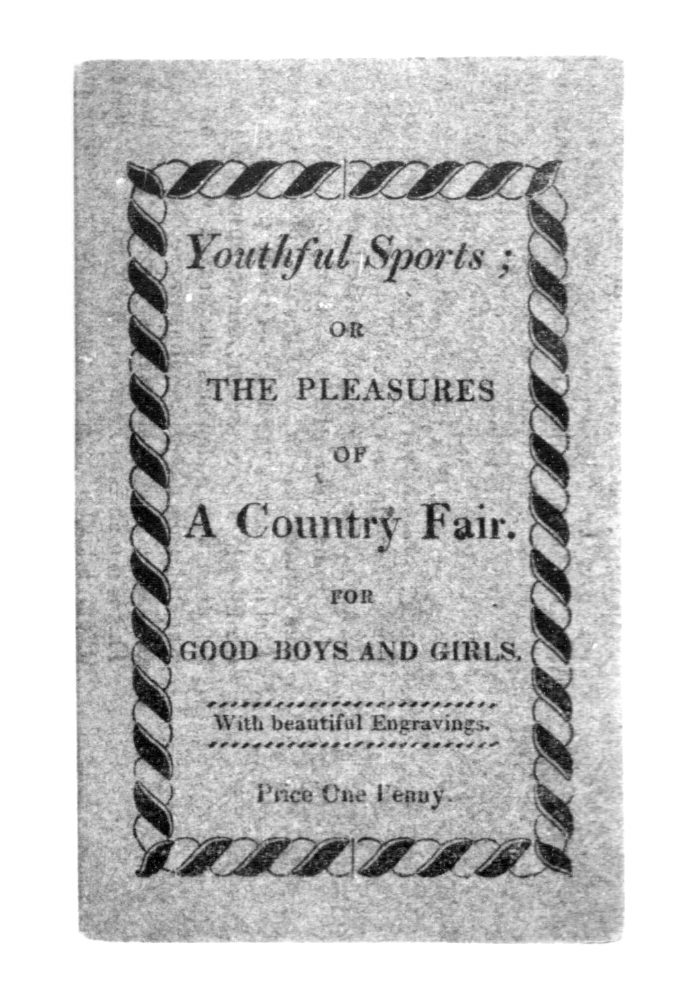 Introductory essay
This short chapbook begins when Henry invites another boy, George, to leave his fishing a come to the fair. In anticipation, the chief object of their visit is the 'entertaining book adorned with handsome pictures' which they will be able to purchase there (p.6). When they actually arrive, however, they are impressed most by the music - drums, trumpets, fifes and fiddles - and Henry wishes he had enough money to buy an instrument to join in with the general din. The fair also boasts round-a-bouts and other rides, a menagerie of wild animals (including lions and hyenas as well as a dancing bear), and the inevitable gingerbread stalls. As well as the lively description of the fair, there is room for some moralising. The boys scorn a man so drunk that he spouts nonsense and attracts a crowd around him. Henry's covetousness of the musical instruments draws a moral stanza too:
O may I with myself agree,
Add never covet what I see;
For while our wishes idly roll,
We banish quiet from the soul,
'Tis thus the busy beat the air,
And misers gather wealth and care. (p.9)
Indeed, the fair is not by any means a paradise. George and Henry leave as the 'rabble' begins to gather. It was just as well that they did, 'for in the same mob there were six or seven people killed, and had they stopped they might have shared the same fate' (p.14). 'Fairs, no doubt, are pleasant places,' the text concludes, 'when boys behave themselves well; but if otherwise, they oftentimes end in riot and confusion; therefore, I should not advise many to attend.' (p.15) Such a dour sentiment seems to contrast with the general tenor of this chapbook. But throughout children's literature, fairs were often envisioned as pleasure grounds with a distinctly hazardous side. They were used as testing grounds, morally neutral in themselves perhaps, but full of temptations to behave badly, spend poorly or foolishly to compare one's humdrum ordinary life with this temporary carnival. Their frequent appearance in all sorts of children's books, not only chapbooks like this, testifies to the popularity and ubiquity of fairs, and perhaps suggests that they usually did indeed feature book-stalls at which such texts as this could be purchased as souvenirs.