Periodicals and Annuals. 0363: Anon., The Children's Magazine
| | |
| --- | --- |
| Author: | Anon. |
| Title: | The children's magazine; or, monthly repository of instruction and delight. For July 1800. Embellished with two plates - the Little Petitioners - and the Tell-tale [and volumes for August, September, October, November and December 1800] |
| Cat. Number: | 0363 |
| Date: | 1800 |
| 1st Edition: | 1800 |
| Pub. Place: | London |
| Publisher: | John Marshall, No.4, Aldermary Church-Yard, Bow-Lane, Cheapside |
| Price: | Unknown |
| Pages: | 1 vol., 408pp. |
| Size: | 11.5 x 7 cm |
| Illustrations: | 10 full-page engravings and many wood-cuts in the text |
| Note: | These 6 monthly parts are combined to form vol.4 of the magazine |
Images of all pages of this book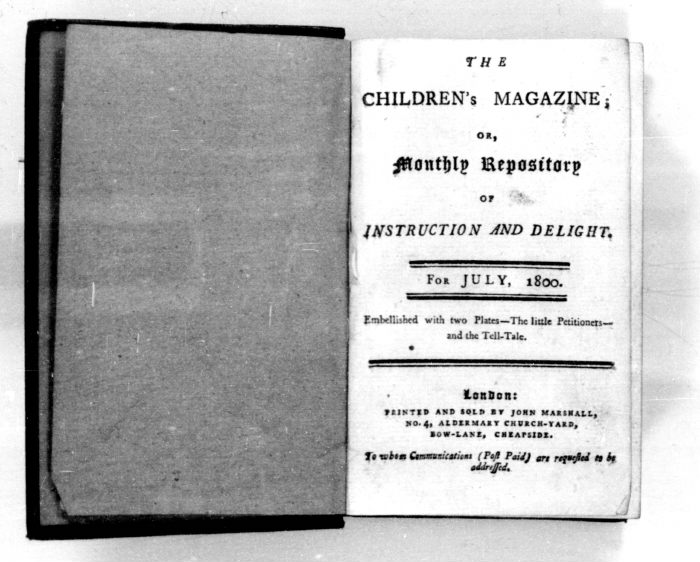 Introductory essay
The Children's Magazine, or Monthly Repository of Instruction and Delight lasted from January 1799 until December 1800. It appeared monthly, but was designed to be collected into volumes, each containing six issues. Exactly four volume's-worth was published, therefore. The Hockliffe Collection holds just Volume Four.
The first British magazine for children is generally supposed to have been John Newbery's Lilliputian Magazine which was first published, in monthly instalments, in 1751-52. The Hockliffe Collection has a copy of another early essay in the form, also called The Lilliputian Magazine from c.1773-74 (0237). A third attempt was John Marshall's Juvenile Magazine of 1788, edited by Lucy Peacock. All of these were rather cumbersome, and scarcely distinguishable from single-issue collections of prose and verse. Indeed, their constituent parts were generally sold individually as well as being part of a series. In this sense, they were little different to Arnaud Berquin's L'Ami des Enfans, say, which was also issued monthly but was comprised of self-contained narratives which would have a very long shelf-life when issued together in one package (see 0060-0070).
Marshall's next attempt at the form, The Children's Magazine, which appears here, followed the same basic formula. It did, however, include several plays and narratives which were spread over two or more monthly numbers - 'The Little Idler', for instance, which began in October 1800 (p.205) and concluded in November (p.273), or 'The Grandmother', a play which made its first appearance in September 1800 and was concluded the following month. This episodic pattern was to become a characteristic of later children's periodicals.
In fact, magazines went through something of a boom around the turn of the century. Marshall's Children's Magazine was in competition with his own Picture Magazine, which ran only from 1800-1801, and The Young Gentleman's and Young Ladies' Magazine, published by Elizabeth Newbery from 1799-1800. It was the Evangelical movement, though, which did most to make the children's periodical a success. The Youth's Magazine began in 1805, the Religious Tract Society (R.T.S.) produced The Child's Companion from 1824, and the Rev. W. Carus Wilson started his Children's Friend in 1826 (see 0382). By the mid-nineteenth century, the form had taken off, and a huge number of children's magazines had become available, many religiously oriented but others much more secular in content.
A preface to the first volume of The Children's Magazine entitled 'To Parents, etc.' (not in the Hockliffe Collection) attempted to justify the periodical form on two grounds. First, as those engaged in the pursuit of education would know, it argued, 'it requires something continually new to gratify the youthful mind'. A monthly work could provide this. Second, the preface contended, a periodical could supply the work of many authors who, 'by uniting their powers', would render a collection more valuable that any single volume (1:iii-iv). What the preface did not say was that the continual need for more new material, and the problems of organising many contributors to a tight, monthly dead-line, made running a periodical a great effort. It is perhaps for these reasons that none of the eighteenth century attempts in this field lasted more than a year or two.
The Children's Magazine did contain a great variety of material. As well as the narratives, most of which were miniature moral tales, and the plays, which were similar to those to be found in Berquin's Children's Friend, there were short lessons in natural history and geography, and short stories in French. The most striking pages of the work are those featuring descriptions of animals, insects and plants. These were often rare creatures, the Egyptian jerboa for instance(p.209), and the descriptions were genereally accompanied by larger-than-life-size woodcuts, as with the fearsome stag beetle (p.112). Most interesting of all, perhaps, were the sections called 'Monthly Occurrences' which appeared at the end of most numbers. These were often concerned with the whereabouts and activities of the Royal Family (see p.133 for instance), but could touch on surprising subjects, like the recent spate of food riots (p.270ff.). These sections contain simple behavioural lessons (one should pray for the King; one should shun rioters), but they were also doubtlessly written in imitation of the catalogues of recent events which featured in most adult-oriented periodicals such as the Gentleman's Magazine and the Monthly Review.