Religious Books, Bibles, Hyms, etc. 0462: Isaac Watts, Divine Songs
| | |
| --- | --- |
| Author: | Watts, Isaac |
| Title: | Divine songs, attempted in easy language for children. By I. Watts, D.D. To which are added poems, instructive and entertaining |
| Cat. Number: | 0462 |
| Date: | 1800 |
| 1st Edition: | 1715 |
| Pub. Place: | Burslem [Staffordshire?] |
| Publisher: | John Tregortha |
| Price: | Unknown |
| Pages: | 1 vol., 95pp. |
| Size: | 11.5 x 8.5 cm |
| Illustrations: | Frontispiece plus 28 further wood-engravings |
| Note: | Boudn in Dutch flower boards |
Images of all pages of this book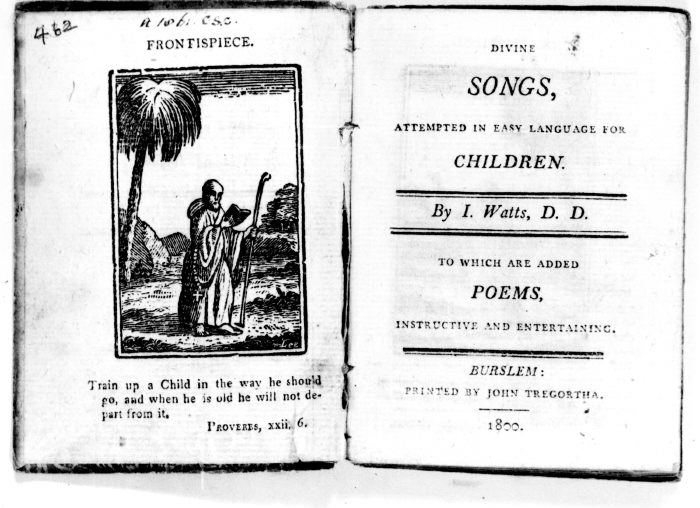 Introductory essay
Divine Songs was one of the standard texts of English childhood for almost two centuries after its first publication in 1715. When this edition of 1800 was published, the work was far from being on the wane. The British Library catalogue lists over one hundred different editions of the work published during the nineteenth century, including translations into Welsh, Manx, Yoruba and even a phonetic langauge. Indeed, in a sense, Divine Songs came into its own in the nineteenth century, and there probable more new editions in the eighty-five years after 1800 than in the same period before. The mid-nineteenth century was the era of the famous Lewis Carroll parodies of two of Watts' lyrics. In Alice's Adventures in Wonderland (1865), Watts' 'How doth the little busy bee' (p.51) became 'How doth the little crocodile', and his 'Tis the voice of the sluggard' (p.75) became 'Tis the voice of the Lobster'. For such parodies to work, the originals would have had to be well known.
Watts (1674-1748) was non-conformist, educated at a Dissenting Academy, and later a Congregationalist minister in what is now Stoke Newington in north London. He lived much of the later part of his life with the family of Sir Thomas Abney, one of his congregation, and he dedicated Divine Songs to Abney's three daughers, whom he taught. The book was written only at the urging of a friend, who wanted several children's hymns to accompany a catechism. The project clearly grew bigger than Watts had originally intended, and he divided the lyrics into two kinds, the 'divine songs' or hymns, each of which is accompanied by an illustration in this edition, and the 'Poems, instructive and entertaing', as they are called in this edition, although they are usually refered to as the 'Moral songs'. After its first publication, Watts added new material, namely several further moral songs and the 'Cradle Hymn' (p.89), often regarded as the best verse in the collection ('Hush! my Dear, lie still and slumber / Holy Angels guard thy Bed!').
Critics vary in their opinion of the quality of Watts' verse. Margaret Kinnell labels it 'not distinguished', but some of the lyrics are surely rather charming (Kinnell 1995: 28). Song sixteen, 'Against Quarrelling and Fighting' ('Let Dogs Delight to bark and bite...'), shows Watts at his best: pious but lively, preachy but joyful, sentimental but innovative in its imagery (p.43). Certainly, the verse had become much less alienating since Bunyan had published his Divine Emblems, just twenty-nine years earler in 1686 (0405 in the Hockliffe Collection).
The 'Preface' takes the form of a preemptive strike against those strict Puritans whose distrust of anything at all light-hearted would compel them to condemn Watts' use of verse. Verse and song have been 'wretchedly abused', Watts admits, but for this very reason, he argued, it was necessary to reclaim the form for Godly purposes. Children were drawn to verse, Watts asserted, and though this may be regrettable, nothing could be done about it. Therefore it behoved those who cared about the spiritual welfare of the young to provide them with verse which would not corrupt them, and which might depose those dangerously attractive existing works of verse and song which sought to ensnare young people in sin. Watts could also cite various Biblical precedents for the use of song in the service of God, and he could point to its positive advantages. Verse helped children learn, he averred. It attracted them to the text, and it made the precepts of the text easier to remember. Last, Watts used his preface to insist that the songs included in the volume would not be paritisan, but would be applicable to all Protestant sects. As F. J. Harvey Darton has pointed out, this represented a degree of religious toleration which would have been lacking in the work of even the previous generation (Darton 1982: 108).
Kinnell, Margaret, 'Publishing for children, 1700-1780', pp.26-45 in Children's Literature. An Illustrated History, ed. Peter Hunt, Oxford: Oxford University Pres, 1995
Darton, F. G. Harvey, Children's Books in England: Five centuries of social life, Cambridge: CUP, 1932; third edition, revised by Brian Alderson, 1982