Books of Instruction. 0558: James Greenwood, The London Vocabulary, English and Latin
| | |
| --- | --- |
| Author: | Greenwood, James |
| Title: | The London vocabulary, English and Latin: put into a new method, proper to acquaint the learner with things as well as pure Latin words. Adorned with twenty-six pictures. For the use of schools. The twenty-third edition. By James Greenwood, author of the 'English Grammar', and late Sur-Master of St. Paul's School |
| Cat. Number: | 0558 |
| Date: | 1807 |
| 1st Edition: | c.1700 |
| Pub. Place: | London |
| Publisher: | R. Baldwin, F. & C. Rivington, G. Robinson, Wilkie & Robinson, J. Walker, J. Matthews, C. Law, and Longman, Hurst, Rees and Orme |
| Price: | |
| Pages: | 1 vol., 123pp. |
| Size: | 14 x 9 cm |
| Illustrations: | Frontispiece and twenty-five further wood-cuts in the text |
| Note: | |
Images of all pages of this book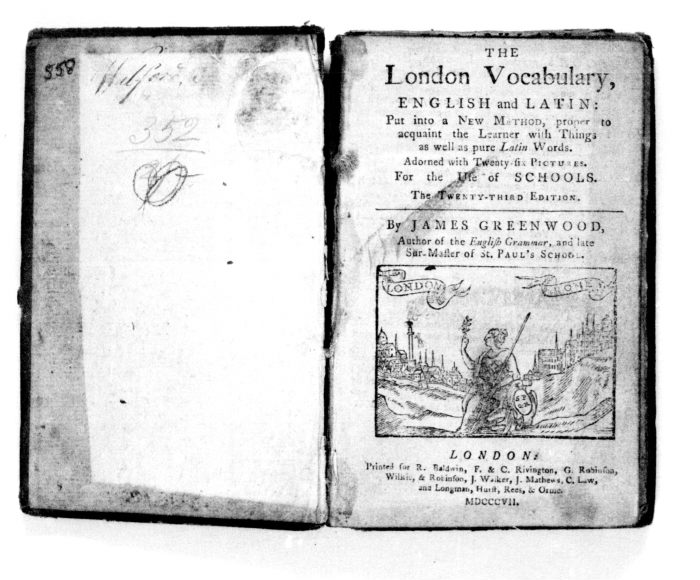 Introductory essay
The London Vocabulary was designed to assist students learning Latin. The first part of the book consists of vocabulary lessons, almost entirely dedicated to nouns. The words are divided up into groups - minerals, fishes, parts of the body, and so on - and are illustrated with labelled wood-cuts, many of which were surely designed to be entertaining (see for instance the ages of man on p.35 or the schoolroom on p.73). The second half of the book teaches verbs, pronouns and other parts of speech more difficult to illustrate. Greenwood's entry in the Dictionary of National Biography claims that The London Vocabulary was in fact 'nothing more than an abridgement of Jan Amos Komensky's Orbis Pictura (1659?).
Whether or not this was the case, Greenwood's book was astonishingly successful. It was first published in about 1700 (a third edition appeared in 1713, but those versions which were apparently earlier were undated), and the claim on the title-page of this 1807 Hockliffe copy that it was the twenty-third edition is probably not too exaggerated. There was apparently still a demand for a revised edition in 1828.
Greenwood was the master of a boarding-school at Woodford in Essex when he wrote The London Vocabulary, though he later became the 'surmaster' at St. Paul's School in London. His other major published work was An Essay Towards a Practical English Grammar. Describing the Genius and Nature of the English Tongue (1711).