Books of Instruction. 0569B: Anon., The Costume, Manners, and Peculiarities, of different inhabitants of the Globe
| | |
| --- | --- |
| Author: | Anon. |
| Title: | The costume, manners, and peculiarities, of different inhabitants of the globe, calculated to instruct and amuse the little folks of all countries |
| Cat. Number: | 0569B |
| Date: | No date but 1824 or 1825? |
| 1st Edition: | 1821 |
| Pub. Place: | London |
| Publisher: | John Harris, Corner of St. Paul's Church-Yard |
| Price: | 1s 6d |
| Pages: | 16pp. printed one side only |
| Size: | 17 x 10 cm |
| Illustrations: | 16 coloured woodcuts |
| Note: | Part of 'Harris's Cabinet of Amusement and Instruction consisting of the most Approved Novelties for the Nursery'. Bound with 0569A-M. The final page has a book-list of 'Harris's Cabinet' containing 53 titles |
Images of all pages of this book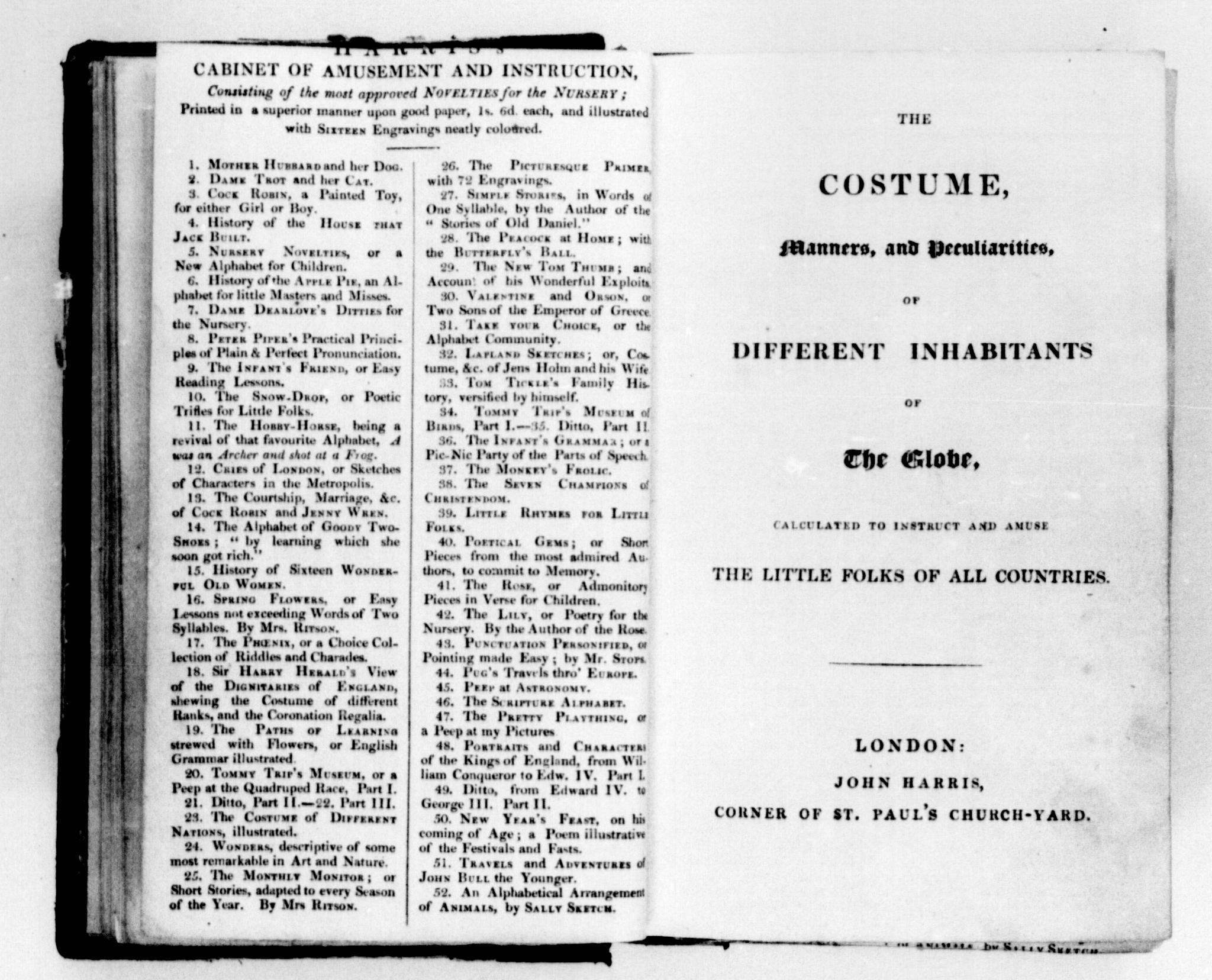 Introductory essay
Each page of The Costume, Manners, and Peculiarities, of different inhabitants of the Globe is given over to a separate 'nation'. A skilfully coloured woodcut portrays a male, a female and an infant from each 'nation', and a verse below explains, comments, and sometimes condemns, their costumes and customs. Needless to say, much of what is presented is wholly imaginary (like the costume of the 'Negro' hunter, p.11). But some effort has been made to ensure accuracy. The dress and habits of the Laplander, for example, appear to be based on Lapland Sketches (0569L), another book from the 'Harris's Cabinet of Amusement and Instruction' series, itself probably based on an exhibition of Laplanders and their accoutrements which was held in London in the early 1820s.
The Laplander section is fairly typical of the book's ethnocentricism. After describing the fish dishes prepared by Lapland wives, the verse concludes 'But, though she may be clever,/To Lapland I've no wish to roam,/But would prefer to dine at home;/Old English fare for ever!' (p.16) The entire book is premised on the notion that the British way is best, and there is an utter lack of patience with foreign cultures. Thus the reader is told that the Turk would look far better without his turban or his beard, and the verse goes so far as to interrogate the subject of the picture it describes: 'And why, great Sir, for goodness sake,/May not a Turkish lady take/The wrapping from her face?/Do let her nose and chin appear,/And trust me, you need nothing fear,/If that should be the case.' (p.5)
Overall, the tone of most of the verses is one of detached amusement. But occasionally the narrator becomes more overtly hostile to foreign cultures. Thus, an East Indian fakir - a 'wretched slave of superstition' - is lambasted for lying on his bed of nails until dangerously injured: 'O! that Britannia's God his word may send/To men like these, and bid their errors end!' (p.6) Elsewhere, though, the text tries to teach toleration to its readers. Having described a Highland Scot, for instance, the text suspects that its reader must 'wonder that his knees are bare,/And at his petticoats you stare', but notes that the Highlander himself deems his kilt a treasure, and 'His bride elect thinks just the same' and 'Surveys his dress with pleasure.' (p.1)
Most interestingly, the book forms a compendium of cultural stereotypes. The Dutchman smokes like a chimney and his wife wears a 'great tea-table thing of a hat' (p.2). The Spaniard is gaudy, seldom smiles, and is quick to anger and draw his rapier (p.3). The Hungarian's appearance is so alarming that he frightens children to their beds (p.4). The Persian will kill you if you so much as look at his wife (p.6). The Chinese are comical, but they prize filial duty as the British also should do (p.8). The 'Don Cossack', 'Tho' gothic in his dress', tenderly loves his wife as she loves him (p.9). The Egyptians use strong tobacco and have names which are difficult to pronounce (p.10). The 'Negroe', presumably meant to include all sub-Saharan Africans, is a fine hunter, beloved by his 'frow' (wife) and 'pick-a-ninny' (child) (p.11). The Otaheitans are comically dressed but dance alluringly (p.12). The North American Indians are warlike, but, here, are presented having made peace (p.13). The South American Indians wear so many feathers that one might think they grow their own, and it is difficult to tell the sexes apart (p.14). And the Greenlanders may have a disgusting diet of fish and seal, but it is better than starving (p.15). Ultimately, then, the book comes over as a vehicle for cultural imperialism, and even a justifying text for empire, but also as an enjoyable travel book which delighted in presenting the exotic. From the point of view of its contemporary readers, it was a book which could be presented as educational, but which was really designed to offer the thrill of the new, the decorative, and the outlandish to its readers, not to mention the pleasure to be derived from its high-quality woodcuts and the light-hearted verses themselves.
The Costume, Manners, and Peculiarities, of different inhabitants of the Globe was first published in 1821. This third edition is undated, but probably appeared in either 1824 or 1825. The book-list of 'Harris's Cabinet' titles which appears at the end of the work contains 53 titles, just one more than the fourth edition of Sir Harry Herald's graphical representation of the coronation regalia (0569A in the Hockliffe Collection) which was published in 1824. Corroborating evidence comes from watermarks dated 1824 and 1825 in other copies of this third edition listed in Moon 1987, p.33.
This work formed part of the second series of 'Harris's Cabinet of Amusement and Instruction', published in the early 1820s. According to Marjorie Moon, John Harris's bibliographer, the first series was brought out with great rapidity in 1807, 1808 and 1809, following the huge success of William Roscoe's Butterfly's Ball. These were 'funny, imaginative and altogether different from the pious moralisings that up till now, with a few honourable exceptions, were the literature of childhood.' (Moon 1987: 153) The second series included more instructional material, but still in a light-hearted way. The Hockliffe Collection possesses several other works from the series - see for instance, 0175, 0194, 0196, 0569A, 0569C, 0569D, 0569E, 0569G, 0569I, 0569J, 0569K, 0569L, 0569M, 0612 and 0668.
Moon, Marjorie, John Harris's books for youth, 1801-1843, revised edition, Winchester, 1987
Moon, Marjorie, John Harris's books for youth, 1801-1843, revised edition, Winchester, 1987