Books of Instruction. 0605: Anon. (John Newbery?), A Spelling-Dictionary of the English language
| | |
| --- | --- |
| Author: | Anon. (Newbery, John?) |
| Title: | A spelling-dictionary of the English language, on a new plan. For the use of young gentlemen, ladies, and foreigners. Being an introductory part of the Circle of the Sciences, etc. Published by the King's authority. The second edition |
| Cat. Number: | 0605 |
| Date: | 1748 |
| 1st Edition: | 1745 |
| Pub. Place: | London |
| Publisher: | J. Newbery, at the Bible and Sun, In St. Paul's Church-Yard |
| Price: | 1s |
| Pages: | 1 vol., vii+268pp. (unnumbered) |
| Size: | 9.5 x 6 cm |
| Illustrations: | None |
| Note: | Inscriptions on front and back matter: 'Francis Hurt 1767', etc. |
Images of all pages of this book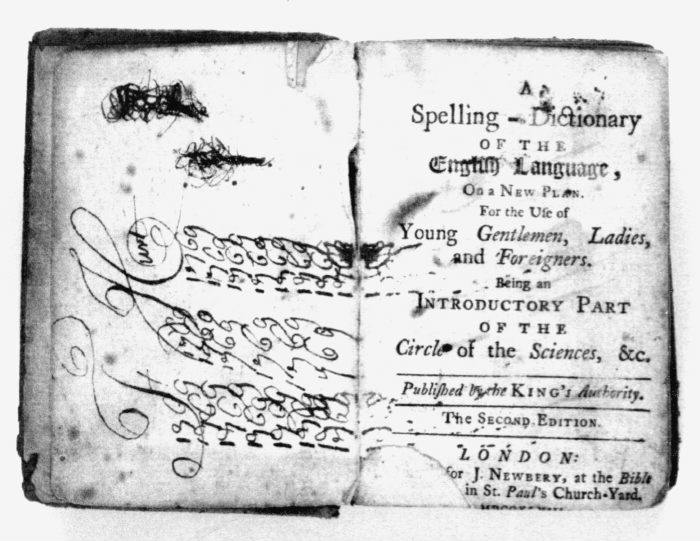 Introductory essay
According to S. Roscoe, A Spelling-Dictionary of the English language was first published in 1745 as volume three of the Circle of the Sciences. For this second edition, of which the Hockliffe Collection has the only known copy, the work was removed from the series and issued as an independent publication. Nine further editions followed, one every other year on average, until 1770, after which only four more were published between then and the final edition of 1786 for Thomas Carnan. The attribution of the work to John Newbery himself seems, according to Roscoe, 'to be no more than guess-work', and he doubts that the mercurial disposition which Newbery is generally supposed to have possessed would have equipped him for writing such a dull and labourious text. The dedication, however, is signed by John Newbery (Roscoe 1973: 201-203)
After a short preface which describes the book's purpose and intended audience - namely children, foreigners learning English, and especially 'the Fair-Sex' - the Spelling-Dictionary simply lists words in alphabetical order. There are no definitions, but each word is accompanied by a number to show how many syllables it is comprised of, accents to aid pronunciation, and a symbol to denote what part of speech each word belong to. The book was primarily an aid to orthography, and was designed to be carried around as a ready reference, and to be used by school-teachers to test their pupils. It was, boasts the preface, the first such book ever published.
Newbery first published the 'Circle of the Sciences' series in 1745-46. There were several changes to the consituent volumes of the series, and the order in which they were listed, but by the third edition of 1769 there were seven volumes, several of which are in the Hockliffe Collection. The contents were as follows: i. Grammar (see 0602)
ii. Arithmetic (see 1169, and 1168 for the 1748 edition)
iii. Rhetoric
v. Logic (see 0964)
vi. Geography (see 1045)
vii. Chronology
See Roscoe 1973: 73-82 for more details.
Roscoe, Sydney, John Newbery and his Successors, 1740-1814: A Bibliography, Wormsley, Herts., 1973
Roscoe, Sydney, John Newbery and his Successors, 1740-1814: A Bibliography, Wormsley, Herts., 1973