Books of Instruction. 0618: Anne Fisher, The Pleasing Instructor or entertaining moralist
| | |
| --- | --- |
| Author: | Fisher, Anne |
| Title: | The pleasing instructor or entertaining moralist consisting of select essay, relations, visions, and allegories collected from the most eminent English authors, to which are prefixed new thoughts on education. A new edition |
| Cat. Number: | 0618 |
| Date: | 1780 |
| 1st Edition: | 1756? |
| Pub. Place: | London and Newcastle |
| Publisher: | G. Robinson, Paternoster Row, and T. Slack in Newcastle |
| Price: | |
| Pages: | 1 vol., 368pp. |
| Size: | 17 x 10 cm |
| Illustrations: | Frontispiece plus three further full-page copper-plate engravings |
| Note: | MS. inscription: 'Thos. Tokelove Doddington/Dec.r 1784' then 'John Tokelove Doddington' |
Images of all pages of this book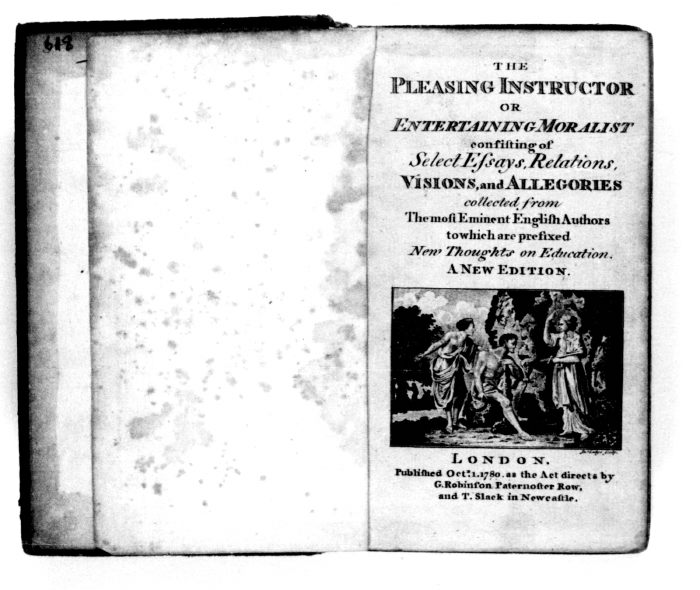 Introductory essay
The Pleasing Instructor was first published in 1756. For the next half century, new editions appeared with tremendous frequency, being published by T. Slack, the original Newcastle publisher, various London competitors, and, towards the end of the century, several provincial publishers. The 1780 edition in the Hockliffe Collection was revised and enlarged from the original version, although the first edition to appear in this modified form probably came out sometime in the 1770s. This new version also included several copper-plate engravings so that, as the preface explains, the public might distinguish the genuine article from 'a Piracy of it now abroad' (p.iii).
The plan behind the book was simple. Numerous short pieces of prose, with a few verse extracts, would be anthologised so as to form 'a connected Plan of Morality for the Instruction of Youth of both Sexes'. The original title-page was more specific, noting that the book was 'Designed for the Use of Schools, as well as the Closet', the compiler's hope being that reading the book would 'destroy in the Bud, those Vices and Frailties, which Mankind, and Youth in particular, are addicted to.' As the preface to this 1780 edition acknowledges, the anthology plan had been attempted before, but the compiler complained that all previous such collections had been an 'incoherent Jumble', and had been dogged by a pedantry which made the collections too formal. The purpose of these works was thus too often frustrated. In The Pleasing Instructor, on the other hand, 'Morality ... appears smiling', and entertaining stories were used which would recommend the morality 'to young Minds, whose attentions are thereby particularly engaged, and by the Assistance of which, Morality steals insensibly into their good Graces, and makes the more lasting impression' (p.ii).
The list of authors anthologised in The Pleasing Instructor is impressive. The poetry of Pope, Gay, Thomson and Prior was included, amongst many others, and the major sources of the prose extracts were The Spectator, The Guardian, The Gentleman's Magazine and The Rambler. Much of the material included was only recently published when the first edition of The Pleasing Instructor appeared in 1756. Grey's 'Elegy in a Country Church-yard' (begins p.328), for instance, had been first published only five years earlier in 1751.
The book was illustrated with high-quality engravings. See, for example, the plates which accompany 'The Hermit' (p.313) and 'The Basket-Maker. A Peruvian Tale' (p.19). There are several other editions of 'The Basket-Maker' in the Hockliffe Collection: 0085, 0121 and 0091.
The compiler of the work was almost certainly Anne (or sometimes Ann) Fisher (1719?-1778), whose signature appears after 'Thoughts on Education, by way of introduction' (p.ix). Fisher specialised in producing instructive books for children. Her New Grammar: being the most easy guide to speaking and writing the English language properly and correctly, first published in about 1745, was astonishingly successful. The English Short Title Catalogue lists 35 separate editions published before 1801 and others were to follow. Her New English Tutor (1763) and Accurate New Spelling Dictionary (1774) also went through multiple editions. R. C. Alston records that Fisher was the wife of Thomas Slack, the Newcastle printer who published the Hockliffe edition of The Pleasing Instructor along with most of her other works. A 1745 advertisement in the Newcastle Journal suggests that she also ran a school there. (Alston 1968: i)
Alston, R.C., 'Note' to a facsimile reprint of A New Grammar by Ann Fisher (1750), ed. R. C. Alston, 'English Linguistics 1500-1800', no.130, Menston: Scholar Press, 1968