Nursery Rhymes and Alphabets. 0676: Barbara Hofland, The Illustrated Alphabet
| | |
| --- | --- |
| Author: | Hofland, Barbara |
| Title: | The Illustrated Alphabet, with Poetry by Mrs. Hofland |
| Cat. Number: | 0676 |
| Date: | 1839 |
| 1st Edition: | |
| Pub. Place: | London |
| Publisher: | A. K. Newman and Co., Leadenhall Street |
| Price: | 1s 6d plain, 2s coloured |
| Pages: | 1 vol., 22pp. |
| Size: | 14.5 x 13.5 cm |
| Illustrations: | 26 coloured engraved vignettes |
| Note: | |
Images of all pages of this book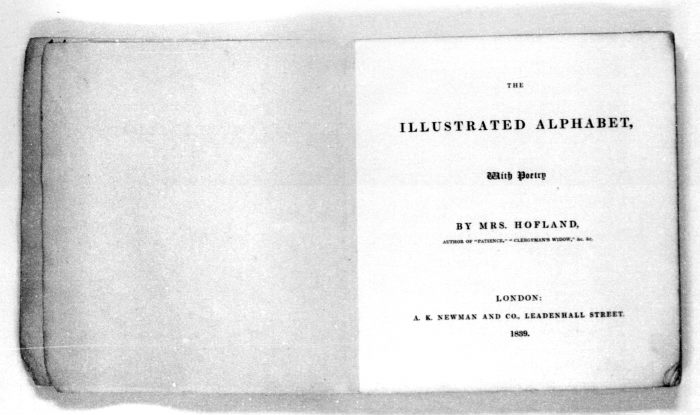 Introductory essay
Though ostensibly still an alphabet book or primer, this Illustrated Alphabet was surely designed to appeal on the basis of its high-quality illustrations, carefully hand-coloured, and its verses, written, according to the title-page, by Barbara Hofland. Indeed, the illustrations do not function as illustrations usually do in books for infants. They are not designed to be bright and simple, comic and entertaining. Rather, they show a series of putti contorting themselves to form the letters of the alphabet, sometimes wittily, sometimes rather grotesquely. As for the poetry, it uses reasonably advanced vocabulary ('circlet', 'gazelle', 'desolation') and presents sophisticated ideas, making the book unsuitable for any child just learning to read. Instead, it was surely designed to for the children's poetry market, the alphabet merely providing a scheme which the verse could follow.
Most of the verses concentrate, as was usual, on describing natural phenomena - a salmon, a vine, a walrus (apparently confused with a narwhal), and so on. One of the standard concerns of late eighteenth and early nineteenth century children's literature is evident in 'P' for 'Plover', where children are urged not to steal from bird's nests. Hofland also succeeds in enlisting 'A' the archer into the same campaign, arguing that she for one would not be friends with anyone who shot arrows at wild deer. But this is the limit of the overt moralising, and the other verses are notable for their poetical qualities rather than their didacticism. Perhaps the most interesting sections are 'E' for 'Engine', an early description of a steam train ('Go look at the rail-roads, and then you'll declare, / That it skims o'er the plain like a bird through the air'), and 'F' for 'Furnace' ('Where iron itself may be drawn into wire'). This kind of representation of heavy industry was rare in children's literature, even by 1839.
Barbara Hofland was one of the leading children's authors of her age. Her biographer, Thomas Ramsey, calculated in 1849, five years after Hofland's death, that 300,000 copies of her books had been sold in England alone (Ramsay 1849: viii). Given that she wrote at least 66 books this does not seem such an unlikely figure. Her bibliographer, Denis Butts, has pointed out that Hofland's works also appeared in 112 American editions too, as well as throughout Europe (Butts 1992: 41).
Ramsay, Thomas, The Life and Literary Remains of Barbara Hofland, London, 1849
Butts, Dennis (ed.), Stories and Society. Children's Literature in is Social Context, Basingstoke, Hants., 1992