Nursery Rhymes and Alphabets. 0699: 'M.A.', Rhymes for Harry and his Nursemaid
| | |
| --- | --- |
| Author: | A., M. |
| Title: | Rhymes for Harry and his nursemaid. With twenty-four copper plates |
| Cat. Number: | 0699 |
| Date: | No date but c.1820 |
| 1st Edition: | |
| Pub. Place: | London |
| Publisher: | William Darton and Son, 58 Holborn Hill |
| Price: | |
| Pages: | 1 vol., 37pp. |
| Size: | 18 x 10.5 cm |
| Illustrations: | 24 copper plates on 12 pages |
| Note: | Preface is signed 'M.A.' |
Images of all pages of this book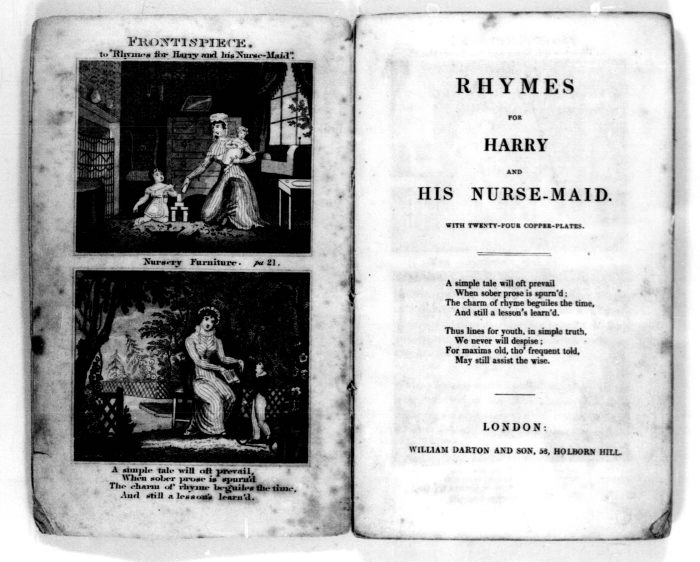 Introductory essay
Rhymes for Harry and his nursemaid is comprised of a set of short poems, each accompanied by an engraving. The target audience of these verses is not immediately easy to determine. The language is simple, and the form of the book is similar in most respects to those being produced for children in the early nineteenth century. There are also some fairly standard cautionary tales towards the end of the volume: warning against the folly of catching insects, say (p.27). Yet most of the lessons contained in the rhymes seem to be directed at nurses, rather than the infants themselves. The nurse is counselled how to feed a new-born baby (p.7), for instance, and taught how to wash an infant's head, and the importance of doing it quickly so that the child will not catch cold (p.10). There is also advice on how to prevent teething problems, on where to position lamps in a child's room, on how to prevent infants from eating insects when taking walks in the country, and an injunction against using a 'Child's cordial' - presumably laudanum - to sooth a child. 'But one drop of such poison I never will give,' one rhyme reads, dramatising the nurse-maid's correct attitude:
No mother deserves a sweet babe for her prize,
Who would poison her infant, to silence its cries;
And a nurse who loves baby, or values her place,
Will ne'er use this drug; 'tis a sin and disgrace.' (p.11)
The sometimes lengthly foot-notes which accompany the verses are also clearly directed at adults rather than children. They warn, for example, against giving children too many sweet things to eat (p.27). Even the tale warning a child against playing with insects is accompanied by a note directing an adult how to treat bee stings (p.28).
The author's ambition to provide child-care lessons for adults through her book is apparent from the preface. 'Her wish is to convey a few useful hints to nurse-maids, as well as to those mothers who have had but little experience in the care of children', writes 'M.A.' (p.iii). Why she should have tried to reach nurse-maids through what was at least superficially a children's book is an intriguing question.