Movable and Toy Books; Myths and Heroes. 0714: Anon., The History of Robin Hood
| | |
| --- | --- |
| Author: | Anon. |
| Title: | The history of Robin Hood, captain of the merry outlaws of Sherwood Forest |
| Cat. Number: | 0714 |
| Date: | No date but c.1820? |
| 1st Edition: | |
| Pub. Place: | Alnwick |
| Publisher: | W. Davison |
| Price: | One halfpenny |
| Pages: | 1 vol., 8pp. |
| Size: | 13 x 8 cm |
| Illustrations: | Frontispiece plus 5 further wood-cuts |
| Note: | Partly uncut. |
Images of all pages of this book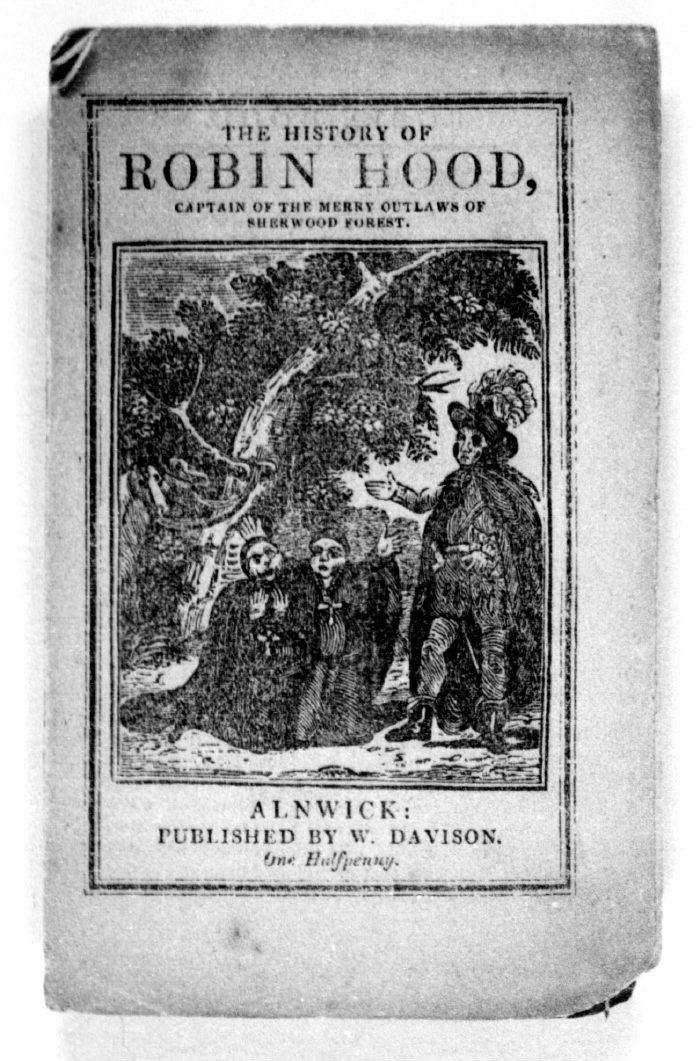 Introductory essay
In this version of the Robin Hood legend, Robin starts life as the son of the ranger of a Nottinghamshire forest. His uncle, however, was the rich Squire Gamewell, and Robin was to be his heir. Robin's exile in the forest began only when monks prevailed upon his dying uncle to bequeath his estate to the Church instead of to him. Unable to recover from this frustration of all his expectations, because 'he had been brought up a gentleman, without learning any business, and was unable to gain a livelihood', Robin and his friend Little John took to Sherwood Forest to support themselves with their bows. Gathering a group of merry men around him, Robin proceeded to levy a contribution from any priest who came into the forest. He considered them fair game after the way in which the monks had denied him his inheritance.
With Robin established as an outlaw by the second page, this chapbook goes on to relate his adventures in short order. He robs many a priest, often changing his clothing to deceive his prey, and then 'easing them' of their money after they have 'partaken of his good cheer'. A butcher and several beggars are robbed too. These last, Little John has recognised as impostors:
John nipp'd the dumb, and made him roar,
And the blind he made to see;
And him that a cripple had been seven years,
He made then run faster than he. (p.7)
Finally, King Richard hears of Robin Hood, and journeys into the forest in the habit of an abbot. Robin waylays him, but willingly agrees to let him pass when the 'abbot' announces that he is travelling on the king's business. This proof of loyalty is enough for the king to reveal his true identity, and to raise Robin to the Earldom of Huntingdon (to which he has apparently become the legitimate heir).
The descriptions of each of Robin's escapades takes the space of just a few lines, as if they had been condensed from longer, well-known narratives. On the other hand, few of these episodes are immediately recognisable from modern retellings of the Robin Hood legend, and many of his now standard adventures are absent. Moreover, few of the modern conventions of the Robin Hood story are present. Robin apparently dresses in scarlet, for instance, not lincoln green (see p.4). And of the merry men, only Little John is named, with no reference to Maid Marion, Will Scarlet, Friar Tuck, and the rest. The Sheriff of Nottingham's money is stolen early on, but Robin's principal enemy is the Bishop of Hereford. Robin's appearance in the wood-cuts is less Errol Flynn in doublet and hose and green tights, and more that of a seventeenth century cavalier in cuirass and plumed hat.
It is impossible to determine with any certainty the publication date of this chapbook. William Davison, a pharmacist, entered the book trade in Alnwick from 1803 and started printing in c.1807-8. He kept on until the 1850s, specialising in children's books. For more details, see C. J. Hunt, The Book Trade in Northumberland and Durham to 1860, p.29, and P.C.G. Isaac, William Davison of Alnwick.
Hunt, C. J., The Book Trade in Northumberland and Durham to 1860, Newcastle, 1975
Isaac, Peter C. G., William Davison of Alnwick, pharmacist and printer 1781-1858, Oxford University Press, 1968