Movable and Toy Books; Myths and Heroes. 0716: Anon., The Noble and Renowned History of Guy, Earl of Warwick
| | |
| --- | --- |
| Author: | Anon. |
| Title: | The noble and renowned history of Guy, Earl of Warwick: containing a true and full account of his many famous and valiant actions, remarkable and brave exploits, and noble and renowned victories. Also his courtship to fair Phaelice, Earl Roband's daughter and heiress; and the many difficulties and hazards he went through, to obtain her love. Extracted from authentic records: and the whole illustrated with cuts suitable to the history. The eighteenth edition |
| Cat. Number: | 0716 |
| Date: | No date but 1785-1824? |
| 1st Edition: | |
| Pub. Place: | London |
| Publisher: | J. Hollis |
| Price: | |
| Pages: | 1 vol., 60pp. |
| Size: | 17.5 x 10 cm |
| Illustrations: | Frontispiece plus eight further wood-cuts |
| Note: | Some uncut. Unbound |
Images of all pages of this book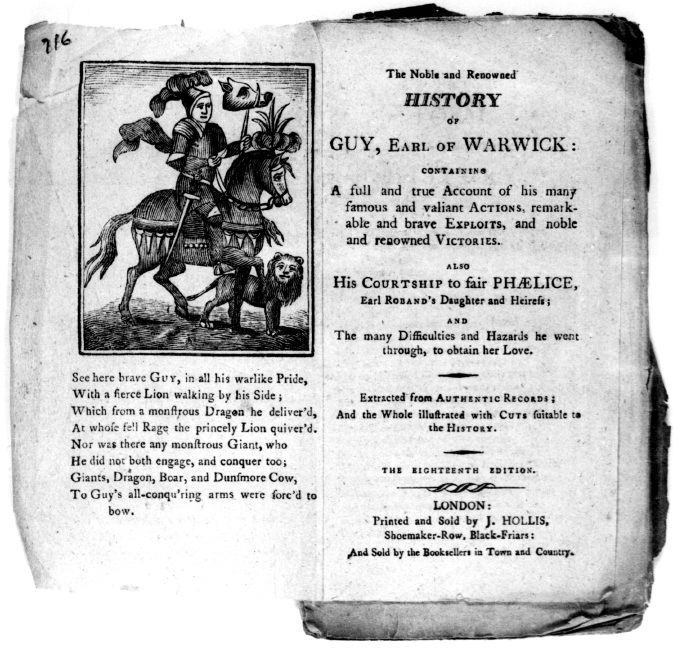 Introductory essay
The Hockliffe Collection contains two versions of the story of Guy, Earl of Warwick. The edition published in Coventry sometime around 1808 (0711) takes its text from Sir William Dugdale's Antiquities of Warwickshire and prunes the tale of all its more fantastical adventures. This edition, on the other hand, published by J. Hollis of London, retains more of the air of a chapbook. It includes Guy's adventures with the Dun Cow of Dunsmore Heath, the huge wild boar, and the Northumberland dragon, for instance, and makes no concessions to the new proprieties of children's literature as the author of the Hockliffe's other version was so anxious to do.
Guy of Warwick was a medieval romance, originally appearing in verse form and over 11,000 lines long. It was first printed by Wynkin de Worde in c.1500, but had certainly been circulating in manuscript long before. As is immediately apparent, both versions in the Hockliffe Collection have veered away dramatically from this original. Both Hockliffe versions are in prose, and both are far shorter.
This J. Hollis edition is descended from a 157-page edition with the same title, published at least as early as 1706 (which is the date carried by a British Library copy of the book, 'printed for W.O. by E.B. and sold by A. Bettesworth at the Sign of the Red Lion on London-bridge'). The Hockliffe version is abridged in places, but follows the same narrative, uses much of the same language, and even carries similar wood-cuts. The Hockliffe version was 'printed and sold' by J. Hollis of Shoemaker-Row, Blackfriars, London. According to Ian Maxted's checklist of London printers, Hollis was active from 1785 to 1824 (Maxted 1977: 113). William Todd's Directory of Printers and others in Allied Trades prefers the range 1794 to 1824 (Todd 1972: 99).
Guy is born the son of the steward of Earl Roband, the Earl of Warwick. The first part of the romance deals with Guy's attempts to win the heart of Roband's daughter, Phaelice. Indeed, it is the desire to win her love which inspires Guy's first adventures, during which he overcomes a number of European champions. Returning to England, Guy defeats the great Cow of Dunsmore Heath before setting out on his adventures again, this time overcoming a variety of Heathen enemies. He takes the part of a lion in its fight against a dragon, killing the dragon and winning the friendship of the lion. After killing a monstrous boar, Guy returns to Phaelice, and she agrees to marry him.
No sooner is the wedding over than Guy leaves for the Holy Land as a pilgrim. In his absence, England is attacked and ravaged by the Danes. Athelstan, now the King of England, is forced to seek terms with the Danes, and offers a single combat between the Danish champion - Colbron the giant - and an English champion as yet unnamed. If Colbron wins, England will be ceded to Denmark; if English champion triumphs, then the Danes will immediately return to their own land. King Athelstan, inspired by a vision, selects a pilgrim named Palmer as his champion, not knowing that this is really Guy of Warwick in disguise. Guy fights the Danish giant, and triumphs. Though he is pressed to reveal his true identity, he tells only the king, and returns to Warwick still dressed as a pilgrim. His wife does not recognise him, but she is charitable to him as she is to all pilgrims, and Guy lives out his days as a hermit, surviving on her bounty. When he knows he is about to die, Guy reveals his identity and location to his wife, sending her the ring which she gave him at their parting.
Maxted, Ian, The London Book Trades 1775-1800. A Preliminary Checklist of Members, Old Woking, Surrey, 1977
Todd, William B., A Directory of Printers and others in Allied Trades, London and vicinity, 1800-1840, London: Historical Society printing, 1972