Movable and Toy Books; Myths and Heroes. 0717: Anon., The Renowned History of Valentine and Orson
| | |
| --- | --- |
| Author: | Anon. |
| Title: | The renowned history of Valentine and Orson. Embellished with engravings |
| Cat. Number: | 0717 |
| Date: | 1804 |
| 1st Edition: | 1510 or before |
| Pub. Place: | London |
| Publisher: | Tabart and Co. at the Juvenile and School Library, No.157, New Bond-Street |
| Price: | 2s 6d |
| Pages: | 1 vol., 119+3pp. |
| Size: | 14 x 8.5 cm |
| Illustrations: | Frontispiece plus four further full-page copperplate engravings |
| Note: | Inscription on fly-leaf dated 1819? |
Images of all pages of this book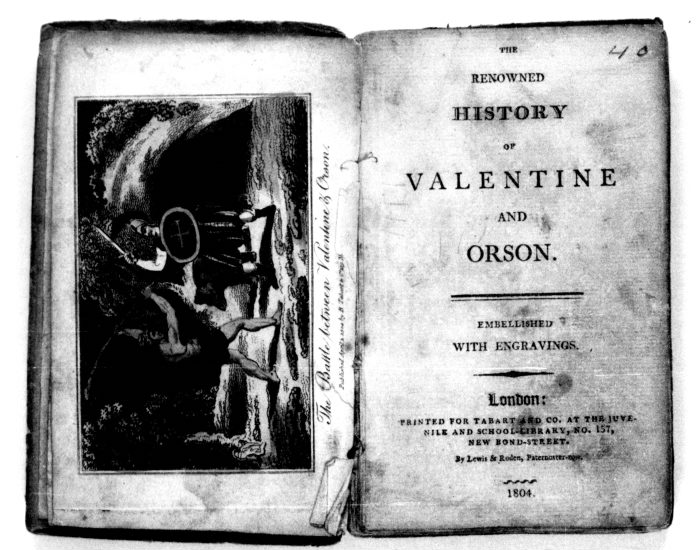 Introductory essay
Benjamin Tabart published two alternative versions of Valentine and Orson in 1804. The edition in the Hockliffe Collection, called The Renowned History of Valentine and Orson and dated 2 April in the caption underneath the frontispiece, contained 119 pages and five full-page engravings. The other edition (The Adventures of Valentine and Orson, to be found only in the Pierpont Morgan Library, New York City) was composed of just 38 pages. This shorter version was much more in keeping with the other titles in Tabart's Popular Stories series, which began in 1804. As well as being comparable in length, it cost sixpence and contained three coloured copperplate engravings, like most of the other titles. Its heavily revised and abridged text, which successfully preserved much of the action of a much longer original, was also typical of the series.
Tabart's Popular Stories were issued individually and in compendiums until 1809, and there are several in the Hockliffe Collection (e.g. 0019, 0718 or 0046). It is possible that either William Godwin, or, more likely, his wife Mary Jane Godwin, abridged or at least edited the series, including both, or either, of his versions of Valentine and Orson. (For more on the origins, development and authorship of the series see the essay which accompanies 0043.) The series was composed of revised versions of traditional stories, either fairy tales, oriental tales, chapbook stories, or medieval romances. Valentine and Orson fits into this last category. It was first printed in c.1505 by Wynkyn de Worde in a version written by Henry Watson.
Though much longer than Tabart's 38-page version, the Hockliffe's Valentine and Orson is still considerably reduced from the text as it appeared in the sixteenth and seventeenth centuries. A 1637 edition in the British Library, for instance, though itself possibly an abridgement, runs to 232 pages of closely-printed black letter text. Yet it is clear that whoever revised the text for Tabart's longer version based his or her work squarely on the standard seventeenth century version, for the text is often identical for short sections. At the other end of the literary spectrum, chapbook versions of Valentine and Orson had also been appearing throughout the eighteenth century, and were generally no more than 32 pages long. The Famous History of Valentine and Orson, a chapbook published by C. Sheppard in London also in 1804, for example, crammed the narrative into just 24 pages, and was sold at only one penny. John Harris, Tabart's principal rival in this market, also produced a version of Valentine and Orson in 1804, making at least four in that one year. A version of Harris' Valentine and Orson is 0569M in the Hockliffe Collection.
It seems most likely that whoever revised Valentine and Orson for Tabart simultaneously produced two versions designed for different audiences. Whilst the shorter version may have been aimed at the cheaper end of the market, or at those who would buy a whole series of books, the Hockliffe's superior edition, costing five times as much, was probably designed as a one-off purchase, perhaps a gift. It might also have been intended as a theatre tie-in book. As Marjorie Moon has pointed out, an advertisement at the end of Tabart's edition of Riquet with the Tuft (1804) notes that this book is 'the famous Romance, which is now performing at the Theatre Royal Covent Garden, with coloured engravings, intended to represent the principal scenes' (Moon 1990: 105, and see 0039 for the Hockliffe Collection's copy of Riquet with the Tuft). That said, the engravings do not look especially theatrical. The success of Valentine and Orson on stage, however, goes some way to explaining the sudden rush of so many different versions into print in 1804.
The narrative of Valentine and Orson remained fairly standard however much it was abridged. The wife of Alexander of Constantinople was thought to have been unfaithful, and though pregnant was banished from his lands. In the woods back in her native France she gave birth to twin sons, Valentine and Orson. Almost as soon as he was born, Orson was snatched away by a maternal bear, and while his mother gave chase, Valentine was found by Peppin, King of France, who took him to his court. While Orson is raised in the wild, then, Valentine is brought up as a prince. After some years the two brothers meet by chance and fall to fighting. Orson, though, is subdued by the courtesy and kindness of his brother, and elects to follow him throughout the world. There follow several adventures, undertaken together. They encounter, for instance, a talking brass head, the Green Knight, and a dwarf who has built a flying-machine in the shape of a wooden horse. Eventually the identity of the brothers is revealed, and they are crowned as joint emperors of Greece. Valentine, however, chooses to end his days as a hermit.
Curiously given Tabart's association with fairy tales and other entertaining books, the advertisement at the close of the book accounts Tabart 'The only Bookseller's Shop devoted solely to Book of Education' (p.120). Presumably here, 'Education' is meant to cover all books for children, and not only those written with a purely didactic purpose.
Moon, Marjorie, Benjamin Tabart's Juvenile Library. A Bibliography of books for children published, written, edited and sold by Mr. Tabart, 1801-1820, Winchester, Hants. and Detroit, 1990