Poetry, Verse and Rhymes; Games. 0815: Anon., Mrs. Figg's Grand Ball
| | |
| --- | --- |
| Author: | Anon. |
| Title: | Mrs. Figg's grand ball |
| Cat. Number: | 0815 |
| Date: | No date but c.1840? |
| 1st Edition: | |
| Pub. Place: | London |
| Publisher: | Dean and Co., 35, Threadneedle-Street |
| Price: | 3d |
| Pages: | 1 vol., 9pp. |
| Size: | 16 x 12 cm. |
| Illustrations: | Title-page vignette and 10 further hand-coloured cuts |
| Note: | |
Images of all pages of this book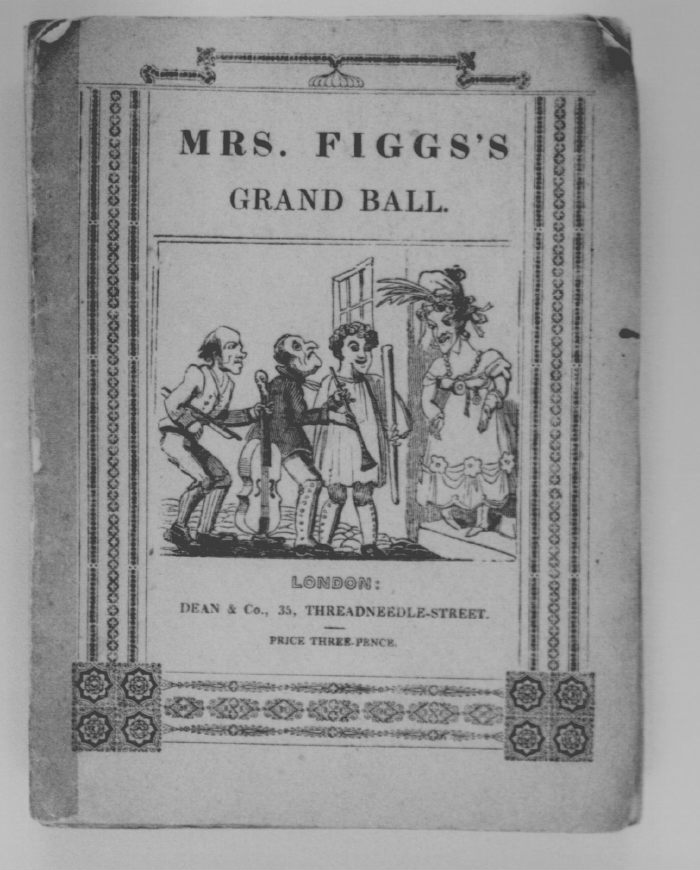 Introductory essay
Mrs. Figg's Grand Ball is a social comedy, mocking the middle classes for their pretension to fashion.
Mr. and Mrs. Figgs are shop-keepers, dealing in groceries. The whole family ape their social superiors, the daughter being taught to play and sing, for example, but so badly that a braying ass habitually joins in whenever she sits at her piano. Nevertheless, the Figgs decide to host a dinner and ball. The employ street musicians who happen to call at their door, and invite all their customers. Their guests are devoid of social graces, one insisting on smoking his pipe, and because the Figgs have insufficient chairs, they have to sit on barrels of food-stuffs. The beau of the assembly, a tailor named Mr. Cabbage, contrives to fall into a barrel of pickles. The company dance until near dawn, and when the party breaks up, Mr. Figgs 'took a nap, and then opened his shop' (p.10).
This kind of snobbish satire of social aspiration was not uncommon in early nineteenth century children's books. It might be compared with The Dandy's Wedding (1823: 0761), for example. Indeed, depictions of parvenus aping their social superiors had long been a familiar feature of fairy tales, as with Cinderella's ugly sisters for instance. On the other hand, much eighteenth-century children's literature had taken the possibility of social mobility for its central theme, although this had often been accompanied by an insistence that the Goody Two-Shoes figure, who climbs above her original social station, should remain aware of her humble origins and not take airs.
The print on the final page of Mrs. Figg's Grand Ball had apparently been borrowed from an illustrated grammar book, for 'Mr. Figgs' wears a necklace bearing the word 'noun' and a cummerbund labelled 'substantive'. See 0612 for an example of such a book.