Poetry, Verse and Rhymes; Games. 0820: John Newbery, Poetry Made Familiar and Easy
| | |
| --- | --- |
| Author: | Newbery, John? |
| Title: | Poetry made familiar and easy to young gentlemen and ladies, and embellished with a great variety of the most shining epigrams, epitaphs, songs, odes, pastorals, etc. from the best authors. Being the fourth volume of the Circle of the Sciences. Published by the King's authority. The third edition |
| Cat. Number: | 0820 |
| Date: | 1769 |
| 1st Edition: | 1746 |
| Pub. Place: | London |
| Publisher: | Newbery and Carnan, No.65, the North Side of St. Paul's Church-Yard |
| Price: | |
| Pages: | 1 vol., 224pp. |
| Size: | 10 x 6.5 cm. |
| Illustrations: | None |
| Note: | Pages 189-204 are misplaced |
Images of all pages of this book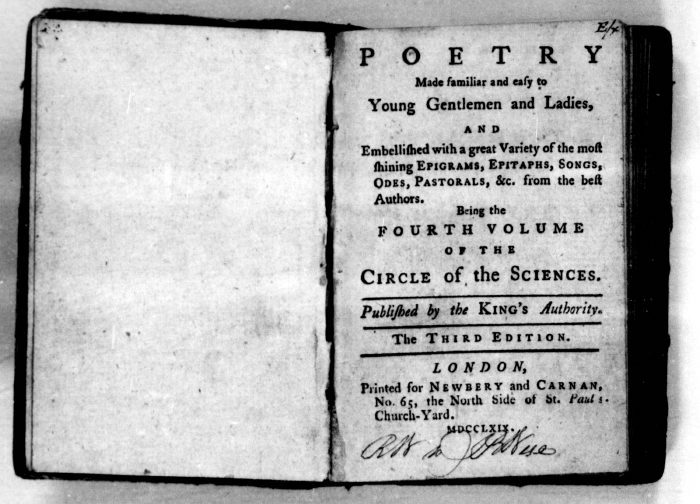 Introductory essay
John Newbery first published his 'Circle of the Sciences' series in 1745-46. There were several changes to the constituent volumes of the series, and the order in which they were listed, but by the third edition of 1769, from which this volume comes, there were seven volumes. The contents were as follows: i. Grammar (see 0602)
ii. Arithmetic (see 1169, and 1168 for the 1748 edition)
iii. Rhetoric
v. Logic (see 0964)
vi. Geography (see 1045)
vii. Chronology
A Spelling-Dictionary of the English language (0605) had featured as an introductory volume to series in 1745, but by the second edition of 1748 it had been removed to be published separately. See Roscoe 1973: 73-82 for more details.
Poetry Made Familiar and Easy is a disquisition on the nature and proprieties of poetry, rather than an anthology. Successive chapters define poetry and its various genres, from pastoral to comic to epic, discourse on the verse structures and rhymes generally used in English poems (p.10ff.), and explain which elisions are 'allowed of in English poetry' (p.28ff.). The discourse is set out rather like a catechism, and many points are illustrated by quoted verse - sometimes short snatches; sometimes stretching over several pages. Some poetic forms, the author thinks beneath his dignity. As to the acrostic or the echo, the author says, 'it would be spending Time to no Purpose to say any Thing about them' (p.224.)
Although John Newbery signed the dedication (to Princess Augusta) to Poetry Made Familiar and Easy, it must remain a matter of speculation whether he was actually the author of the work.
Roscoe, Sydney, John Newbery and his Successors, 1740-1814: A Bibliography, Wormsley, Herts., 1973