Geography and Travel. 1014: E. and J. Bruce, An Introduction to Geography and Astronomy
| | |
| --- | --- |
| Author: | Bruce, E. and Bruce, J. |
| Title: | An introduction to geography and astronomy, by the use of the globes and maps. To which are added, the construction of maps and a table of latitudes and longitudes by E. and J. Bruce. Second edition with considerable additions and improvements |
| Cat. Number: | 1014 |
| Date: | 1805 |
| 1st Edition: | |
| Pub. Place: | Newcastle |
| Publisher: | Longman, Hurst, Rees and Orme |
| Price: | Unknown |
| Pages: | 1 vol., 363pp. |
| Size: | 17 x 10 cm |
| Illustrations: | |
| Note: | Two fold-out diagrams at front |
Images of all pages of this book Note: these have NOT been verified or catalogued. Use with care.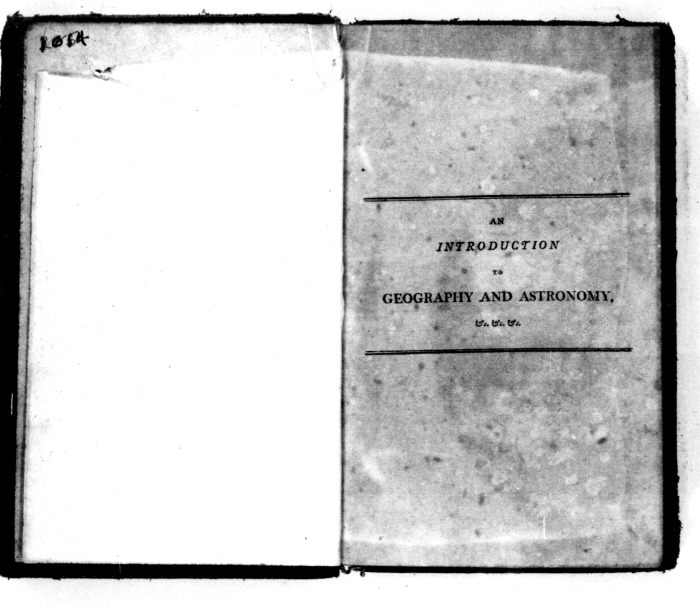 The 'Preface' makes it clear that this books was designed for use in schools. The first edition was printed for the authors' own school, presumably in Newcastle, but it proved so successful that this new edition has been brought out. A description of politics has been left out, the preface notes, since it is so 'frequently varying' (p.xiv).
The first part of the text offers a standard gazetteer, familiar from many geography text-books. The authors recommend that this be learned by heart. Part II is full of 'Problems on the Terrestrial globe', that is to say definitions followed by how questions about how to take readings of longitude and so on. Part III follows the same format,but for the celestial globe. At the end comes an appendix advising the reader how to draw maps scientifically, along with tables of latitudes and longitudes.
Overall, the instruction offered here is very dry and rather Gradgrindian. Clearly it was meant as a text book, not something to be used for enjoyment alone, and it must have been designed for the use of fairly advanced scholars. The descriptions of places - of their 'rarities' and customs, say - which were often to be found in this kind of geography text-book, are gone.