Geography and Travel. 1039: Patrick Gordon, Geography Anatomiz'd
| | |
| --- | --- |
| Author: | Gordon, Patrick |
| Title: | Geography anatomiz'd: or, the geographical grammar. Being a short and exact analysis of the whole body of modern geography after a new and curious method. comprehending, I. A general view of the terraqueous globe. Being a compendious system of the true fundamentals of geography; digested into various definitions, problems, theorems, and paradoxes: with a transient survey of the surface of the earthly ball, as it consists of land and water. II. A particular view of the terraqueous globe. Being a clear and pleasant prospect of all remarkable countries upon the face of the whole earth; shewing their situation, extent, division, subdivision, cities, chief towns, name, air, soil, commodities, rarities, archbishopricks, bishopricks, universities, manners, languages, government, arms, religion. collected from the best authors, and illustrated with divers maps. The fourth edition corrected, and somewhat enlarg'd. by Pat. Gordon, M.A., F.R.S. |
| Cat. Number: | 1039 |
| Date: | 1704 |
| 1st Edition: | 1702? |
| Pub. Place: | London |
| Publisher: | S. J. Sprint, John Nicholson and S. Burroughs, in Little Britain, Andrew Bell, at the Cross-Keys and Bible in Cornhill, and R. Smith under the Royal-Exchange |
| Price: | Unknown |
| Pages: | 1 vol., xxvi + 431pp. |
| Size: | 17.5 x 10.5 cm |
| Illustrations: | |
| Note: | |
Images of all pages of this book Note: these have NOT been verified or catalogued. Use with care.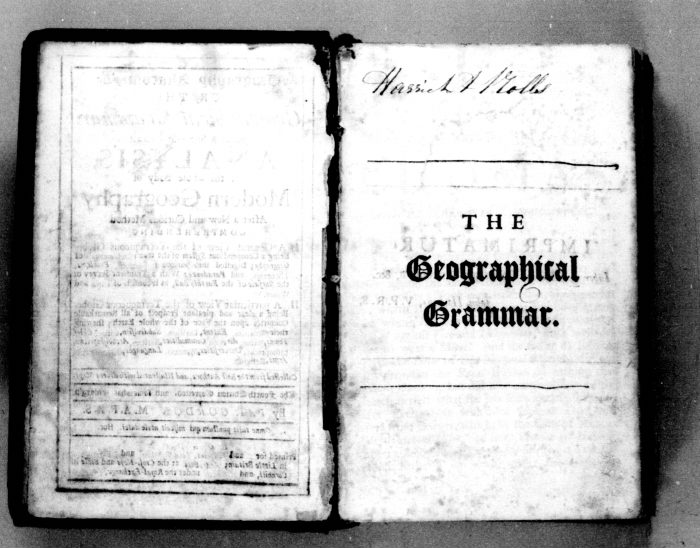 This frequently reprinted geographical text-book, in print until at least the 1750s, was first published in about 1702. The Patrick Gordon's loyalty to the post-1688 regime, and to the Anglican church, was also on display from the first. The books was dedicated to Thomas, Archbishop of Canterbury, who received a long panegyric at the beginning of the book (a second dedication, for a new edition, was to Thomas, Earl of Coventry, Baron of Alesborough). Gordon was also happy to talk in his opening remarks of the Church's recent great danger, of 'Royal Wisdom', and of the glory of the Church of England (p.v). There is a defence of the missionary impulse, too, and of an incipient colonialism: 'Bless'd be God, our implacable Adversaries can no longer upbraid us with a supine Neglect of our Heathen American Neighbours in their Spiritual Concerns.' (p.vi) Indeed, Gordon wrote that, having considered, throughout his book, 'the Spiritual State of Mankind thro' all Quarters of the known World; and finding by a modest Calculation, that scarce 5 of 25 Parts thereof are Christian: Who can refrain from wishing, that the thick Mists of Pagan Ignorance and Error were dispell'd by the radiant Beams of the Sun of Righteousness'. (pp.vi-vii) Gordon proposed that this 'Glorious Undertaking' be made a 'National Concern' with a proper fund set aside for it from Parliament (p.vii).
In his 'Preface', Gordon explained that his principal design was to 'present the younger sort of our Nobility and Gentry, with a Compendious, Pleasant and Methodical Tract of MODERN GEOGRAPHY' (p.xi). This intended audience was later refined as being those who were strangers to Geography or 'young proficients', most of whom, Gordon thought, would 'attend our Publick Schools, or Study under the Care and Conduct of Private Tutors' (p.xviii). Geography is important, Gordon insisted, and he acknowledged that there are many geographical primers in existence already. But, he noted, they are all faulty - either too confused, too short and cursory, or too long, if the latter, they 'thereby fright the Young Student from so much as ever attending that Study' (p.xi). For Gordon, geography was a moral science. He thought that if boys applied themselves in their youth to geography, and especially to the study of the ways to promote Christianity abroad, then they would surely mature into more moral adults (p.xviii). The study of such a book as this would also keep young, idle gentleman from growing lazy (p.xix).
After these prefaces, the book starts with a fold-out map of the globe. To the modern eye, the proportions of the continents seem odd, with India very small and North America and Australia fading away into unmapped voids. There followed 'Part I: the General View' which provided definitions of terms such as 'geography', the 'poles', 'horizon', 'equator', 'latitude', 'longitude', 'the terraqueous globe' (only women and children, we are told, now call into question the spherical nature of the world: p.3). Section II presents 'some pleasant Geographical Problems' - how to find the diameter of the globe, or latitude and longitude, the 'Judaical hour', and so on. Section III, 'some plain Geographical Theorems', presents 'A set of self-evident truths mostly about the sun, timekeeping and place', and section IV - 'some amazing Geographical Paradoxes' - offers conundrums and odd facts about astronomical geography. These were doubtless meant for entertainment and to encourage the reader to think about geography. As such, they were rather Lockean, puzzles designed to encourage the study of geography. Section V lists various geographical phenomena, starting with 'continents' (not including Australia of which there is no mention anywhere, yet it is on the accompanying map), and going on with 'regions', 'isthmuses', 'oceans' and so on.
Part II offers 'the Particular View'. Each region, and then within that, each country, is dealt with separately. First comes a table telling of major regions, towns, rivers, precise geographical locations, and so on. Then, in prose, but still divided into sections, is a brief description of each nation. Sweden, for instance, is described as having 'very healthful air', so that its inhabitants live long, unless they drink - 'a thing too much practic'd by many of them' (p.66). We are told of each nation's commodities, its farming and its 'rarities'. In Sweden's case, these are two public clocks, a curious lake, a strange yellow stone and a dreadful cataract, so tall, we are assured, that when a log falls over it, it sometimes does not rise to the surface again for as much as an hour (p.66). The habits and talents of the Swedes are discussed, as well as their language - 'The Finlanders have a peculiar Gibberish of their own' - and the Lord's Prayer is given in Swedish as an example. (pp.67-68). A section on the arms of the Swedish king and noblemen, and a complicated passage on Swedish government and judiciary follows, before a final section on religion, which recommends, presumably for the benefit of the British audience, banning the entrance of any Popish priests into Sweden, and, by implication, England (p.69).
France is treated surprisingly fairly, even in matters of religion. Gordon acknowledges its Catholicism, and save for one jibe at the supposedly infallible Pope who dares not intervene in the theological strife between the Jansenists and the Molinists for fear of upsetting one party or another, there is little evident anti-Catholicism. The revocation of the Edict of Nantes - recent history - is discussed. The French government, Gordon points out, has recently become absolutist, the Estates General and the Paris Parlement having been deprived of much power.
Of England, and to a lessor extent Scotland (not united with England and Wales until 1707), Gordon is very praising. There are long passages on England's rarities and universities, for instance, and on the English, who are congratulated on having the best qualities of the northern and southern European character. England's literature, language and government are similarly highly praised: 'it hath the main advantages of an Aristocracy and Democracy,' Gordon insists, 'and yet is free from the Disadvantages and Evils of either' (pp.216-7). England's religion is reformed, and is professed and taught in its choicest purity (p.219). Wales and Ireland are then briefly treated, along with other northern European islands: the Isle of Wight, the Channel Islands, Iceland, and son on.
The other areas of the globe receive much shorter shrift. The categories Gordon has used for Europe are not applied - he cannot find much to say about the coat of arms or bishoprics and universities of the Sahara (or 'Zaara'), for instance. Its inhabitants, though, are confidently described as 'an Ignorant, Brutish, and Savage kind of People, resembling rather Wild Beasts than Rational Creatures' (p.324). Gordon's reluctance to speculate about areas of which he know nothing contrasts with other travel writers, both earlier and later, who told semi-mythical tales of distant and unknown regions so as to keep their readers entertained. Of the arctic regions in the north of America, for instance, Gordon chose to say nothing rather than relate suppositions (p.378). He meant his book to be a work of serious scholarship, not a collection of traveller' tales. The latter parts of the book are full of passages referring the reader who desires more information to 'the better Discovery of Future Ages' (p.388).
At the end of the volume comes an appendix, 'Comprehending A brief Account of the European Plantations in Asia, Africk, and America: As also some Reasonable Proposals for the Propagation of the Blessed Gospel in all Pagan Countries.' This is a list of colonies, 'possessed' by each European nation (to which the Scottish central-American colony of Darien might have been added, had it not so dismally failed, notes Gordon). What follows is a proposal to spread Christianity , especially to the heathens living adjacent to British north America. This was the plan mentioned in his prefatorial remarks. Gordon urges his readers to contribute financially to forward the scheme.