Geography and Travel. 1042: Barbara Hofland, The Young Cadet
| | |
| --- | --- |
| Author: | Hofland, Barbara (Hoole) |
| Title: | The Young Cadet; of Henry Delamere's Voyage to India, his Travels in Hindostan; with the Wonders of Elora. Revised and altered by the Author. By Mrs. Hofland, Author of Africa Described; Patience; Self-Denial; Moderation; Integrity; Fortitude; Decision; Reflection; Humility; Clergyman's Widow; etc. ... A New Edition |
| Cat. Number: | 1042 |
| Date: | 1836 |
| 1st Edition: | 1827? |
| Pub. Place: | London |
| Publisher: | A. K. Newman and Company |
| Price: | Unknown |
| Pages: | 1 vol., xii + 237pp. |
| Size: | 17 x 10.5 cm |
| Illustrations: | None |
| Note: | |
Images of all pages of this book Note: these have NOT been verified or catalogued. Use with care.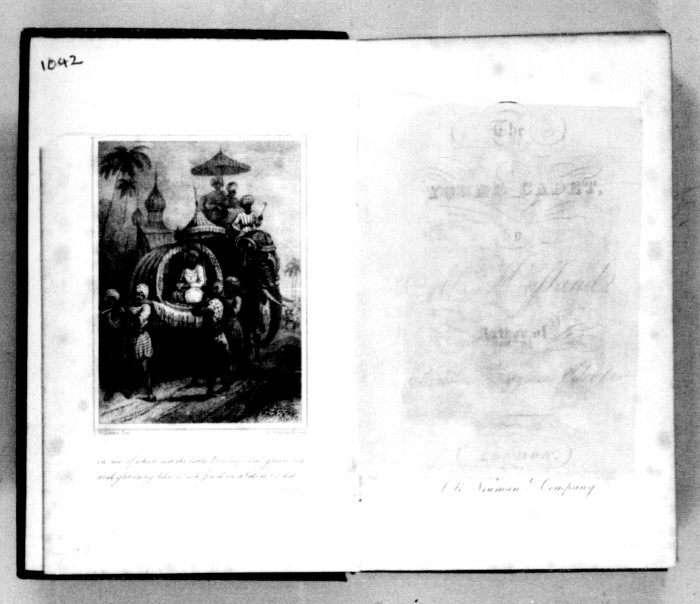 The Young Cadet is couched in the form of a journal. This provides a vehicle for Hofland to describe Indian manners, places, habits, beliefs, and so on - and to justify the British presence there. There is no story, but there are many enlivening, exciting episodes. Overall, The Young Cadet is a successful attempt to add a degree of fun to the traditional geographical and historical text-book.
The Young Cadet was first published in 1827, the date bourn by the 'Dedication', to Alexander James Beresford, the son of a personal friend of Hofland. A new address to the reader is dated 1836 and notes that some scenes of the Burmese war have been excised. Thought topical in 1827, Hofland believed, they had lost their interest by the time the new edition appeared. Hofland also confesses to have borrowed heavily from Emma Roberts' Scenes and Characteristics of Hindostan.
The book begins with a discussion of the Delamere family. Mr. Delamere insists that his sons, especially the younger ones, 'must be self-dependent; that on their own exertions alone they must rely to maintain their rank in society' (p.2). But Mr. Delamere is worried about his second son, Henry, who wishes to be a soldier, for it is unlikely that he will be able to establish himself in the army purely on the basis of his own merits. The friendly Mr. Wingrove steps in, however, arranging for Henry's appointment as a cadet in India. Although this pleases Henry, it makes his mother very sad, and her oldest son offers to take only half the fortune he will inherit so that Henry can remain at home. This is refused; first, because Henry wants to go, and second, because, as Mr. Delamere explains, the fortune must remain undivided so that the glory and honour of the family name do not diminish and so that the family always has a secure and prosperous focus. Indeed, it is incumbent upon the oldest son, Mr. Delamere insists, to keep an extensive household with many servants and dependants and tenants.
Mr. Delamere explains that a cadet is a recruit to the East India Company's army. The Company will pay for the cadet's passage to India, and will then commission him when a post becomes free. The East India Company, the young Delameres are told, is a great company whose director is like an emperor, which levies armies, and which 'pays a prodigious revenue to the mother country' (p.13). This leads to the question of how the East India Company came by its possessions in India, which, says Mr. Delamere, requires a geography lesson. What follows, once he gets his map and unfolds the story, is a lesson almost straight out of the standard geography text-books. We learn Hindostan's borders, extent, history, if not quite its latitude and longitude, and that the 'native rulers' 'oppress the subjects, rule them with despotic power, and when they have increased their own wealth and importance sufficiently for the purpose, rebel against their head, or make war upon each other' (p.14). When one of his children asks, 'ought the Company to fight with them, and take their cities and fields, as if they were enemies?' Mr. Delamere replies that fighting was inevitable because of the ferocity and viciousness of the existing rulers who did not recognise what benefits the British could offer them (p.21). Since the native rules were such tyrants, he argues, any change would be for the better for indigenous inhabitants. France was once a rival to Britain in India, he goes on, but it did not achieve permanent success because 'the habits and genius of this great nation are not commercial' (p.20).
Henry's voyage out, via Madeira, St. Helena and the Cape, is described, and then his arrival at Madras. This description is filtered through Henry's own perception. He writes to his mother that he dislikes the Moslems in Madras, for instance, and that they dislike him. He regards them as the cruel conquerors of the indolent natives, and exults that they have now been conquered themselves. Ceylon and Bengal are described as Henry passes through, the information the reader receives being partly factual, as if from a text-book, and partly anecdotal. Henry is amazed at a Jewish community in Bengal, for instance, but wishes they would see the light of Christianity (pp.91-2). He also scoffs at the idolatry of the 'Gentoos' (i.e .Hindus) who, he says, seem to accept that their religion is fit to be mocked because they offer idols for sale for children. Various adventures enliven the description of Henry's travels through India. On one occasion, Henry shoots a tiger which is found near his camp, but not before it has killed one of his attendants (pp.131-7), and he records the sinister history of the murders perpetrated by the 'Thugs' and others (pp.137-42). The palaces at Agra, Lucknow and Delhi are also described.
Henry returns to Bengal after his tour, and Hofland touches on some political issues. She has Henry defend the behaviour of Warren Hastings, who would surely have been venerated as a saint had he died in India, and discuss the career of the current viceroy, although he admits that 'I am no politician, dear father' (p.163). Further exotic encounters ensue. Henry only just escapes from a cobra (pp.166-7), and he describes seeing dancing girls, snake charming and suttee (pp.224-8). He recounts the story of 'Captain S---' who once rescued an eleven year-old fiancee, doped on opium, from being forced to kill herself on her intended's pyre. Suddenly the narrative ends, with Henry finishing a letter home by asking to be remembered to the rest of his family.