Geography and Travel. 1045: John Newbery?, Geography Made familiar and easy to Young Gentlemen and Ladies
| | |
| --- | --- |
| Author: | Newbery, John? |
| Title: | Geography made familiar and easy to young gentlemen and ladies: being the sixth volume of the Circle of the Sciences, etc. Published by the King's authority. The third edition |
| Cat. Number: | 1045 |
| Date: | 1769 |
| 1st Edition: | 1746? |
| Pub. Place: | London |
| Publisher: | Newbery and Carnan, No.65, the North Side of St. Paul's Church-yard |
| Price: | Unknown |
| Pages: | 1 vol., xii + 319pp. |
| Size: | 9.5 x 6 cm |
| Illustrations: | |
| Note: | |
Images of all pages of this book Note: these have NOT been verified or catalogued. Use with care.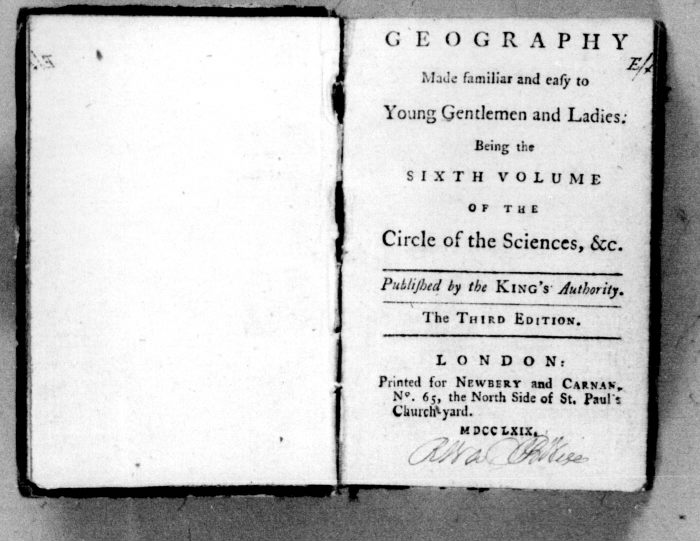 John Newbery first published his 'Circle of the Sciences' series in 1745-46. There were several changes to the consituent volumes of the series, and the order in which they were listed, but by the third edition of 1769, from which this volume comes, there were seven volumes. The contents were as follows: i. Grammar (see 0602)
ii. Arithmetic (see 1169, and 1168 for the 1748 edition)
iii. Rhetoric
v. Logic (see 0964)
vi. Geography (see 1045)
vii. Chronology
A Spelling-Dictionary of the English language (0605) had featured as an introductory volume to series in 1745, but by the second edition of 1748 it had been removed to be published separately. See Roscoe 1973: 73-82 for more details.
Newbery himself signed the dedication (to the Marquis of Blandford) of this sixth volume of the 'Circle of the Sciences', perhaps indicating that he had a hand in writing it, but any certain attribution of authorship is impossible.
The preface makes reference to several authorities, John Locke and Isaac Watts among them, who had asserted that geography was a necessary subject for the full education of any child. This preface goes further, extolling the study of geography as conducing to both entertainment and instruction. The intended readers are figured as both boys and girls, Watts being quoted on his opinion that this science can be useful to both sexes, girls being able to mingle it with their needlework (pp.vii-viii).
The first section of Newbery's book presents definitions, taxonomising the physical geography of the world. Questions follow, drawing the pupil into the text. The second section takes a gazetteer form, going through various countries and regions in turn, citing their most notable geographical, historical, governmental and agricultural characteristics. All of this is set out in the form of questions and answers. The volume closes with a table of longitude and latitude. This was essentially the same form and content that geography text-books would take for following fifty years.
Roscoe, Sydney, John Newbery and his Successors, 1740-1814: A Bibliography, Wormsley, Herts., 1973