Geography and Travel. 1055: Isaac Taylor, Scenes in Europe
| | |
| --- | --- |
| Author: | Taylor, Isaac |
| Title: | Scenes in Europe, for the amusement and instruction of little tarry-at-home travellers. By the Rev. Isaac Taylor. Third edition |
| Cat. Number: | 1055 |
| Date: | 1820 |
| 1st Edition: | 1818 |
| Pub. Place: | London |
| Publisher: | J. Harris and Son, Corner of St. Paul's Church Yard |
| Price: | Unknown |
| Pages: | 1 vol., viii + 93pp. plus 3 pages of advertisements |
| Size: | 16 x 9.5 cm |
| Illustrations: | Fold-out map of Europe plus many pages of hand-coloured engravings |
| Note: | |
Images of all pages of this book Note: these have NOT been verified or catalogued. Use with care.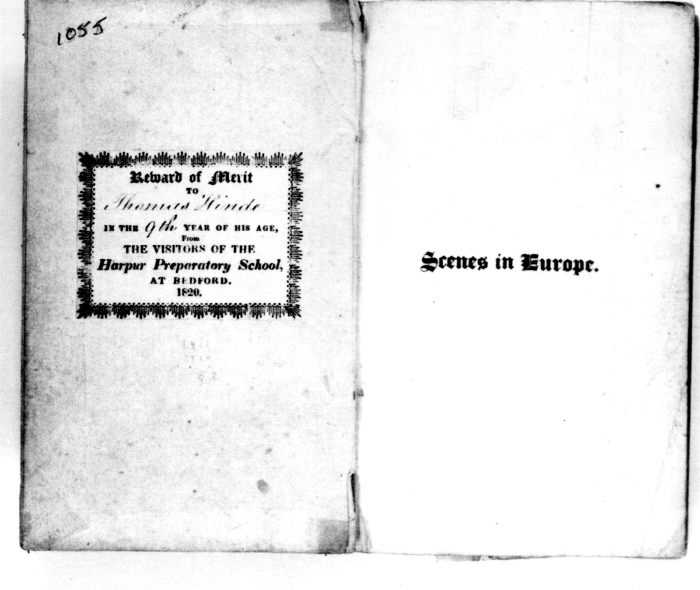 The Taylors of Ongar, in Essex, between them produced a great many books for children. The sisters Anne and Jane were most famous for Original Poems for Infant Minds (see 0851-0854), and their father Isaac for his Scenes of... series, published by John Harris between 1818 and 1830, of which this is one. Isaac Taylor (1759-1829) was also an engraver, like his own father, and a non-conformist preacher.
The most notable feature of Scenes in Europe is its illustrations. Three small, coloured engravings appear on each page of illustrations, and they are linked by captions to the scenes which they represent. As for the text, it is rather light in tone, mixing prose and verse with the instruction which was its putative purpose.
An introduction is given in verse. It descants on the horror of not being born English. Anyone may visit other countries and to find how fortunate England is, but fortunately, the introduction continues, the reader will be able discover his or her good-fortune without leaving his or her native land, through the medium of a book.
From this xenophobic start an engaging tale begins, fusing narrative with observations on the things our hero sees on his travels. The second section, 'Going aboard Ship', for instance, starts thus:
'That is the ship, Waterman. - The good ship Hope, of London, Tom Bowline commander. D'ye see how she floats. There is not a prettier vessel in all the port; and there are a great many of them too: London looks as if it stood in a wood. And so good b'ye to the Tower, and London bridge, and the Monument, and all of ye good folks; I shan't see you again for many a day.... Now, my lads, skip up her sides, and aboard in a minute. Come, hand us up my great box; I must not go without that, you know. Huzza! here it is.' (p.2)
The tour goes northward first, stopping at 'Johnny Groat's House', the residence of the Dutch de Groat family who have settled in northern Scotland. Because of arguments between the family members over precedence an eight-sided, eight-doored room was built so that none might take primacy over the others when they met. Next comes a section describing the catching of whales in the 'Icy Sea' which is more conventionally educational. There is a poem about whaling, and then a factual description - how the whalers' ships are fitted out, who crews them, how they catch the whale, what the whale oil is used for, and so on (pp.5-7).
Iceland comes next, with its volcanoes and hot springs described, then Norway, with stories about fishing and the care of sheep in such a hostile environment. The 'Whirlpool of Maelstroom' is described. Lapland is described in terms of its inferiority to England:
why this is not like England at all. How short the men are and all clothed in skins; and the women too! one can hardly tell one from the other.... May we go into their houses? - I suppose so, if we knock at the door, and behave civilly. But there is no door, nor chimney; only this narrow hold for us to creep in, and the smoke to creep out. Well, and inside is all lined with skins, warm enough; and there's a fire in the middle, and places parted off with skins all round, for several families to have each their own room. Jack frost may whistle out doors if he pleases, but he can hardly get his nose in here. (p.13)
The Laps are condemned for their superstitions about the weather: 'What a silly set all round! Well, let me rejoice that I have been better taught: I can read my bible, and know therefore that God sends wind and rain, snow or sunshine, to fulfil his word.' (p.14)
A description of Sweden follows, concentrating on Gustavus Vasa's fight for freedom (with a verse announcing that 'Every Briton Huzzas! Britons love liberty!', p.17) but also including a description of 'Women at Plough' - a Swedish custom 'which an Englishman does not like' (p.17). Not that women ought to be idle, the narrator insists. 'Idleness is a disgrace to any rational creature', but 'there are lesser labours more suited to them. The cares of the family, cooking, needlework, and all the comforts of a poor man's cottage, may well employ the woman; without sending her out to plough, making her thresh the corn, row on the water, wait upon the bricklayers, carry burdens, and do all the drudgery most laborious. But so they do in Sweden.' A verse cuts in to emphasise how things are managed better in Britain: 'Look at England's cottage maiden,/ Healthy, clean, can sew and read....' (p.18).
This insistence that the English ways are best runs parallel with a happy, if uncomprehending, tolerance of foreign habits. When the tour reaches Turkey, for instance, we are told that 'men wear long beards, and whiskers, and petticoats like women', but the narrator adds, 'Well, if they like it, so let them' (p.30). Only foreigners' religious and political errors are treated with real hostility. Of Islam, for example, Taylor has this to say:
O'er fair Arabia's spicy plains,
By foul Mahomet's flag unfurl'd,
Despotic superstition reigns,
Clanking aloft her mental chains;
Affrighting blinding, half the abject eastern world.' (pp.32-3)

And Taylor deplores what he sees as the tyranny of the Turkish emperor: as in all despotic regimes, he says, the 'soldiers really rule, and they take the liberty sometimes to strangle the Sultan, when he is out of favour, and place another prince on the throne.' (p.31)
From Turkey in Asia, the tour proceeds to Turkey in Europe - that is to say Greece. Then onto Italy, with a glance at Versuvius. By this stage, Taylor's enmity to Islam has been superseded by enmity to Catholicism. 'The papists pretend they have the head of a man they call Saint Januarius,' he writes, which they claim can halt the flow of lava from the volcano. 'They do not choose to stand too long to try; but retire, and retire again; till the lava cools enough to stop of itself; then they say their Saint has done it; and the poor people, who cannot read, believe them' (p.46). An attack on the Pope follows on p.48.
In Venice, a Ruskin-like Puritanism is evident, with luxury and pride blamed for the city's decline and its subjection to Austria (p.52). Denmark's chief attraction is apparently a cabinet made by a blind man which is on show in the Royal Museum in Copenhagen. Spain is criticised for its religious persecution. And so at last we return to England: 'Huzza! my boys. Old England for ever .../ Hail to thee, land belov'd! no land so dear; / Thy naked rocks charming to me appear...' (p.91).