Fables and Fairy Tales. 0044: Anon., Tom Thumb
| | |
| --- | --- |
| Author: | Anon. |
| Title: | Tom Thumb |
| Cat. Number: | 0044 |
| Date: | No date but 1850-1860 |
| 1st Edition: | |
| Pub. Place: | London |
| Publisher: | W. S. Johnson, Printer and Publisher, 60, St. Martin's Lane, Charing Cross |
| Price: | Unknown |
| Pages: | The covers enclose a single pull-out sheet of 12 continuous panels |
| Size: | 11.5 x 10.5 cm |
| Illustrations: | Decorated front cover, plus eight further coloured wood engravings |
| Note: | |
Images of all pages of this book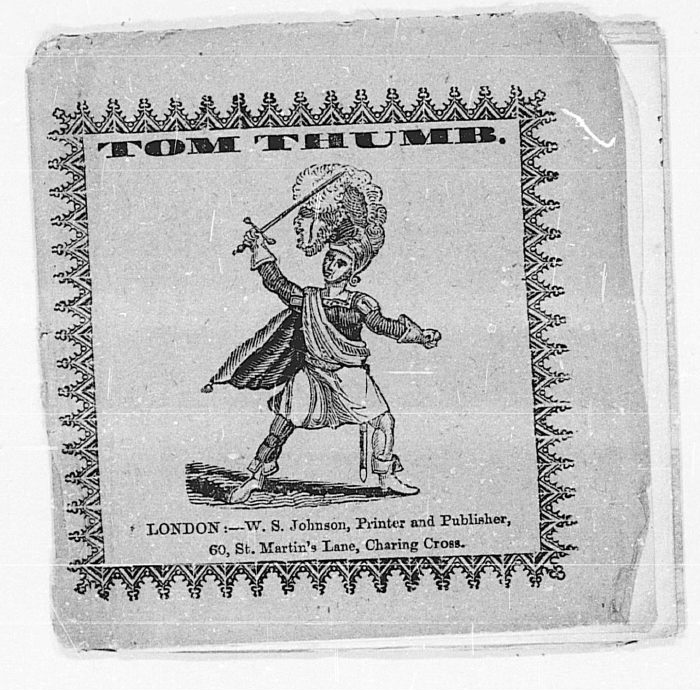 Introductory essay
This 'book' folds out to form one long strip of paper, printed on one side. The hand-coloured illustations for the most part alternate with four panels of verse.
Versions of the Tom Thumb story had been in print from the sixteenth century onwards in Britain and elsewhere. This version, though much abbreviated, manages to retain most of the main features of the tale. Tom, for instance, is born to a childless couple. While in many early versions, it is Merlin who secures them this blessing, here a fairy grants their wish. The Arthurian setting is retained, however, as are the majority of his standard adventures, even if some are merely summarised in a single line of verse here. Thus Tom falling into a pudding and being eaten by a cow and then a fish, his sudden appearance at King Arthur's dining table and his slaying of a cat which had been terrorising his erstwhile steed, a mouse, are all kept (although Tom escapes from the cow, here, by falling from its mouth and not, as in the earlier versions, through the use of a laxative). Tom's death is also retained to round off the story. Here, Arthur's queen is anxious to murder Tom, for reasons not explained, but his escape by butterfly ends in disaster when he becomes trapped in a spider's web. Though he fights manfully, the spider comes off victorious. Arthur erects his tomb and the poem ends with his epitaph.
For other early nineteenth-century versions of the story see Rusher's The history of Tom Thumb (0787) and Harris's Popular Tales (0036). In both these texts, the same set adventures also appear, although in the latter a moral has been appended to the tale.
William B. Todd's A Dictionary of Printers records that W. S. Johnson worked at St. Martin's Lane from 1846-62. For other similar publications from Johnson see 0692 and 0675.
For more on the origins of Tom Thumb see the Opies' Classic Fairy Tales, pp.36-57.
Todd, William B., A Directory of Printers and others in Allied Trades, London and vicinity, 1800-1840, London: Historical Society printing, 1972
Opie, Peter and Iona, The Classic Fairy Tales, Oxford: Oxford University Press, 1974, rpt. London, 1980