Stories Before 1850. 0089: Anon., Dame Partlet's Farm
| | |
| --- | --- |
| Author: | Anon. |
| Title: | Dame Partlet's Farm; containing An Account Of The Great Riches She Obtained By Industry, The Good Life She Led, And Alas, Good Reader! Her Sudden Death; to which is added, A Hymn, Written by Dame Partlet, just before her death, and an Epitaph For Her Tomb-Stone |
| Cat. Number: | 0089 |
| Date: | 1804 |
| 1st Edition: | 1804 |
| Pub. Place: | London |
| Publisher: | J. Harris, Corner of St. Paul's Church Yard |
| Price: | Unknown |
| Pages: | 1 vol., 62pp and two pages of advertisements |
| Size: | 16.5 x 10 cm |
| Illustrations: | Decorated cover plus 16 wood-cuts and other minor decorations |
| Note: | |
Images of all pages of this book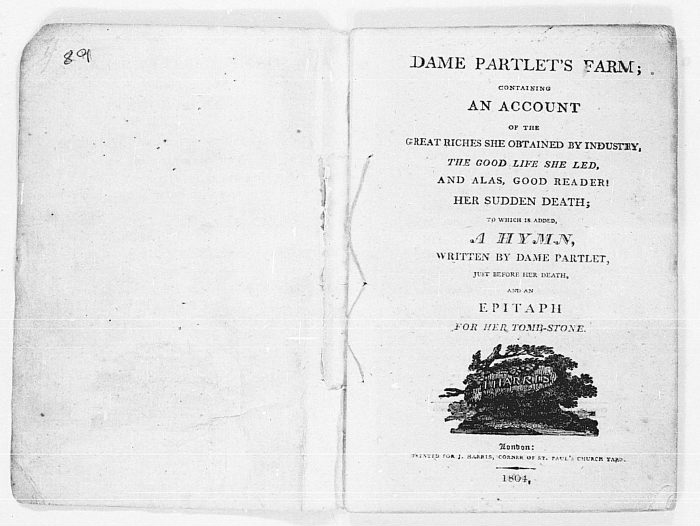 Introductory essay
Dame Partlet's Farm is divided into several distinct sections. First we have a prose account of Dame Partlet's life as a poor widow, who gradually amasses sufficient capital and good-will to enable her to set herself up as a small-scale farmer. Second comes a description of her farm, her life as a farmer, and her eventual death - but all this in verse. After a page containing the worthy Dame's favourite hymn, the book returns to prose again for an account of her funeral. And we end with the epitaph carved on her tomb-stone, but in verse once more.
All this has the feel of a traditonal nursery rhyme, reworked into a longer and more overtly edifying format for publication. Dame Partlet is so archetypical a character, and she bears such a familiar-sounding name, that it seems that she must have existed before John Harris published her story. It would not be out of character, for instance, for Harris to have taken a nursery rhyme, which perhaps formed the basis for the middle, verse section of the book, and to have embellished it with a prose prologue and funeral scene. Yet there is no record at all of any Dame Partlet text, either in verse or rhyme, before this edition of 1802. The Opies' Dictionary of Nursery Rhymes is silent on the subject, and though the name 'Dame Partlet' appears, amongst many other places, in Shakespeare's A Winter's Tale (II, iii, 75), Byron's Don Juan (Canto 17, stanza 4), and as Pertelote in Chaucer's 'The Nun's Priest's Tale', it is only ever used as as the generic proper name for any chicken. Perhaps this should not surprise us, for Harris had invented several celebrated characters, notably Dame Trott and Old Mother Hubbard.
What is perhaps surprising is that Dame Partlet's Farm did not enjoy a longer publication history. The Hockliffe Collection has this first edition of 1802, and there were two further editions, in different formats, in 1806 and 1834 (Moon 1987: 35). Beyond that the book seems to have fallen out of favour. It is true that it comes more from the increasingly outdated tradition of John Newbery, of Goody Two-Shoes and Giles Gingerbread, than of the newer, more realistic early nineteenth-century moral tale, but Dame Partlet's Farm was nevertheless an extremely engaging piece of work, and its rapid demise seems surprising and regretable.
Dame Partlet herself, we learn on the first pages of the book, was in fact both a near relative and a pupil of Goody Two-Shoes (pp.5-6). She has clearly inherited all Goody's piety, goodness and avidity to learn, and we first encounter her trying to pass on these qualities to her six children and the whole village too. But it is not her piety nor her modest skill at reading which astonishes her fellow villagers. Rather they wonder at how, without any visible means of support, she manages not only to keep herself and her her family alive, but so clean and well-presented too. Her husband had died when he was only thirty years of age, and her only resource is a small patch of land surrounding her cottage. Nor, to the other villagers' surprise, does she apply to the parish for poor law relief, nor seek hand-outs from the squire. As the story progresses, we learn by what means Dame Partlet makes her living. She explains that the cleanliness of her family is achieved by gathering unwanted sticks and twigs from the ground, which can be burned early in the morning and late in the afternoon to heat water with which to wash, thus saving the expence of having a fire lit all day (p.20-21). She derives an income from claiming the eggs laid by the apparently wild geese and ducks which inhabit the village green. A few grains of barley, she says, which she can glean from the fields, are enough to entice the birds to regard her land as their home, entitling her to the eggs which she sells to the London stage-waggoner (p.21). She keeps bees, and grows fruit too. But above all, she is so kind and respectful that the villagers give her small gifts which slowly mount up into useful resources. In return for black cherries from her garden, for instance, Miss Crabface gives her a old dress with which Dame Partlet can cloth her children (pictured p.26). And in return for her help in nursing his wife, Farmer Nippem gives her a sickly lamb which, though thought likely to die, survives through the help of Dame Partlet's children and grows up to provide wool to sell and to produce a brood of new lambs (pp.22-23). It is the esteem in which she is held by her neighbours which secures her elevation to the rank of tenant farmer though. So impressed are they by her industry and her attempts to improve the manners of the village children that when a farm becomes vacant on the drowning of the drunken Farmer Tipple, she is proposed as the new tenant of Farmer Pleasant's farm, he having moved up to take Tipple's land. She is helped to purchase some necessary farm goods by her neighbours, but she also receives a modest legacy from the sudden death of a relative (although this has increased, by the verse description of the farm, to a sizable sum from several relatives - p.41). From here, she does not look back, and the verse 'Account of the riches she obtained by industry and a good life' makes clear just how affluent she became (beginning p.37). This is truly the moral economy, with Farmer Pleasant and Dame Partlet having each moved up a notch on the social scale, the vacancy caused by the drunkeness of Farmer Tipple.
In fact, Dame Partlet's Farm reads more like a tract for the poor than a children's book. It would have fitted in well with Hannah More's Cheap Repository Tracts, produced only a few years before in 1795-98, with the aim of teaching the poor the virtues of industry, frugality and loyalty (save that in Dame Partlet's Farm, Squire Takeall is heavily censured, pp.12-13, an unacceptable lapse of political orthodoxy for the Cheap Respository. In fact, the Cheap Repository Tracts, designed to be distributed for free to the poor so as to butress the nation against the threat of the French Revolutionary ideology, are perhaps those mentioned on p.27. Alternatively, this may simply be a puff for the 'Pious Little Works' which Harris advertised as suitable for distribution to the poor on the outside back cover.) Indeed, Dame Partlet's Farm is as far removed from some of the new literature being produced for children at the time - such as Maria Edgeworth's Parent's Assistant (1796) or Early Lessons (1801), or John Aikin and Anna Laetitia Barbauld's Evenings at Home (1792-96), say - as the Cheap Repository is removed from the novels of Ann Radcliffe or Frances Burney. Just because both Dame Partlet's Farm and the work of Aikin and Barbauld, and Edgeworth can both be called 'children's literature', largely because of its simple content and illustrated, short format, does not mean that they are at all alike. Clearly what had happened by the turn of the nineteenth century was that children's literature had fragmented. Though John Newbery could hope that his books for children would appeal across the social spectrum, this was not the case for John Harris, who took over Newbery's business (via Newbery's nephew and the nephew's wife) in 1801. Aikin and Barbauld, and Edgeworth after all, were writing about how one should behave when already rich. Dame Partlet's Farm was a book about how one should behave while poor, and, indeed, how one might become rich. Dame Partlet's Farm attempted to bribe its readers into good behaviour, offering them worldly rewards in return for their virtue. On one level these rewards were the buns, tarts, pies and cakes of which Dame Partlet's grave-stone epitaph speaks (as does the prefacing advertisement for Harris's shop and the final stanza of the description of her farm, which promises a cheese-cake and a pie to any reader who can learn Dame Partlet's hymn by heart: p.52). On a second level, the entire book acts as a lesson that 'those who live in the fear of God, and endeavour by honest means to get forward in the world' - and who attend to their lessons - will not only 'never be distitute, or be forsaken either by God or man', but will become prosperous, happy and respected (p.33).
What recommends Dame Partlet's Farm as a piece of literature is its humour and its appealing portrayal of village life. Its depiction of the gossip of a village, for instance, is entertaining, as well as advancing the narrative (p.31). Also amusing are such by-the-by remarks as that Dame Partlet's expressed her piety by her saying 'Amen' 'the loudest of any body in the church, except Miss Deborah Crabface, the Rector's maiden aunt by the mother's side' (p.12). This lightness of touch, along with the strengh of the narrative, compensates for the heavy didacticism and twee pastoralism of a book which is as likely abruptly to insert a series of 'Rules to live happy' (pp.8-9) as a dance of rural innocence (pp.18-19).
Moon, Marjorie, John Harris's books for youth, 1801-1843, revised edition, Winchester, 1987