Stories Before 1850. 0119: Anon., Hamlain; or, The Hermit of the Beach
| | |
| --- | --- |
| Author: | Anon. |
| Title: | Hamlain; or, the hermit of the beach. A moral reverie. Calculated for the instruction and amusement of youth |
| Cat. Number: | 0119 |
| Date: | 1799 |
| 1st Edition: | 1799 |
| Pub. Place: | London |
| Publisher: | E. Newbery, the Corner of St. Paul's Church-Yard |
| Price: | 1s 6d |
| Pages: | 1 vol., 198pp. |
| Size: | 13 x 8 cm |
| Illustrations: | Engraved frontispiece |
| Note: | |
Images of all pages of this book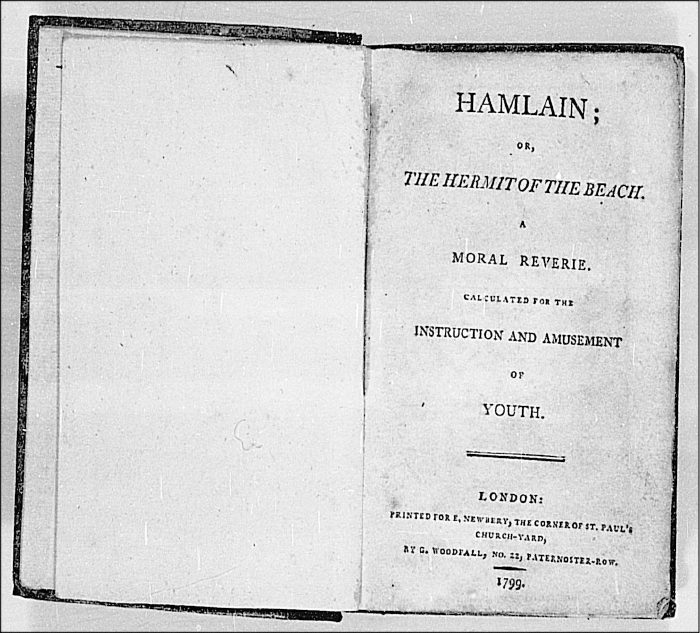 Introductory essay
Several children are staying with their relative, Squire Freeman, who has undertaken to show them all the curiosities of his part of the country. All the inanimate attractions he has already shown them, so he decides to take them to visit Hamlain, a hermit, who lives on the beach. Some of the children are apprehensive, envisaging the hermit as a beared, sanctimonious man who lives in a cave. As they discover, this is far from the truth, for Hamlain is affable and kind, and actually lives in a cottage on the cliffs overlooking the sea. (In the book's frontispiece, missing from the Hockliffe copy, Hamlain is depicted as a neatly-dressed, friendly-looking man.)
Hamlain had been a sailor, but had returned to his home cottage on the death of his parents. Since then, as he shows the children, he has made many improvements, carving steps out of rock to lead from his cottage to the beach, farming the land, and channeling a watercourse to make a pretty, and irrigational, waterfall. The children are delighted with what they see, and with Hamlain's hospitality. They also enter into the spirit of his pedagogic conversation on proper childhood conduct, quickly becoming complicit in his lectures. He shows them to iron spikes, for example, one shiny and the other rusty (p.170ff). The former he has polished every morning; the latter he never touches. Though he explains that when he brought the spikes into his home, he was musing upon the difference between employing one's mental powers to acquire useful knowledge and allowing them to stand idle, he encourages the children to draw the obvious moral themselves.
Hamlain teaches his other lessons using analogies from nature. He commends the diligence of ants, for example, is horrified at the cruelty of angling (p.124ff), and recounts a story about an elephant to explain the virtue of fidelity (p.129ff). Indeed, his motto (though here pronouced by Squire Freeman, who accompanies the children on their visit) is that 'nature is one large volume of instruction,' and it is up to the viewer to work out what we he or she is being taught. In 'looking superficially at the mere forms and colours of things,' Freeman goes on, 'we scarcely see any thing, or are like those who look into a book whose language they are strangers to; they lay it down without receiving any benefit, though they may have met with here and there a picture to amuse them.' (pp.48-49)
Hamlain subscribes to John Locke's view that the child's mind is a tabula rasa, and that it is the most important task of any parent to inscribe it with correct and useful values and information. This is most fully expressed in a lengthy meditation on the similarities between a vine and a child, both being likely to grow too fast and too exuberately unless they are curtailed by strict but kindly restraint (pp.60-61). Indeed, Hamlain employs all the standard Lockean analogies. Mothers, he insists, need to manage 'those tender minds that, like softened wax, are to receive from you their first impressions' (p.88). And mothers too must 'train these tender vines, and teach their young ideas how to shoot' (paraphrasing James Thompson: p.83).
The book closes when the children's visit to the hermit is over at the end of the afternoon. Promises have been made to return, though, for, as the children rode home, 'they dwelt with delight on the satisfaction they had received from their visit to the Hermit of the Beach.' (p.198) However, the book was never republished. Though somewhat in the style of the Edgeworths' work, with its lessons drawn from nature, by the turn of the century, its lack of narrative, its unwillingness even to sketch out the characters of its young protagonists, and its failure to include more Evangelically-inclined religious lessons, made it rather old-fashioned.