Stories Before 1850. 0180: Mary Mister, The Adventures of a Doll
| | |
| --- | --- |
| Author: | Mister, Mary |
| Title: | The adventures of a doll. Compiled with the hope of affording amusement and instruction. By Mary Mister, author of 'Tales from the Mountains,' 'Mungo the Little Traveller,' etc. |
| Cat. Number: | 0180 |
| Date: | 1816 |
| 1st Edition: | 1816 |
| Pub. Place: | London |
| Publisher: | Darton, Harvey, and Darton, Gracechurch-Street |
| Price: | 2s 6d |
| Pages: | 1 vol., iv + 191pp. |
| Size: | 14.5 x 9.5 cm |
| Illustrations: | Engraved frontispiece (missing from digitisation) |
| Note: | Title-page, frontispiece and pp.190-91 missing from digitisation. Inscription on fly-leaf: 'Julia Mashiter / May 1834 / Louisa Mashiter'. |
Images of all pages of this book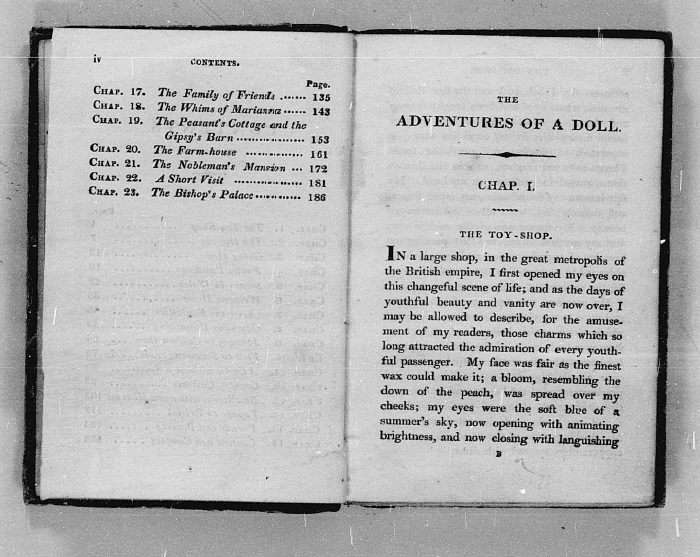 Introductory essay
The narrator is a doll, made out of wax, with a 'peculiar expression of superior understanding', and, she thinks, 'the first doll of my race, whose eyes had been taught to open and shut' (p.2). She lies unsold in her native toy-shop, for she is too expensive for most pockets, until a rich, spoiled heiress buys her. So begins the doll's picaresque journey around Britain as she is passed from one owner to another. Amongst her favourite owners are a family of Quakers (pp.137ff.); whilst her least favourite is a poor and work-shy gypsy who has stolen her (pp.155ff.). Ultimately, though the doll concludes 'that neither rank nor riches exempted [the rich and titled] from partaking of the same follies and sufferings with the lowest of their fellow-creatures' (p.174) - a conclusion fitting for a book issuing from the press of William Darton, the noted Quaker.
The doll expatiates on the moral qualities of each new owner, whether good or bad, and thus is fulfilled the promise of moral instruction made in the title. There is much factual instruction too. In Gloucester, for example, the doll is taken to the cathedral, the debtors' gaol, and the infirmary, and the workings of each is explained. Gloucester, the doll adds, 'is famous for cheese, and the whole county for the manufactory of woollen cloth' (p.26). Much of the narrative takes place in Wales, and a topographical description of Carmarthen, Swansea and other locations is provided for the reader.
The various games which children could play with dolls are described in passing. The doll is dressed up in all manner of costumes, for example. She successively becomes a school-mistress, surrounded by rag-dolls for pupils, a beggar, a male sailor, and 'a negro', a burned cork being used to change her skin colour (pp.144-45). At last, the doll is returned to the hands of her favourite owner, a humble and kind young girl who takes her to live out her days in Wales.
The book's prince - 2 shillings and sixpence - is recorded on the spine of the edition in the British Library.