Stories Before 1850. 0184: Anon., My Real Friend
| | |
| --- | --- |
| Author: | Anon. |
| Title: | My real friend, or, incidents in life, founded on truth, for the amusement of children. Second edition corrected |
| Cat. Number: | 0184 |
| Date: | 1812 |
| 1st Edition: | 1812 |
| Pub. Place: | London |
| Publisher: | W. Darton, jun., 58, Holborn-Hill |
| Price: | 1s |
| Pages: | 1 vol., 48pp. |
| Size: | 15.5 x 10 cm |
| Illustrations: | Title-page vignette and 17 further engravings |
| Note: | Inscription on fly-sheet: 'Margaret Buchan [?] 30 September 1813'. Page 48 missing from digitisation. |
Images of all pages of this book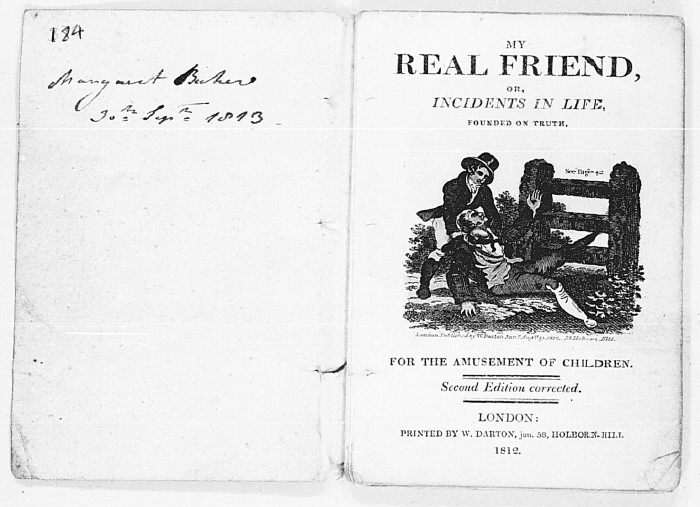 Introductory essay
My Real Friend contains about a dozen short anecdotes and observations communicated to the reader as if narrated by a friendly but rather judgmental relative. The subjects are various. Some are purely factual. The reader is taught, for instance, about the bridges over the Thames, culminating in the opinion that the architect of London Bridge 'ill displayed his knowledge'. So much water is forced through arches of such narrowness, we are told, that the water level is five to seven feet higher on one side than the other, causing great danger to boats shooting the bridge (p.17f.). But most of the tales have a more obviously moral or even religious content. Those who refused to rescue a man trapped under the bank of a river are accused of cowardice, for example, and cruelty to animals, even those about to be slaughtered for meat, is condemned (p.34ff. and p.39ff.).
Perhaps the most remarkable facet of the book, though, is its strong pacifist tendency, something befitting a publication from the publishing house of William Darton, a Quaker. (And surely the book's title - My Real Friend - is a reference to its Quaker origins and agenda.) Dueling is reprobated, as is the solder's profession in general (p.22f. and p.27ff.). Most strikingly of all, a description of gun-powder prompts these reflections:
Oh! the havock and destruction that have been occasioned in all quarters of the globe by means of this; the poor harmless native of America, of the Indies, and the most distant isles, unacquainted with its effects, were mowed down by hundreds; disorder and dismay were carried far into their countries, and they are now termed more civilized. (p.11f.)
Such stuff was most unusual for the generally patriotic children's books of the early nineteenth century. After all, when My Real Friend was published, Britain was still at war with Napoleonic France, and strenuously engaged in expanding its empire.