Stories Before 1850. 0232: Emily Taylor, Letters to a Very Little Girl
| | |
| --- | --- |
| Author: | Taylor, Emily |
| Title: | Letters to a very little girl, from her aunt. By Emily Taylor |
| Cat. Number: | 0232 |
| Date: | 1820 |
| 1st Edition: | |
| Pub. Place: | London |
| Publisher: | Harvey and Darton, Gracechurch-Street |
| Price: | 1s |
| Pages: | 1 vol., 79pp. |
| Size: | 13.5 x 8 cm |
| Illustrations: | Frontispiece plus three further full-page engravings (one dated 22 July 1820) |
| Note: | Inscription on fly-leaf: 'Mary Anne Burgess. Wigston Grange. 6 Mo 10th 1821' |
Images of all pages of this book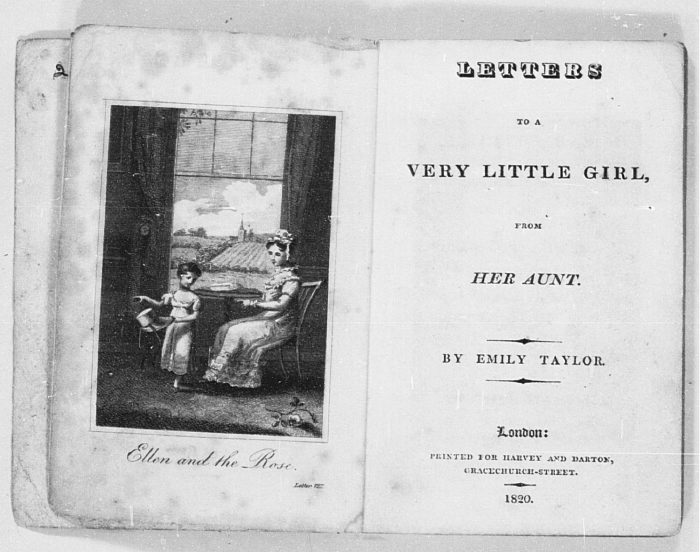 Introductory essay
The inscription to be found on the fly-leaf of this book records that Mary Anne Burgess of Wigston Grange was the owner of this book in 1821, the year after its publication. A Mary Anne Burgess was christened in Enderby, a town not far from Wigston in Leicestershire on 14 December 1807. This would make Mary Ann thirteen and a half when she came into possession of the book - significantly older that the girl to whom the letters which compose the book were nominally addressed.
There are fifteen letters in Letters to a Very Little Girl, all addressed to Emma from her aunt. Emma is perhaps six or seven years old, and we are quickly able to deduce that she had spent the previous summer with her aunt on a farm in the country, but has returned to London for the Winter where she lives with her parents. The final letter, written in the Spring of the following year, speaks of Emma's likely return to the country in the Summer.
The aunt's letters offer advice, congratulation on her advances in reading, updates on the inhabitants of the farm, simple religious sermons and a number of short stories, glossed with brief moral reflections. These short narratives make up the bulk of the text. Emma's aunt relates several stories about Ellen, for instance, a young girl about the same age as Emma. Rather like Maria Edgeworth's Rosamond or Lucy, Ellen is an ordinary young child you has to learn to conquer her natural impulses and behave as her parents would wish, for they, she comes to learn, know best. Several of the aunt's other stores are apparently drawn from adult works, which the aunt has simplified for the benefit of her niece. Emma is treated to a description of Alexander Selkirk, the shipwrecked sailor upon whom Defoe based his Robinson Crusoe (pictured opposite p.73), and to the story of a Russian girl who saves her parents from exile in Siberia by petitioning the Tsar. In her fifth letter, the aunt had told Emma 'a story, which, though it was in a large book, I think you can very well understand'. It is the tale of an Englishman travelling through an African desert who was rescued by the kindness of a 'good, kind Negro-woman'. Her song - 'The white man shall our pity share:/Alas! no wife nor mother's care, For him the milk and corn prepare' - is given on p.28, but in fact the moral had been drawn out before the aunt embarked on this abridged traveller's tale, namely that one should always be kind and hospitable to strangers, even if they come from a different culture or have a different colour skin. If you are out walking in London, she had told Emma, you may see
a poor man with a black face and hands, begging in the street. I do not mean a chimney-sweeper, but a person whose skin is really black, and cannot be made white. This is a Negro. He comes from a country far, very far from ours, where the air is much warmer than it is here, and where the plants, trees and animals, are mostly very different from those we see about us. He is a stranger, and perhaps has not friends in our country; but in his own land he has a father, or a mother, or perhaps a little daughter, whom he loves as well as Emma's papa loves her. We will pity the poor black man then, and give him a few kind words and a little money. (pp.24-25)
The aunt's letters also discuss geography and natural history. The decision to exhibit of a Greenlander in London is criticised as cruel, a reference to the sort of spectacle described in Lapland Sketches (0569L in the Hockliffe Collection). And events on the farm are reflected upon. At the beginning of the Winter several chickens are born, and the chicks are initially likened to Emma for they too must stay indoors until Spring comes (pictured opposite p.12). However, the death of the chicks before the Spring comes it used to teach Emma not to be sentimental about animals, and to appreciate that humans have souls, whereas animals do not, so we need not repine at their death. Moreover, 'chickens cannot read, cannot work, cannot learn anything' (p.12), so while wintertime must be dull for them, it need not be so for Emma.
Indeed, reading is a central concern of the book. In the first of her aunt's letters, Emma is congratulated on having 'nearly swept away all the "Cobwebs," which you were so busy about', or, in other words, for having finished reading Eleanor Fenn's Cobwebs to Catch Flies (0545-0548 in the Hockliffe Collection, p.3). Later, her aunt recommends other books which Emma ought to move onto, namely 'Mrs. Barbauld's "Charles"' and 'some nice little "Scriptural Stories," ... told by a lady to a child', but perhaps not yet 'my little book' - perhaps the Letters on Maritime Discovery, addressed to a Little Girl which is advertised at the back of this volume.