Stories Before 1850. 0253: Anon., The Voyages and Adventures of La Perouse
| | |
| --- | --- |
| Author: | Anon. |
| Title: | The voyages and adventures of La Perouse. To which is added the Life of Hatem Tai, or the generosity of an Arabian prince. Embellished with eight coloured engravings |
| Cat. Number: | 0253 |
| Date: | 1829 |
| 1st Edition: | |
| Pub. Place: | London and Derby |
| Publisher: | John Bysh, 8 Cloth Fair, West-Smithfield, and Thomas Richardson, Frear-Gate, Derby |
| Price: | 6d |
| Pages: | 1 vol., 36pp. |
| Size: | 14 x 8 cm |
| Illustrations: | Front-cover vignette plus eight coloured engravings arranged with two on each of four pages |
| Note: | |
Images of all pages of this book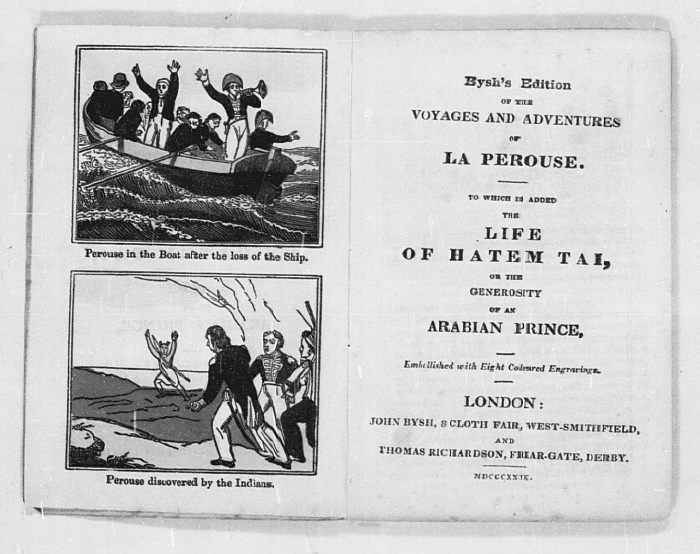 Introductory essay
Jean-Francois de Galaup, comte de La Péouse (1741-c.1788) was a French navigator whose travels, and especially his mysterious disappearance, became famous in the late eighteenth and early nineteenth century.
La Péouse's voyage set sail from France in 1785, and over the next three years he explored both sides of the Pacific Ocean. A record of his visits to Easter Island, the Sandwich Islands (now Hawaii), the Alaskan Californian coasts, the South China Sea and the Siberian peninsula were preserved for posterity because in 1787 he dispatched his expeditions journals and maps overland to France. It is known that La Péouse landed at the Navigators' Islands (now Samoa), the Friendly Islands (now Tonga) and at Botany Bay in Australia in early 1788, but thereafter nothing was heard of the captain, his crew or his ships. Over the next decade, the enigma of the expedition's disappearance made it into something of a cause célbre. L. A. Milet-Mureau published a four-volume account of La Péouse's voyage in 1798 which was immediately translated into English. A year later, La Péouse, a drama in two acts. From the German of Kotzebue. By Benjamin Thomson was being performed at Drury Lane theatre. This highly abridged version for children, published in 1829 bears testimony to the continuing fascination with the story. By 1829, though, some indication of the fate of La Péouse had been forthcoming. In 1826-27, Peter Dillon, an English sailor, found evidence that La Péouse's ships, 'La Boussole' and the 'Astrolabe', had been near the Solomon Islands, and in 1828, a French explorer, Dumont d'Urville, saw wreckage from the ships on the islands, and was given to understand that a sizable part of La Péouse's crew had been massacred there.
Little of this is to be learned from John Bysh's edition of The Voyages and Adventures of La Perouse. This account brings in fairly standard fashion, offering the reader some biographical information about La Péouse and an account of his encounters with (and defeats by) the British navy. The early part of La Péouse's voyages is reported faithfully enough too, but thereafter the account turns to fiction, an attempt, presumably, to account for La Péouse's disappearance. La Péouse is shipwrecked on an island off the north coast of Japan. His entire crew is killed in an encounter with the indigenous population, and both are brought to the native village only to be executed themselves. In the nick of time, however, La Péouse is rescued by the intervention of the chief's daughter, Aura, who has fallen in love with him (an incident depicted in the illustration opposite p.12). La Péouse is reluctant to return Aura's love, and she casts him out. He is attacked by her former admirer, Verado, and his injuries cause Aura to relent and to take him back. They marry, and live together on a remote island.
La Péouse's plight is presented as pitiable in the extreme. He is, after all, 'detached from civilized society, with all his prospects of advancement and fame obscured, and confined to an intercourse with barbarians' (p.13). But this is not to last, for back in France, in 1799, an expedition is being organised to search for La Péouse. The expedition, conveying La Péouse's wife, journeys around the East in search of him. The manners and customs of one island they discover are described in some detail, and its humane and peaceful natives pronounced 'in some respects worthy of imitation.' (pp.18-20) The expedition proceeds, and at their next landfall it is attacked by war-like inhabitants. The combat only ends when La Péouse and Aura appear, for this is their island. The meeting of La Péouse and his wife is described, as is his parting with Aura and their child. Aura is initially jealous, leading a war-party against the Frenchmen, but La Péouse persuades her that he must return to his first wife and child, and she submits to his desertion.
On the return journey, the expedition encounters yet another unexplored island. They find the civilisation here highly developed. A tower has a clock, and the community seems thriving. The reason for this, they discover, is that an Englishman, Thomas Windham, has been marooned here since 1779. He has no wish to return to Europe, but La Péouse and his shipmates do sail back safely to France.
There follows a second short piece, the history of Hatem-Tai, an Arabian (begins p.32). His reputation as the most 'liberal' - that is to say 'generous' - of all men excites the incredulity and envy of other Arabian princes. One tests him by asking for the improbably gift of twenty rare camels. The gift is duly made, and when the recipient attempts to outdo the giver by returning the camels laden with 'precious stuffs', Hatem-Tai distributes the camels and their baggage among the men who had formed the caravan. Another trial concerns Hatem-Tai's favourite horse. The emperor of Constantinople visited with the intention of demanding the horse. He found, though, that to compliment his guest, Hatem-Tai had already commanded the horse to be slain and fed to the Emperor. Last, Numan, King of Arabia, plotted to kill Hatem-Tai. He commissioned a henchman to perform the deed, but by chance, the assassin was taken in by the hospitable Hatem-Tai and lavishly entertained. Enquiring where he might find Hatem-Tai and explaining his mission, Hatem-Tai revealed that he was the intended target, and he bid the would-be assassin strike. The assassin, of course, refuses and renounces his plan.