Stories Before 1850. 0255: Priscilla Wakefield, Juvenile Anecdotes
| | |
| --- | --- |
| Author: | Wakefield, Priscilla (Bell) |
| Title: | Juvenile Anecdotes, founded on facts. Collected for the amusement of children by Priscilla Wakefield author of 'Mental Improvement', 'Juvenile Travellers' etc. |
| Cat. Number: | 0255 |
| Date: | 1825 |
| 1st Edition: | |
| Pub. Place: | London |
| Publisher: | Harvey & Darton |
| Price: | Unknown |
| Pages: | 1 vol., iv + 264pp. |
| Size: | 14.5 x 9 cm |
| Illustrations: | |
| Note: | |
Images of all pages of this book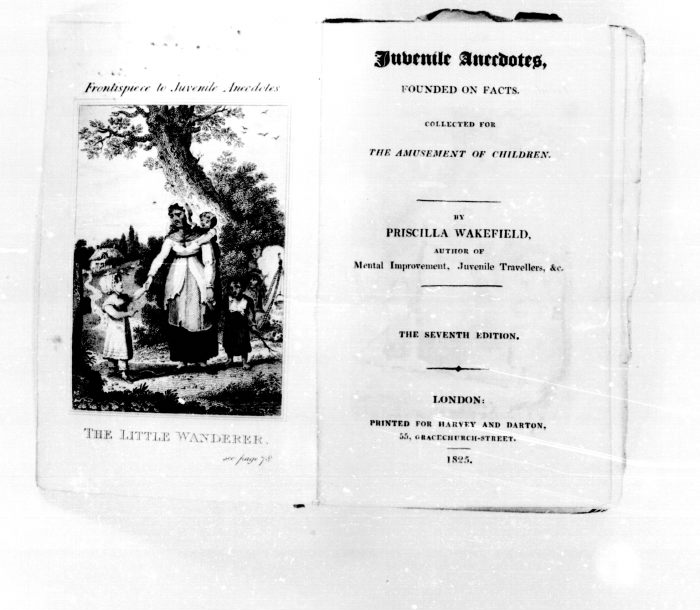 Introductory essay
Priscilla Wakefield, née Bell, was born into an established Quaker family in Stamford Hill, London on 31 January 1751. She married Edward Wakefield (1750-1826), a City of London merchant, on 3 January 1771. She became known as a philanthropist, founding a School of Industry for girls and, in 1791, a maternity charity, and she promoted savings banks for the poor - what she called 'frugality banks' - as well as a Female Benefit Club to pay small pensions to subscribers after age 65. She was also active in other philanthropic, liberal and Dissenting causes. She supported, for example, the Rev. Joseph Lancaster's plans for large schools for the poor which would be run by a hierarchy of monitors drawn from the ranks of the senior pupils (Shteir 1995: xiv-xvi). And her antipathy to slavery was noticeable in her writing, an incursion of the political into books for children which was not all that common. In Mental Improvement, for example, Mr. and Mrs. Harcourt, her authority figures, discuss sugar production and slavery with their children and are delighted to find that the whole family is united in its contempt for it. 'I think no riches could tempt me to have any share in the slave-trade', says one girl, adding 'I could never enjoy peace of mind, whilst I thought I contributed to the woes of my fellow-creatures.' Mr Harcourt wants her to put her 'compassion to the proof', and asks her whether she would be 'willing to debar yourself of the many indulgences that we enjoy, that are the fruit of their labour? Sugar, coffee, calico, rum, and many other things, are produced by the sweat of their brow.' All the children are agreed that they 'would forego any indulgence to alleviate their sufferings', a more than merely rhetorical statement in an age of boycotts of slave-produced goods (Wakefield 1794-97, rpt. 1995: 77-78). Wakefield died in 1832.
Wakefield began writing in her 40s at least partly so as to add to the family's dwindling income. She continued to write even after the family's financial worries eased, producing many children's books for Elizabeth Newbery, Joseph Johnson, and, above all, the Quaker firm, Darton and Harvey. Her first really successful book was Juvenile Anecdotes, which appeared in two volumes in 1795 and 1798. The Hockliffe Collection has this copy of the seventh edition of 1825, which, like all versions from the second edition of 1796 onwards, has been condensed into a single volume. Most of Wakefield's books were designed for a slightly more advanced readership, and dealt mainly with either science or travel, or both. Amongst the best known were The Juvenile Travellers (1801, for which Wakefield received £200 from Darton and Harvey, as large a sum as they ever paid), An Introduction to Botany, in a Series of Familiar Letters (1796), Leisure Hours, or Entertaining Dialogues (1794-96), Mental Improvement, or the Beauties and Wonders of Nature and Art, conveyed in a Series of Instructive Conversations (1797) and A Family Tour thought the British Empire (1804). Almost all of these works went through several editions, and some were still being published as late as the 1840s.
Wakefield wrote one book for adults, Reflections on the Present Condition of the Female Sex, with Suggestions for its Improvement, which the radical Unitarian publisher Joseph Johnson brought out in 1798. It was a practical book which suggested that women should be better educated and better prepared for a world in which they might one day have to make their own way. This was a moderate liberal position in the context of the times. Though she admired Mary Wollstonecraft (whom Johnson also published), Wakefield felt that her writing and behaviour were too extreme and, above all, not sufficiently curbed by religious values.
Wakefield had heard children complain, she wrote in her preface to Juvenile Anecdotes, that moral tales were not likely to alter their conduct because 'they were not true, but merely fictions, to entertain.' (pp.iii-iv) This is what inspired her to produce Juvenile Anecdotes, she claimed, which was composed mostly of incidents which had really occurred to children of her acquaintance. Falsity was a criticism levelled at many forms of children's literature, especially by Quakers, who disapproved of fiction. Fairy tales in particular were susceptible to the charge, and by the later eighteenth century, most fairy tale authors were careful to insist that their fairies were purely make-believe. The complaint that fairy tales were untrue went back to John Locke's allegation that stories of the supernatural would make children afraid of the dark. Criticisms of the falsity of moral tales was more a question of utility, for, as Wakefield was hinting, if narratives seemed too idealised, readers would not be able empathise with the characters, would be unmoved by their plight, and therefore would not learn the lesson.
That Wakefield insisted on including only true stories did not, however, lead to any absence of incident in Juvenile Anecdotes. There were abductions by gypsies ('The little wanderer', pp.98-99: represented in the frontispiece) and stories of young girls almost drowning ('The heroine', begins p.75), as well as many more serene narratives of industry, piety, humility and obedience receiving their just rewards. Often the 'anecdotes' of Wakefield's book proceed from general observations, generally about the behaviour of children or the nature of the divine design, to a short narrative which illustrates the point. Thus in 'Industrious Ambrose' (begins p.140), for example, Wakefield first tells the reader that it is hardly surprising that the sons and daughters of the affluent (at whom the largest part of the book has been aimed, she says) should be wise and good, for their parents will have had leisure to supervise their education. Indeed, it would be a great reproach 'were they not in most respects superior to the sons and daughters of labourers, cottagers, and people in a low station, whose circumstances require them to work all the day long, to procure bread for their family, which leaves them no time to attend to the imporvement of their children' (p.141). Only then does the story of Ambrose begin. The son of a poor tenant farmer, Ambrose was early schooled in habits of hard work and contentment with even a lowly lot in life. He was apprenticed to a cruel blacksmith, and finally ran away to London to seek his fortune. Becuase he was willing to work hard he was taken as an assistant to a cat's meat man, preparing and selling offal. After two or three years in this humble life, Ambrose branched out on his own, starting a similar business in another part of the city. Shrewdly, he took advantage of the War of American Independence then being waged to contract with the navy to buy the offal of all the animals killed for the navy. Soon he grew rich by selling tripe, cows' heel, sheeps' trotters, and so on, and ended a happy and well-loved man, not forgetting to reward those who had helped him when he was poor. Read in conjuction with the opening paragraphs of this anecdote, the story acts as a reproof to any affluent reader not willing to behave as well as Ambrose, rather than as a Dick Whittington style adventure story.
Fourteen anecdotes which had found a place in the first edition are omitted from the seventh edition in the Hockliffe Collection. These are 'The character of Charles Somners', 'A new method of swimming', 'The useful amusement', 'The folly of being afraid of the dark', 'Little girls are not made for flying', 'Second thoughts are best', 'The linnet', 'The confession', 'The innocent penitent', 'The bargain', 'I won't, and I will', 'The ass', 'The warning' and 'Lorenzo'. If there is anything which unites these omitted anecdotes it is that several suggest to parents methods to cure children of regrettable fears - of the dark ('The folly of being afraid of the dark'), of swimming ('A new method of swimming') - and several others take the form of cautionary tales, such as 'The warning' which tells of Amelia getting scalded to death when a pot of boiling water is upset on her because of her foolish propensity to frequent the kitchen. As Wakefield put it herself: 'A picture of so melancholy an aspect should not have thrown a gloom upon the entertainment these Juvenile Anecdotes are intended to produce, but for an opinion, that the warning might be useful to prevent future accidents of the same kind.' (Juvenile Anecdotes, 1798, 1:149)
Shteir, Ann B., 'Introduction' to Priscilla Wakefield, Mental Improvement, 'Early English Women Writers 1660-1800', no.4, ed. Ann B. Shteir, East Lansing, Michigan: Colleagues Press, 1995
Wakefield, Priscilla, Mental Improvement: or the Beauties and Wonders of Nature and Art, conveyed in a series of Instructive Conversations (2 vols., London: Joseph Johnson, 1794-97, rpt. 'Early English Women Writers 1660-1800, no.4', 1 vol., ed. and with an introduction by Ann B. Shteir, East Lansing, Michigan: Colleagues Press, 1995