Religious Books, Bibles, Hyms, etc. 0405: John Bunyan, Divine Emblems
| | |
| --- | --- |
| Author: | Bunyan, John |
| Title: | Divine emblems [or, temporal things spiritualised. Fitted for the use of boys and girls] |
| Cat. Number: | 0405 |
| Date: | No date (but c.1785?) |
| 1st Edition: | 1686 |
| Pub. Place: | Coventry |
| Publisher: | M. Luckman, Broad-Gate |
| Price: | Unknown |
| Pages: | 1 vol., 94pp. |
| Size: | 15 x 8.5 cm |
| Illustrations: | Frontispiece plus 46 wood-cut roundels in the text |
| Note: | Partially legible inscriptions on verso of front and back covers: 'Jos Berrill', etc. |
Images of all pages of this book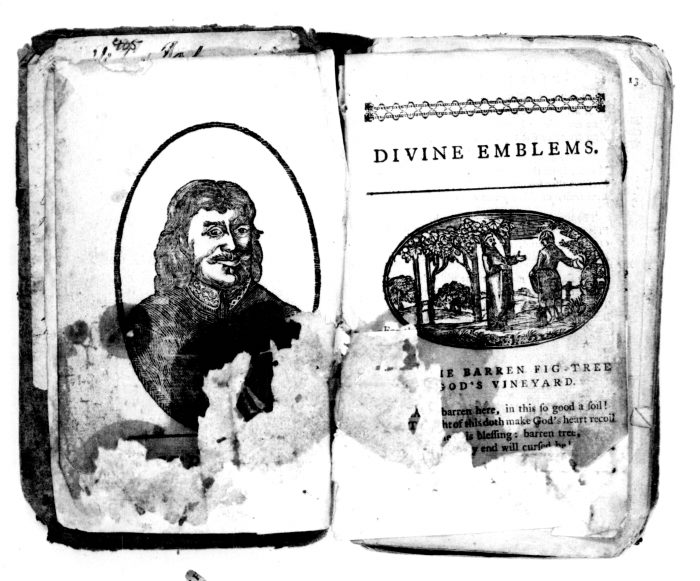 Introductory essay
John Bunyan's Divine Emblems is arguably the first book of poetry designed for children. It was first published in 1686 as A Book for Boys and Girls, or, Country Rhimes for Children. Only in 1724 was it given the title by which it is now known. It contains several dozen short verses (74 in the first edition, but many were removed in successive versions), all of which draw simple religious and moral lessons from everyday things (Darton 1982: 63-66). So, for instance, Bunyan compares a mole, which loves to be underground and shuns the sun, moon and stars, with a courtier, or any worldly man, who aims to find delight on earth and forgets the world to come (p.43).
This technique is familiar from the emblem-books popular throughout much of Europe from the sixteenth century on. They generally combined a set of symbolic illustrations with text explaining the prints, with a short moral added at the end. Bunyan combined the two textual elements into one, and, until the 1707 edition, did away with the illustrations. Emblem-books were sometimes designed specifically for children, but were more often aimed at a general audience. The use of pictures to illustrate the morals meant that such books were suitable for even an illiterate audience. The Hockliffe Collection's version of Divine Emblems retains a wood-cut for almost every poem.
Bunyan's verse itself is sometimes rather forced, but he has been congratulated by historians of children's literature for his realisation that children needed to be able to derive some fun from a book if its didacticism was to have any effect. Bunyan was well aware of this: 'by their Playthings I would them entice,' he wrote in the preface to Divine Emblems (missing from the Hockliffe copy), 'To mount their Thoughts from what are childish Toys / To Heav'n, for that's prepar'd for Girls and Boys.' To this end, the verses are designed to engage the reader, either by using familiar and appealing things to draw the analogy - a snail, a top, and so on - or in their resemblance to riddles which have to be worked out. 'Man's like a candle in a candlestick', one of the verses begins, and although Bunyan quickly explains what he means, the reader is still interested in just how he will solve the riddle of the analogy: see pp.28-29.
Other verses depict ordinary life rather accurately, such as 'Upon the disobedient child', which apparently gives a late seventeenth-century view of adolescence:
Children, when little, how do they delight us!
When they grow bigger, they begin to fright us.
Their sinful nature prompts them to rebel,
And to delight in paths that lead to hell. (p.85)
The publisher of the Hockliffe Collection's edition of Divine Emblems was apparently M. Luckman of Coventry, for his or her advertisement appears at the back of the book: p.95. When it was published is difficult to say, although an inscription on the inside back cover (probably not the first to be written onto the two covers of the book) is dated 1801, proving that the book was published before the nineteenth century.
Darton, F. G. Harvey, Children's Books in England: Five centuries of social life, Cambridge: CUP, 1932; third edition, revised by Brian Alderson, 1982