Religious Books, Bibles, Hyms, etc. 0448: Joseph Taylor, The Bible Garden
| | |
| --- | --- |
| Author: | Taylor, Joseph |
| Title: | The bible garden: or, a familiar description of the trees, plants, shrubs, and herbs, mentioned in the Holy Scriptures. By Joseph Taylor ... second edition |
| Cat. Number: | 0448 |
| Date: | No date but c.1838? |
| 1st Edition: | 1836? |
| Pub. Place: | London |
| Publisher: | Dean and Munday, Threadneedle-Street |
| Price: | Unknown |
| Pages: | 1 vol., 258pp. |
| Size: | 13.5 x 10 cm |
| Illustrations: | Frontispiece, decorated title-page plus 30 further prints |
| Note: | |
Images of all pages of this book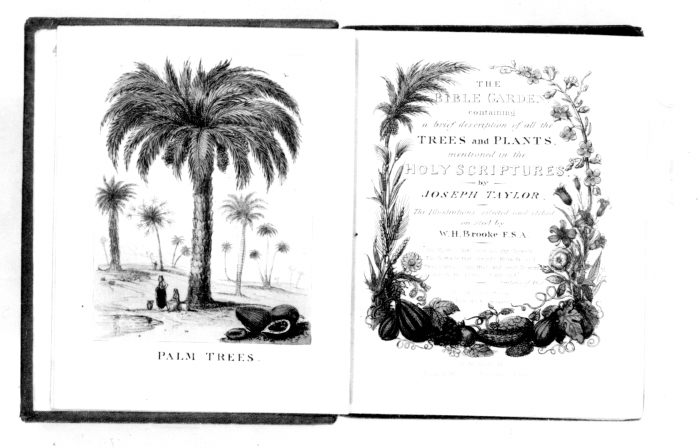 Introductory essay
As Joseph Taylor explained in his preface, he had from boyhood been fascinated by the many references to strange plants to be found in the bible. No book having been published which satisfied his curiosity about these plants, he eventually resolved to write his own. His method was straightforward. The book contains an entry for every plant mentioned in the Scriptures, whether familiar or exotic. They are arranged in alphabetical order, with each entry being comprised of an extract from the bible mentioning the plant and a description of its appearance, particular qualities and, usually, some account of the uses made of it by man, or anecdotes relating to it. Each plant is also represented in a separate engraving.
This kind of combination of religious and botanical or zoological instruction was not unusual in nineteenth-century children's books. The Religious Tract Society, for instance, produced a great many natural history books. Most such books combined religious sentiments along with their scientific instruction. Even those which were not explicitly religious, it could be argued, were serving a religious purpose by presenting the wonder of God's creation to readers.
Joseph Taylor may even have been able to make his living from writing children's science books. He certainly produced a great number of them. His Arbores Mirabilis: or, a description of the most remarkable tress, for instance, appeared in 1812, The Complete Weather Guide in 1813, and Anecdotes of Remarkable Insects in 1817. A little less scientific were his A Cabinet of Curiosities (1807), Canine Gratitude; or, a collection of anecdotes illustrative of the faithful attachment and wonderful sagacity of dogs (1808), and The dangers of premature interment (1816). His Apparitions; or, the mystery of ghosts, hobgoblins, and haunted houses, developed (1814) fused the two sides of his writing career, providing rational explanations for supposed sightings of supernatural creatures.
The British Library has another edition of The Bible Garden, presumably the first, in which the preface is dated May 1836. It might be presumed that the second edition in the Hockliffe Collection probably dates from shortly after this.