Nursery Rhymes and Alphabets. 0668: Anon., The Alphabet of Goody Two Shoes
| | |
| --- | --- |
| Author: | Anon. |
| Title: | The alphabet of Goody Two Shoes; by learning which she soon got rich |
| Cat. Number: | 0668 |
| Date: | 1822 |
| 1st Edition: | 1808 |
| Pub. Place: | London |
| Publisher: | J. Harris and Son |
| Price: | |
| Pages: | 1 vol., 30pp. |
| Size: | 17.5 x 10.5 cm |
| Illustrations: | 26 text engravings |
| Note: | Part of 'Harris's Cabinet of Amusememt and Instruction' |
Images of all pages of this book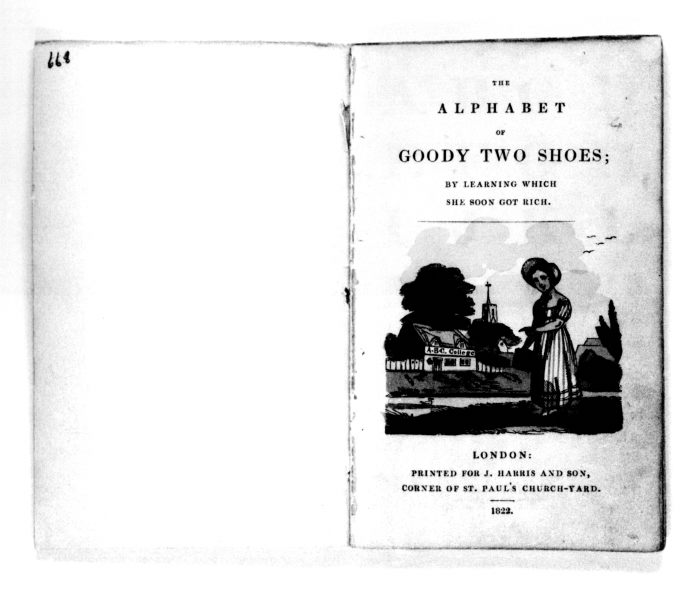 Introductory essay
The first few pages of The Alphabet of Goody Two Shoes are taken up with printings of the alphabet, of sets of syllables, and of short words and verses. This is followed by what is essentially an illustrated alphabet, with each letter starring in a short verse, the subject of which is represented in an illustration. Neither pictures nor rhymes have any sustained connection to Goody Two-Shoes. She appears in just one of the entries, 'V' for 'Village', in which lived 'The renown'd Goody Two-shoes, / Who sends you this book.' The other entries contain a variety of apparently random figures. 'W' is for 'a witch', for example, whilst 'R' is for 'Ralph, with his Raree shew' (a sort of peep-show carried about in a box). 'N' is for 'Mr. Nobody / Just come from France' to teach the girls to dance, and 'S' is for a soldier, 'Ready to fly, / To kill all the French / Or to eat a mince pye.' The choice of subjects and activities is so bizarre that the the book might justly be considered more as nonsense verse, than as a primer. How else can we explain something as odd as 'O', 'a grave owl', who Tom mysteriously tries to impersonate by putting on a mask and sitting down at his side?
Certainly, there is very little explicit morality here to accompany the letters, as so often there was. The closest the book come to it is with 'Dick Dump', 'Who did nothing but eat', but even this glutton does not come to a bad end, and seems from the engraving to be quite happy to have left his book and play 'For a nice bit of meat' ('D'). Rather than being morally instructive, then, or even particularly useful as a primer, the appeal of the book stems almost entirely from the attractiveness of the illustrations and the light comedy of the text.
The alphabet of Goody Two Shoes was first published by Harris in 1808. A second edition appeared in 1820 and this third edition in 1822. Two more were to follow shortly afterwards. The third edition which appears here was radically different to the original 1808 version. The alphabets, syllables and son on which appear at the beginning of the volume were new, and the engravings (combining two letters into one image) had been wholly redesigned. Occasionally the text was altered too, as was the case with 'G' for 'Greyhound'.