Nursery Rhymes and Alphabets. 0686: Anon., Mother Goose's Melody
| | |
| --- | --- |
| Author: | Anon. |
| Title: | Mother Goose's melody or sonnets for the cradle |
| Cat. Number: | 0686 |
| Date: | No date but c.1790-1815? |
| 1st Edition: | 1780? |
| Pub. Place: | |
| Publisher: | |
| Price: | |
| Pages: | 1 vol., 46pp. |
| Size: | 13 x 10.5 cm |
| Illustrations: | |
| Note: | Title-page missing. Inscription on inside front cover: 'Harriet Beauclerk / The gift of her Papa / Feb.y the 12th 1815' |
Images of all pages of this book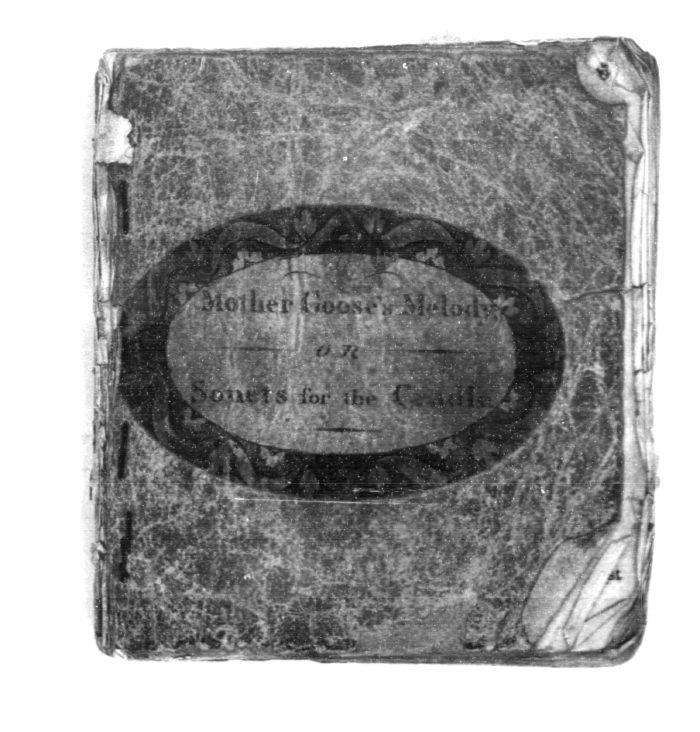 Introductory essay
Mother Goose's melody is the most famous early collection of nursery rhymes published in Britain. It was quite possibly the first too, probably appearing sometime around 1780 (see below). Certainly, it contained the first known appearance in print of many of the rhymes which were to become standard. Many are still known today, albeit sometimes in slightly different forms. 'Patty cake, patty cake, baker's man' is to be found on p.9, for instance, 'Boys and girls come out to play' on p.17, 'Hush a by baby' on p.21 and 'Dickery, dickery, dock' on p.29. Perhaps the most famous of all are 'Bah! Bah! black sheep' (p.32), 'Jack and Gill went up the hill' (p.38) and 'Little Jack Horner' (p.44). Others collected here did not become so famous, but are still interesting. A rhyme like 'There was a man of Thessaly' (p.8), for instance, has much in common with the nonsense verse which Edward Lear and others were to produce in the mid-nineteenth century.
The Hockliffe copy, which probably dates from the very late eighteenth, or early nineteenth, century (and certainly before 1815, the date of an inscription), is missing its title-page. It also apparently never included either the preface, nor the second part which contained 'The Songs and Lullabies of Shakespeare', both of which were to be found in the early editions by Thomas Carnan, John Newbery's step-son. As in the earliest editions, though, the verses are accompanied by apposite wood-cuts and by a number of caustic comments printed below the rhymes. Printed in a smaller and more 'sensible' typeface, these commentaries generally mock the nonsensical nature of the verses. 'It must be a little dog that laughed, for a great dog would be ashamed to laugh at such nonsense', we read after 'Hey diddle diddle' (p.34). Similarly sardonic remarks accompany 'Se, saw, sacradown' on p.18 and 'Three wise men of Gotham' on p.29. If these were introduced with the intention of adding some moral sense to the rhymes, they were counter-productive. The comments sound so overly serious - probably intentionally - that the verses seem all the more pleasingly ludicrous.
There has been a substantial debate about the when the first publication of Mother Goose's melody took place. The earliest extant edition is from 1791. The first known reference to it is from eleven years earlier, when an advertisement for the book was placed in the London Chronicle. Also in 1780, Thomas Carnan registered the book for copyright purposes. Roscoe, the bibliographer of the Newbery firm, notes that since the Newberys almost always advertised their wares extensively, and since no advertisement earlier than 1780 has been found, an earlier publication date is most unlikely (Roscoe 1973: 186). On the other hand, it has long been suggested that Oliver Goldsmith had some connection with the work, perhaps writing it in its entirety. Goldsmith is known to have liked nursery rhymes, and in particular 'There were two blackbirds' which features in Mother Goose's melody on p.14. Goldsmith was also a critic of Thomas Percy's Reliques of Ancient English Poetry which was first published in 1765. It has been suggested that the mock-scholarly notes to Mother Goose's melody were written to mock Percy's editorial work. This, along with the fact that Goldsmith was known to be working with Newbery from 1762 to 1767 has suggested a publication date of 1765 or 1766 for Mother Goose's melody. See Carpenter and Prichard, 1984: 363-64 for further arguments for both positions.
Roscoe, Sydney, John Newbery and his Successors, 1740-1814: A Bibliography, Wormsley, Herts., 1973
Carpenter, Humphrey & Pritchard, Mari, The Oxford Companion to Children's Literature, Oxford: OUP, 1984