Poetry, Verse and Rhymes; Games. 0811: John Taylor, Monsieur Tonson
| | |
| --- | --- |
| Author: | Taylor, John |
| Title: | Monsieur Tonson: a new version, or, on outside front cover, Monsieur Tonson: a new version of a well-known merry tale. Illustrated with beautiful copper plates |
| Cat. Number: | 0811 |
| Date: | 1808 on title-page; 1816 on outside front cover |
| 1st Edition: | 1808? |
| Pub. Place: | London |
| Publisher: | M. J. Godwin, at the Juvenile Library, 41, Skinner Street |
| Price: | 1s 6d ? |
| Pages: | 1 vol., 16pp. |
| Size: | 13.5 x 11.5 cm. |
| Illustrations: | Frontispiece plus 11 further full-page copper-plate engravings |
| Note: | Plate I dated 'Dec.r 27 1807'. Inscription on title-page: 'Catherine Beauclerk / the gift of her Papa / 1818'. See 0810 for another edition. |
Images of all pages of this book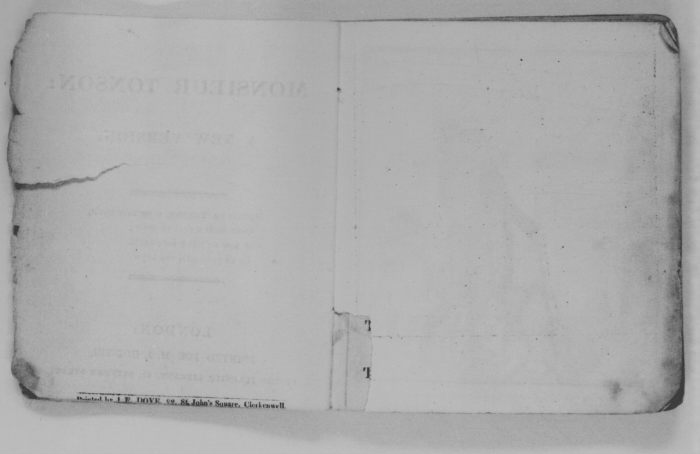 Introductory essay
This is an astonishing poem. It tells of how a Mr Tom King, a gentleman, knocks at the door of a French embroiderer, Monsieur Bellouvrage. The man answers the door courteously to find that King wants to know if a Mr Thompson lives there. No 'Monsieur Tonson' lives there replies Bellouvrage. But king is back next night, and the following four nights after that, making the same enquiry, and bringing friends to share the 'joke' with. Though scrupulously polite at first, Bellouvrage becomes increasingly angry until he attempt, but fails, to throw a pail of water on King's head. At last, Bellouvrage and his wife are forced to move out. King then goes abroad for some years. When he returns, he repeats his trick. The engravings show Bellouvrage to be a Catholic as well as a Frenchman - there are various religious images on the wall, for instance. It seems remarkable that such an anti-Gallican, and perhaps anti-Catholic, work was published for children, and by the firm of M. J. Godwin too.
The tale of 'Monsieur Tonson' is in existence in several different forms. The British Library, for instance, contains a one-page broadside bearing this name from c.1795 and an eight-page work published in Glasgow, probably in 1795 or 1796, both of which differ substantially from the group of texts published in London in around 1810 which share their format and content with the Hockliffe version. That the versions published, like this Hockliffe edition, by M. J. Godwin's firm in Skinner Street, London (though Godwin's name does not feature in the imprint of the Hockliffe edition), were not the first to bear this title is indicated by a verse on the title-page:
MONSIEUR TONSON, a sportive strain,
Once made a deal of noise,
And now we tell it here again,
To all good girls and boys.

The clue to what noise it made may comes from the title-page to the Glasgow edition, which reads: 'Monsieur Tonson. A Tale. Written by Mr. Taylor, and recited in London by Mr. Fawcett, to crowded audiences with universal applause.' John Taylor (1757-1832), the Dictionary of National Biography records, was born into a family of oculists but became fascinated by the stage. He became drama critic, then editor, of the Morning Post and then bought the True Briton before becoming, in 1813, the proprietor of The Sun. Certainly this last, and, for the most part, the others, were violently tory papers. Monsieur Tonson was suggested by a prank of the real-life Tom King, an actor. The piece was made into a dramatic piece by William Thomas Moncrieff in 1821, but it was never put on at Drury Lane as planned. However, John Fawcett drew crowds when he put it on for smaller audiences at the Freemasons' Tavern.
See Avery 1975: 17-19 for a discussion of this book. She lists an edition of 1808. The work was still being published in until at least 1830, when a version illustrated by Richard Cruikshank appeared.
Avery, Gillian, Childhood's Pattern. A Study of the Heroes and Heroines of Children's Fiction 1770-1950, London: Hodder and Staughton, 1975